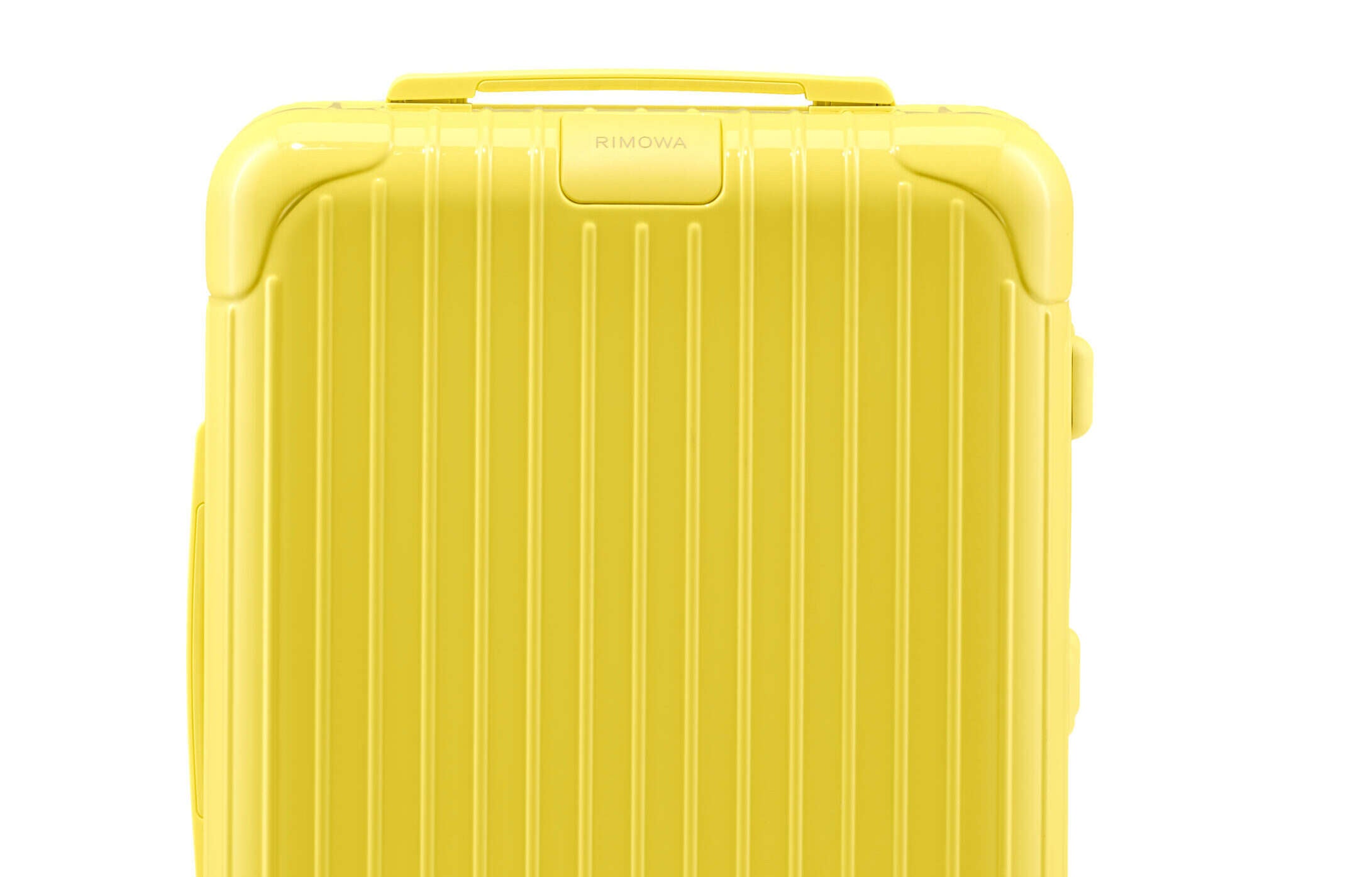 When planning your next trip, whether for business or pleasure, choosing the right designer luggage to take with you can be as difficult as what to pack inside it. Required to be robust enough to survive life in the hold, luggage is one of the few accessories in life that, by definition, requires function over fashion.
That doesn't mean your luggage has to be dull. Now, multiple brands offer state-of-the-art suitcases that complement a range of styles. Featuring space-grade aluminum and other innovative lightweight materials, today's designer luggage lines give you the best of both worlds.
From Montblanc to Rimowa, we take you through 10 of the best designer luggage lines to consider for your next big adventure.
[See also: How to Build the Ultimate Spring Capsule Wardrobe]
Montblanc #MY4810 Cabin Trolley
Be it a fine timepiece, a luxury writing instrument or a hand-crafted leather good, Swiss brand, Montblanc is a timeless brand for the classic and modern man. And the company's luggage collection is no exception to its superb quality. Part of the new #MY4810 Silver Trolley Collection, this cabin trolley is a compact four-wheel carry-on that delivers an ultra-sleek look in a lightweight, smart design. It has a leather trim emblazoned with Montblanc's name and logo and has separate compartments inside for your belongings.
Mark Cross Grace Trunk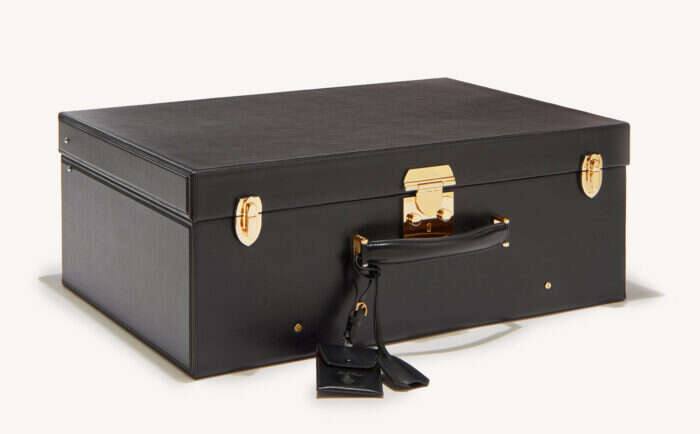 From passport cases to trunks to overnight bags, Mark Cross it a heritage brand founded in 1945 in Boston. It's known as one of America's first leather good brand and was named after Henry Cross' only son, Mark. The brand's signature Grace Trunk is one of the company's signature pieces, named after Grace Kelly for her role in the movie Rear Window. It was created specifically for the actress by Gerald Murphy and has become a hallmark of the Mark Cross brand. It's reminiscent of elegant travel, but spacious enough for the contemporary needs of today's traveler.
Ghurka Trolley No 440 Rolling Suitcase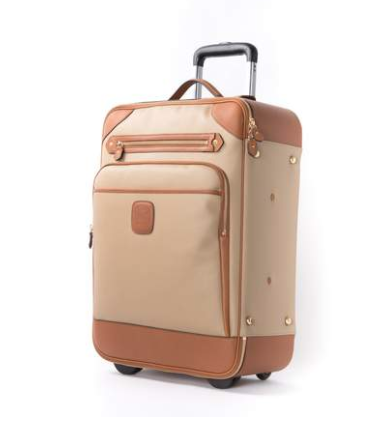 In the early 1970s, founder Marley Hodgson was inspired by a collection of century-old camping gear from a British commander. Ghurka has since become known for its handmade leather goods, including durable luxury luggage. This trolley-wheeled carry-on bag has multiple zip pockets, a telescoping handle and is made of a trill interior with custom brass hardware.
Smythson Greenwich Cabin Trolley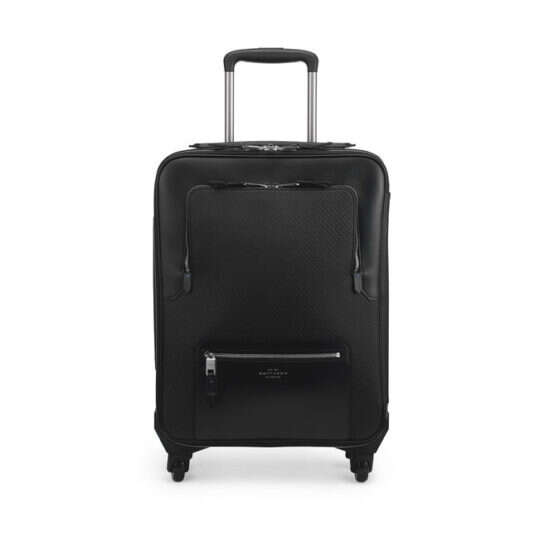 Established on London's Bond Street in 1887, Smythson's leather goods are some of the finest in the world. The simplistic yet sleek design of everything from large weekenders to wallets to stationary and books, Smythson's sophisticated line of products never fails to impress. But if it's a longer vacation you're packing for, the Greenwich Cabin Trolley is the one to use. It has 360-degree rotating wheels and is extremely lightweight for easy transportation around the airport. The bag is made in lacquered cotton with a weave pattern and calf leather and is completely water resistant. Plenty of compartments and durable silver hardware make it the perfect travel companion.
Globe-Trotter Centenary 20″ Trolley Case
The spacious interior of Globe-Trotter's larger cases adds function to the simple yet vintage look of the luxury luggage brand, which has been making suitcases since 1897. Englishman David Nelken founded Globe-Trotter in Germany but moved it to the UK in 1901 and it has remained there ever since. Past owners include the Queen and Winston Churchill.
Tumi Extended Trip Packing Case
Business travel brand Tumi has a wide range of luxury luggage to meet your needs. The Tumi extended trip packing case offers plenty of space in a lightweight, hard-case material. Made from sturdy aluminum, this model features a frame system opening, two combination locks with push button to open, three-stage telescoping handle system with push button, retractable top and side carry handles and four dual-spinning recessed wheels. The extended trip packing case is available in matte black and a stunning silver. You can even personalize it with custom monogramming.
[See also: The Trending Fashion Brands You Need to Know]
SteamLine Luggage Industrialist Spinner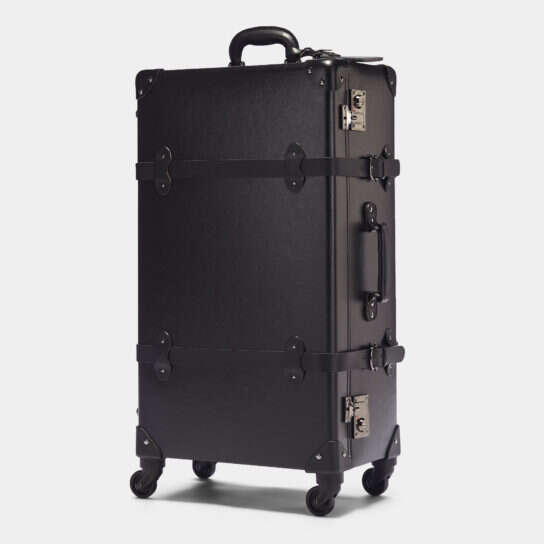 SteamLine aims to bring back the elegance of Golden Era travel to the modern traveler. Every piece is handcrafted luxury leather rolling suitcases, duffels, hat boxes and cases for both men and women in a variety of colors and styles. We particularly love the genderless Industrialist Spinner suitcase ($925) with its sleek monochrome look and easy-to-maneuver wheels. Of course, if there's a specific color or design you're after, collections like the Anthropologist, Architect, Jetsetter or Pioneer might be of fancy.
Rimowa Essential Trunk Plus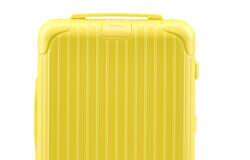 Rimowa is synonymous with luxury travel with its hard-sided suitcases with easy maneuverability and personalization options. While you can always opt for the classic colors of black, silver or red, these new colorways from Rimowa are perfect for the vibrant and avid traveler whose luggage reflects their passion for seeing the world. We love the Rimowa Essential Trunk Plus in Saffron yellow, inspired by Tuscany's canola-flower fields. All hues in the collection are inspired by a specific destination around the world, including coral inspired by Pink Lake in Western Australia; Slate, reminiscent of gradient grey hues of Indonesian mines; and Sage, reflective of northeast England's Lake District.
Louis Vuitton Horizon Soft Luggage
In collaboration with Marc Newson, Louis Vuitton released its new Horizon Soft Luggage collection this year. A departure from the brand's iconic hard-sided luggage, the soft luggage collection is made with a thermo-formed 3D-knit outer shell and double-sided jacquard. It is sturdy and durable for the avid traveler, but presents a sleek and different look compared to other bags on the market. The knit is made with thermo-fusible, elastic threads and made from a single piece of fabric. Not only are the pieces strong and resistant, they are ultra-lightweight. The pieces come in a variety of colors and sizes in both rolling duffle formats and trolleys (pictured above)
Bottega Veneta Trolley in Intrecciato VN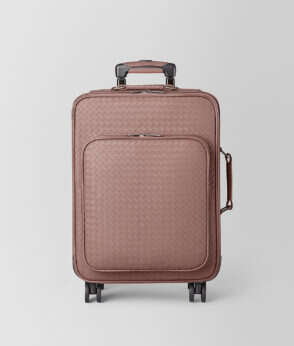 This hand-crafted intrecciato VN leather trolley carry-on is ideal for the modern traveler. The lightweight suitcase features two compartments: one of the front for easy storage (think: laptops or files) and a spacious interior compartment with a detachable internal pouch. We love the Deco Rose color, but it's also available in green-blue hue, called Brighton. With four 360-degree-rotating wheels and a retractable handle, the Bottega Veneta Trolley is a perfect addition to your travel needs.
Paravel Sustainable Luggage Set Grand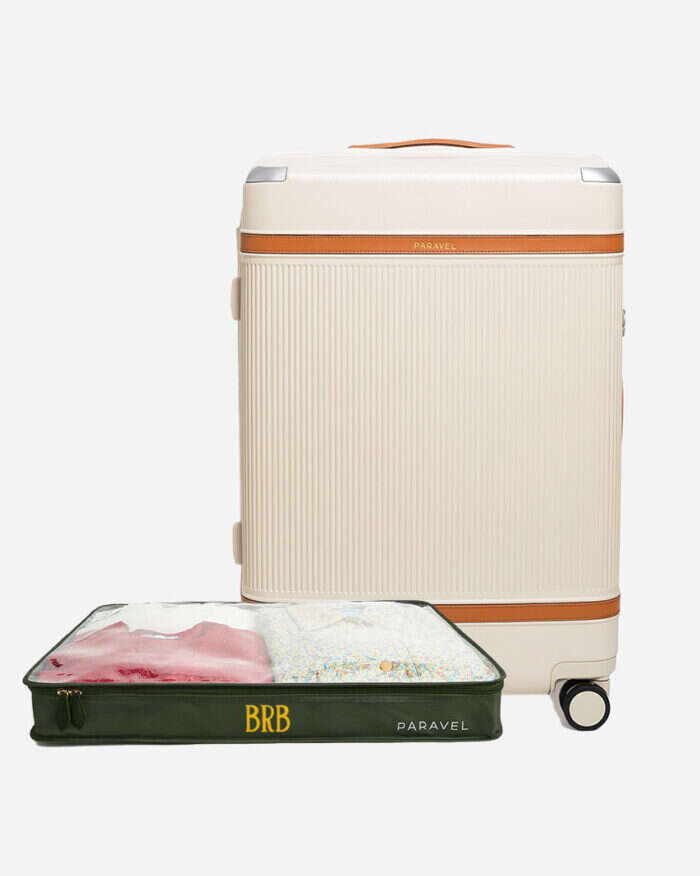 Constantly striving to limit its environmental impact, sustainable travel brand Paravel focuses on reducing and offsetting carbon emissions, incorporating upcycled materials throughout its products and planting trees in depleted ecosystems.
Available in four colors, the chic carbon neutral Grand Luggage set features a durable recycled polycarbonate shell, recycled aluminum handle, vegan leather details and recycled zippers. Inside is a handy packing cube made from 13 post-consumer plastic water bottles to keep clothing organized and crease-free.