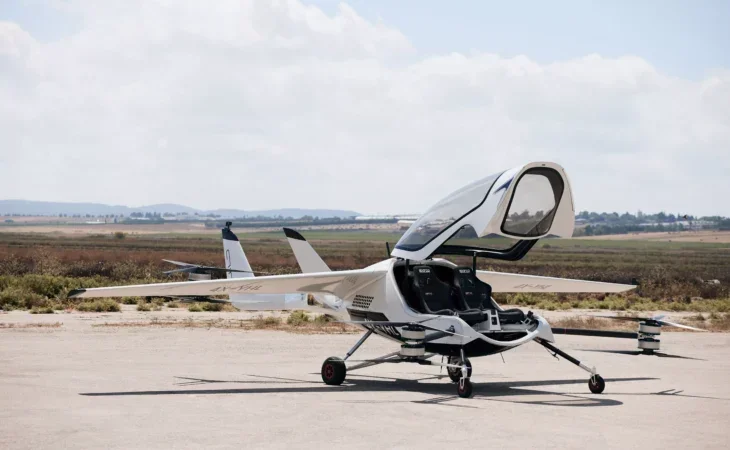 AIR, creator of eVTOL (electric vertical take off and landing) aircraft, has announced that its inaugural vehicle AIR ONE has successfully completed its first hover test. Weighing 2.2lb, the full-scale AIR ONE prototype took flight in Megiddo, northern Israel, at approximately 7am, Israel Standard Time. The vehicle completed multiple hovers after safely lifting off, and before ultimately returning to the ground, exhibiting optimal performance in a stable flight envelope in what is a further success for the pioneering technology.
All systems of the aircraft proved fully successful in providing maximum control and stability, whilst also demonstrating the energy use of the AIR ONE during the flight matching exactly as was predicted, thus proving its ability to execute expected performance metrics.
"It was truly awe-inspiring to watch AIR ONE lift off the ground for the first time. We've been on this upward journey for nearly five years and cannot wait for the public to join us on this ride," said Rani Plaut, CEO & Co-founder of AIR. "This momentous milestone secures AIR's spot as a market leader in the personal air mobility space, making the thrill of flight achievable on a daily basis. We look forward to continued growth as we launch into the next phase of development."
[See also: Sustainable Skies: Jet Companies Making Positive Change]
AIR allows individual consumers to embrace eVTOL flight for the first time ever as a certified, personal transportation alternative for short distance travel in customers' daily lives. And with the AIR ONE small enough in size to be stored in most driveways and garages, the all-electric two-seater aircraft will provide commuters and travelers alike with a thrilling, futuristic adventure: all on their own terms.
Since its inaugural debut of the full-scale AIR ONE prototype at this year's Kentucky Derby, AIR has also announced partnerships with air mobility companies FlyOnE, Espere AAM, and AeroAuto, establishing one of the first showrooms for electric aircraft in the United States.
What's more, AIR is currently pursuing further partnerships in both the US and across the world to assist in the development of policy and subsequent infrastructure related to this pioneering mobility revolution. This includes working closely with the FAA to finalize vehicle certification, and guidelines for eVTOL pilot licensing.
AIR is continuing to accept advance orders on its website of the AIR ONE, with over 150 already secured.