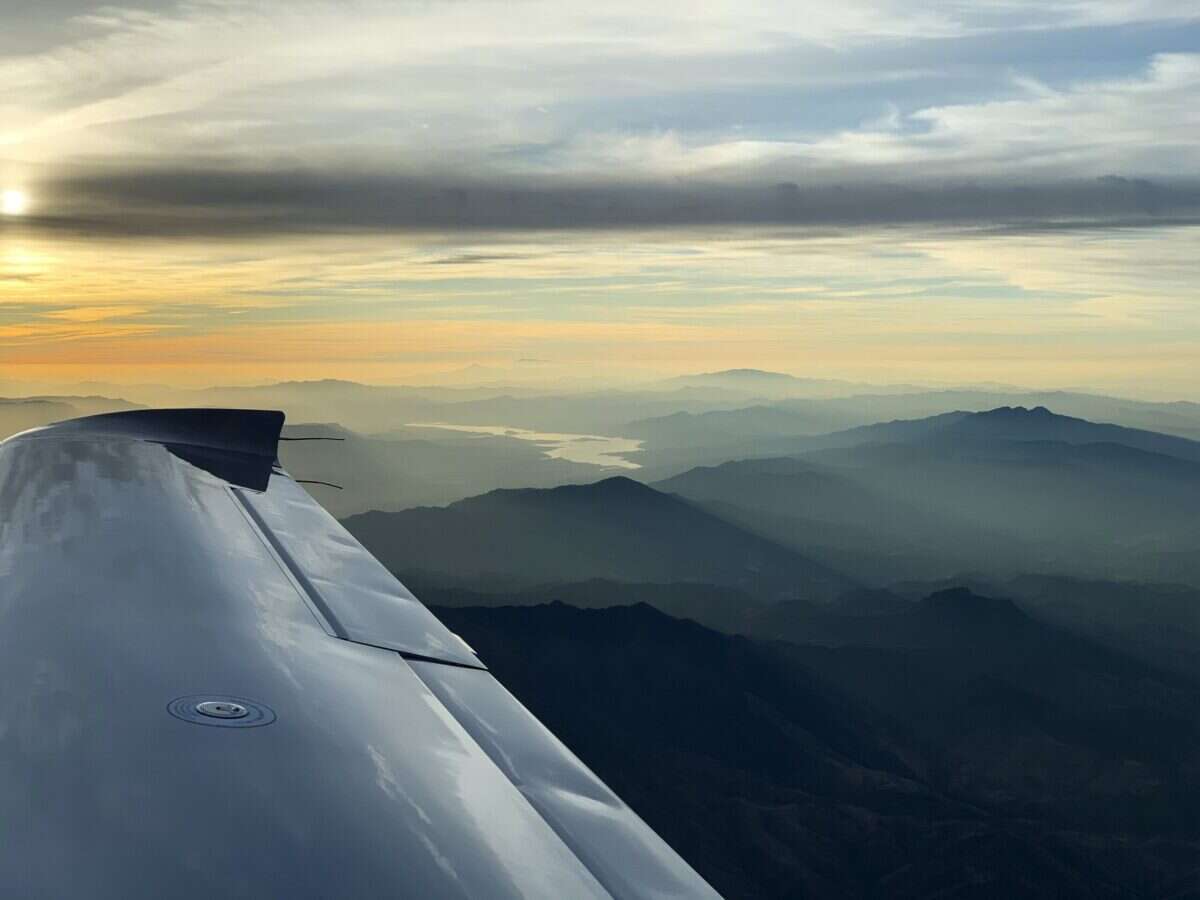 Business aviation isn't letting a global pandemic get in the way of its drive towards sustainable operations and flying. Quick to rebound ahead of the larger travel industry, over the past year private aviation executives have been announcing sustainable initiatives at a deeper and faster rate, revealing plans to be carbon neutral — and even going a step further to be emissions neutral. While these efforts may never impress activists, the facts show the industry is making sure you will continue to be able to move around the globe responsibly and sustainably. Here, we highlight just a few of these impressive efforts — and some of the leaders driving them.
4AIR
Sustainability for private aviation
Directional Aviation is one of the most prominent players in business aviation; it includes an OEM (original equipment manufacturer), MRO (maintenance, repair and operations), and charter brokers and operators with well-known consumer brands such as Flexjet, Sentient Jet and PrivateFly. So when Directional Aviation was looking at how to up its sustainability quotient, it noticed that the providers were generalists. Enter 4AIR.
Launched in January 2021, it focuses entirely on private aviation, with plans to be eventually spun off. "Aviation is so nuanced. There are so many different needs; we didn't want to just build a department. We wanted to build a comprehensive approach. We wanted to do something that was applicable for the bigger industry," says Kennedy Ricci, CEO. Ricci compares 4AIR's four tiers to Argus safety ratings of charter operators. He says they give consumers and competitors better visibility and transparency into who is doing what.
At the base, Bronze is verification and validation, including acquiring the carbon offsets and handling documentation that comes with being carbon neutral. However, Ricci notes, carbon emissions only account for one-third of a private jet's impact. The remainder of warming pollutants includes water vapor, aerosols and nitrous oxides. The Silver level requires buying offsets equivalent to 300% of CO2 waste, making companies emissions neutral. Gold status, which Ricci describes as "beyond neutral," requires a 5% direct emissions reduction. It includes using sustainable fuels, route optimization, and the use of the most fuel-efficient private aviation aircraft. Platinum is for "climate champions" and involves funding research into electric aircraft, alternative power and cleaner fuels.
So far, 4Air has over a dozen clients in addition to companies that are part of the Directional Aviation family, and Ricci says there are endless opportunities, from FBOs to corporate flight departments and even educating pilots.
Need to know: 4AIR was born when Directional Aviation decided the industry needed specialist solutions to aid its green push.
VistaJet
Carbon neutrality by 2025
No private jet operator has positioned itself as being more luxurious than VistaJet. From in-flight Mad Hatter tea parties for kids (executed by actors in costume), to 'fear of flying' classes for your pets, it is one of the few genuinely global private jet charter operators; its silver jets with a red stripe are the epitome of the high-flying lifestyle.
In January 2020, VistaJet used the World Economic Forum in Davos as a platform to launch a white paper titled Sustainability in Aviation, described as "a 2020 action handbook for change in business aviation." So far, 80% of its members have signed up to compensate for fuel-use emissions by paying extra for carbon credits.
[See also: First Onboard – Inside VistaJet's Bombardier Global 7500 Fleet]
Then in April 2021, the operator announced it is committing to complete carbon neutrality by 2025, a quarter-century ahead of general industry targets. Its pledge extends to its offices. In addition to the uptake of sustainable aviation fuels, it includes investing in route-planning software to cut fuel burn, sustainable products and using renewable energy on the ground. The company is even asking customers to help with more advance notice and by using alternative, convenient airports. Booking flights a few days earlier allows the company to schedule its jets more efficiently, saving fuel.
In terms of airports, clients generally choose their favorite, and companies happily reposition their jet to pick them up. In a market like Los Angeles, that could mean flying the airplane 15 miles from Van Nuys Airport to Hollywood Burbank Airport. VistaJet has cut local repositioning flights by 20% in London, with willing customers happily diverting to the airport where the jet is waiting.
Need to know: Vista Global Holding's VistaJet will be carbon neutral by 2025, setting an example for other units in the group.
NetJets
Leadership from the top
In the 1970s, there was a famous television ad for investment services with the tagline, 'When EF Hutton talks, people listen.' In private aviation, NetJets offers a similar voice. The company is putting the might of being the world's biggest private jet provider and a unit of Fortune 10 Berkshire Hathaway behind its efforts to commit to sustainability by announcing a Global Sustainability Program.
NetJets consolidated its disparate programs under a single umbrella and for the first time began publishing the cost to offset flights, which it allows to be done per contract, per trip or even by the hour. It now includes carbon offset options in all proposals to potential customers. The company also offsets all administrative and training offices as well as its corporate offices.
The company was the launch customer of sustainable aviation fuel for Signature Flight Support in San Francisco. Sustainable Aviation Fuel (SAF) reduces greenhouse gas emissions by up to 80%. That was followed up with a commitment to purchase 100 million gallons of sustainable fuel from WasteFuel. NetJets is also making a 'significant' investment in the start-up, which transforms landfill waste.
[See also: How Much Does NetJets Cost?]
In the US, in the first six months, NetJets recorded a 61% increase of customers making offsets, flew over 750,000 nautical miles with SAF, and offset 38,543 metric tons of CO2. NetJets Europe has been carbon neutral since 2012.
Brad Ferrell, executive vice president of administrative services, says NetJets' efforts align with its famous parent's commitment to UN Sustainable Development Goals, calling it "a source of pride and passion."
Need to know: NetJets has taken a stake in a new company that will make sustainable aviation fuel from refuse landfills.
Private Jet Services Group
Making sustainability sing and score
New Hampshire-based Private Jet Services Group is helping keep your favorite sports teams, rock bands and politicians carbon neutral when they go on the road. Since 2019, the broker has been offsetting 100% of the company's flights' carbon emissions.
PJS Group, as it is often referred to, flies 13 National Hockey League teams and winners of 65 American Music Awards, 85 Billboard Music Awards and 139 Grammys. While the company doesn't comment, published reports have linked it to tours by Lady Gaga, U2, The Rolling Stones, Maroon 5, Fleetwood Mac and Beyoncé. PJS specializes in political campaigns as well as IPO roadshows.
Its commitment includes planting nearly 80,000 trees per year. The company targets areas in the Northern Rockies and the Cascades suffering from heavy loss of pine trees following climate-induced forest fires and pest infestation. It is also planting trees along rivers and streams in the Lake Champlain Basin of Vermont to protect and restore surface waters there, and to help curb water pollution from farms that degrade the lake with algal blooms and high levels of pathogens.
Greg Raiff, CEO and founder of PJS, says, "As we know, in today's world, travel is a necessity and a contributor to these emissions, but private aviation companies can help." Even if you aren't going on tour or playing in an away game, you can still fly like a pro. PJS offers a jet card program with fixed rates and guaranteed availability that includes transatlantic flights.
Need to know: PJS Group is offsetting emissions for all flights, including its charters for pro sports teams and live entertainment tours.
Victor
Sustainability's loudest voice
Victor is far from the biggest broker of private jets, but its founder and chairman, Clive Jackson, has been one of the loudest voices urging the private aviation industry to move faster in its efforts to be more sustainable.
The UK-based provider has been purchasing credits to mitigate 200% of CO2 emissions for the flights it booked for customers since July 2019. The company builds the additional cost into the quotes, so in a market where many customers closely compare pricing, Jackson says it comes out of the company's bottom line.
The chairman and founder believes paying a bit extra is a responsibility private aviation flyers should embrace. He says: "Your ability to choose how you travel comes with the added responsibility to protect our society and the future of our planet. We cannot overlook the fact that a private jet emits up to 20 times more CO2 per passenger mile than a commercial airliner. Operators, brokers and customers must accept that the privilege they enjoy comes with certain obligations."
Jackson claims the industry's future is at stake. Without more forceful action, he says, activists and politicians could essentially prohibit private flights in some places. He is correct in that some are trying. In May, advocacy group Transport & Environment called for a European ban on private jets using fossil fuels by 2030.
Need to know: Victor's founder Clive Jackson has been one of the industry's loudest voices, warning colleagues to go green or be shut down by climate activists.
Embraer
It's not just about eve
The manufacturer of the top-selling Phenom 300 and popular private jets like the Praetor 500 and 600 is making the commitment for carbon-neutral operations by 2040 and net-zero carbon emissions by 2050. That includes making sustainability one of the pillars in its strategic plan.
"At Embraer, we recognize the urgency of the climate crisis, and we are fully committed to a more sustainable future. We are stepping up our efforts to minimize our carbon footprint by remaining dedicated to innovating solutions that have a broader impact for our customers, our local communities and our aircraft," says Francisco Gomes Neto, president & CEO of Embraer. Embraer is supporting the goal by developing a range of new products, services and disruptive sustainable technologies. That includes electrification, hybrid, SAF and other energy alternatives. Beyond that, Embraer will offset emissions that can't be reduced via its initiatives.
[See also: Embraer Presents Energia Family Concept Aircrafts]
Private flyers will see tangible benefits from the work very soon. Its zero-emission EVE eVTOLs are slated to take off by 2026, with operators in the US, Europe and South America already placing orders (see OneSky Flight). Beginning next year, Embraer's growth will be carbon neutral, and work is underway to make its aircraft able to use 100% sustainable aviation fuel.
Need to know: Embraer-backed Eve is leading the OEMs' push to net-zero carbon emissions by 2050.
Surf Air and Textron
Sustainability for short hops
You may know Surf Air from its short-hop private flights in California, where you can buy all-you-can-fly memberships and single seats. Now, Surf Air Mobility wants to bring sustainable aviation to short flights. In July, it announced it was partnering with manufacturer Textron Aviation to develop electrified Cessna Grand Caravan aircraft. The target date for the first flight of the nine-seaters is just around the corner in 2024.
The agreement envisions Surf Air buying 150 Cessna Grand Caravan EX single-engine turboprops. The aircraft will be converted to fly via proprietary hybrid electric powertrain technology.
"We know from our experience that people are looking for faster, affordable and cleaner regional travel, and we are building the ecosystem to accelerate the industry's adoption of hybrid electric flight. We believe significantly reducing the emission from this category of aircraft will be the biggest step we can take toward de-carbonization in this decade," says Surf Air executive chairman and CEO Sudhin Shahani.
"Hybrid electric propulsion technology, deployed at scale for environmental and commercial benefits, is an important part of the future of travel," says Ron Draper, president & CEO of Textron Aviation.
With no charging stations expected to be required, Surf Air says the company can "immediately" fly into the more than 5,000 US airports open for private aviation. Electric airplanes will reduce carbon emissions by around 25%.
Need to know:  Surf Air is buying up to 150 electrically powered Cessna Grand Caravan EX single-engine turboprops.
Onesky Flight
Sustainability runs in the family
The flying unit of Directional Aviation, OneSky Flight, has embraced sustainability across its portfolio of stores, which range from fractional share provider Flexjet and helicopter operator Halo to jet card seller Sentient Jet and charter brokers FXAIR and PrivateFly. Halo, which was formed by the acquisition of helicopter operators in the Northeastern US and outside London, is going green with an order of 200 eTVOLs from EVE. Vertical transports are considered a critical solution for urban mobility of the future. While the aircraft delivered to Halo will mainly shuttle flyers between airports and city centers, other applications include commuting to the office, alleviating road congestion. Meanwhile, Sentient, which tallied $450m in jet card sales last year, plus Flexjet in Europe and PrivateFly (which operates outside the US), have all gone emissions neutral. That means offsetting non-carbon emissions that contribute to warming, such as water vapor. It entails buying carbon offsets at a 300% level. Flexjet in the US and FXAIR have both committed to carbon neutrality.
Need to know: OneSky's Sentient Jet is going emissions neutral, additionally offsetting noncarbon emissions that also contribute to climate change.
Signature Flight Support
Sustainability Before Takeoff
Last year, Signature Flight Support became the first FBO group to offer a supply of SAF on a permanent basis, starting with San Francisco International Airport and London's Luton Airport. That's now been extended to Austin Bergstrom International Airport, Houston Hobby Airport, Oakland International Airport and Seattle King County International Airport at Boeing Field.
It's good news for private flyers. With over 200 locations worldwide, the company is positioned to be a major force in expanding the availability of SAF. Tony Lefebvre, interim CEO for Signature, says, "Prior to establishing a permanent supply of SAF, FBOs have only been able to provide a few thousand gallons at one time, typically by request of an individual aircraft operator or for a one-off event."
The fuel program is just part of the company's road map towards net-zero carbon emissions. It includes Leadership in Energy and Environmental Design (LEED) buildings, including hangars and terminals for passengers, tenants and administrative support teams. There is even a planned transition to electric vehicles as the company works towards net-zero emissions by 2050.
[See also: Most Innovative Private Jet Providers of the 21st Century]
This article appears in the 29 Nov 2021 issue of the New Statesman, Winter 2021/22