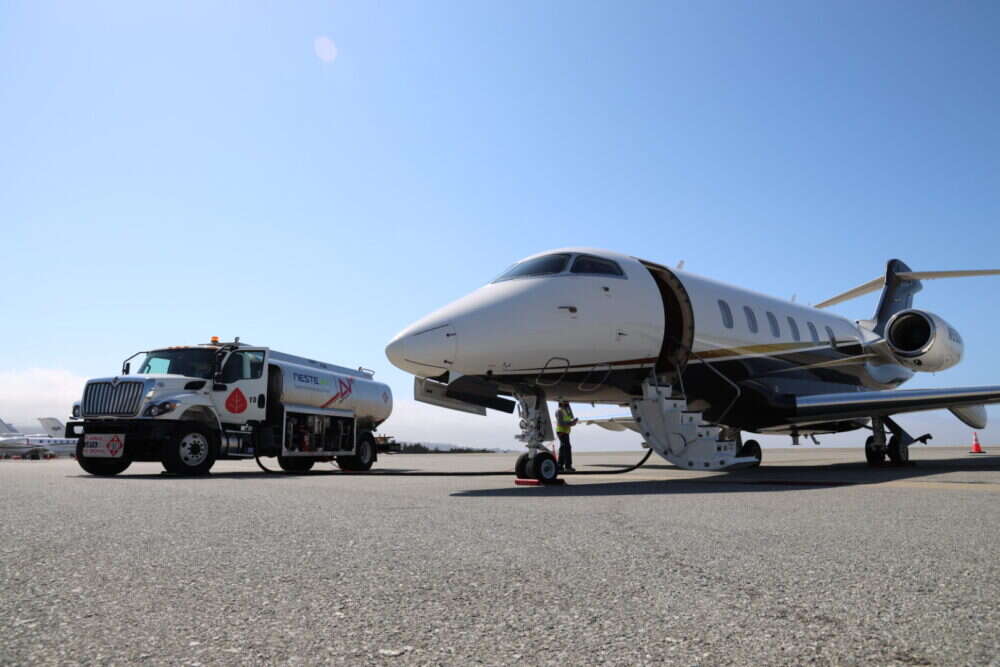 In a world first, sustainability specialists 4AIR has announced it is using the Monterey Car Week to launch its latest carbon offsetting initiative: Sustainable Aviation Fuel.
4AIR is partnering with Del Monte Aviation to pump Sustainable Aviation Fuel (SAF) and showcase the effectiveness of alternative fuel on a global stage. Made from sources like waste cooking oils, biomass and municipal solid waste, the new fuel passes all standard testing for aviation fuel but at no extra cost to the environment. In fact, by using SAF, you can do one better than carbon neutral and reduce emissions by up to 75%. 
Normally bustling with golfers taking on the number one public golf course in the country, you can't move for cars along Pebble Beach in August. This 70th anniversary promises to be bigger than ever. The Monterey coastline is strewn with auto shows, soirees and auctions. To motor enthusiasts, it is the place to see and be seen.  Shows of classic Porsches, muscle cars and hot rods all culminate in the prestigious Pebble Beach Concours D'Elegance on August 15. It is said to be the world's 'premier celebration of the automobile', where some of the most valuable collectors' items are put on display.
[See also: 4AIR Makes First Private Jet Trade on Aviation Carbon Exchange]
Traditionally a honey pot for private jet users, Monterey County will instead be an eco-friendly space from August 6 through August 15. This is due to 4AIR announcing they are offsetting all inbound and outbound flights to 4AIR Level One, making all private aviation carbon neutral. However, 4AIR president Ricci highlights that 'for some, carbon neutrality is the end goal, but for us, it is just the beginning'. 
4AIR plans to go a step further with its own rating system. It operates on four levels, Bronze (carbon neutral), Silver (emissions neutral), Gold (5% reduction of original emissions) and Platinum (contribution to the Aviation Climate Fund). The need for these options is due to the fact CO2 emissions only account for one-third of all emissions created by jet travel. The other two-thirds of the impact comes from pollutants such as water vapor, aerosols, and nitrous oxides. By creating this ranking system, 4AIR wishes to 'educate flyers' in 'more comprehensive sustainability efforts' so they can make smarter choices for their flights.  
Furthermore, in a bid to tempt the less convinced jet setters, 4AIR is offering the rare opportunity to fuel your jet with SAF as you leave Monterey Race Week at the same rate as standard jet fuel so that you can test it for yourself. 
[See also: JetPack Aviation Goes Green With Carbon Neutral Fuel]
Whilst SAF is a 'drop in' fuel (and therefore interchangeable with regular jet fuel) 4AIR is constantly looking to the future. Jet engines are currently being developed that don't require any regular fuel so that they can run entirely on sustainable aviation fuel. This scientific breakthrough also applies to helicopters meaning you can improve your footprint in all areas of air travel. 
Ricci asserts that more substantial methods are required if the aviation industry is to make a significant contribution to restoring the planet. He believes SAF to be a 'truly game changing' way of moving 'beyond offsetting emissions'. As the creator of the first-ever aviation-focused sustainability rating, it may be wise to listen.