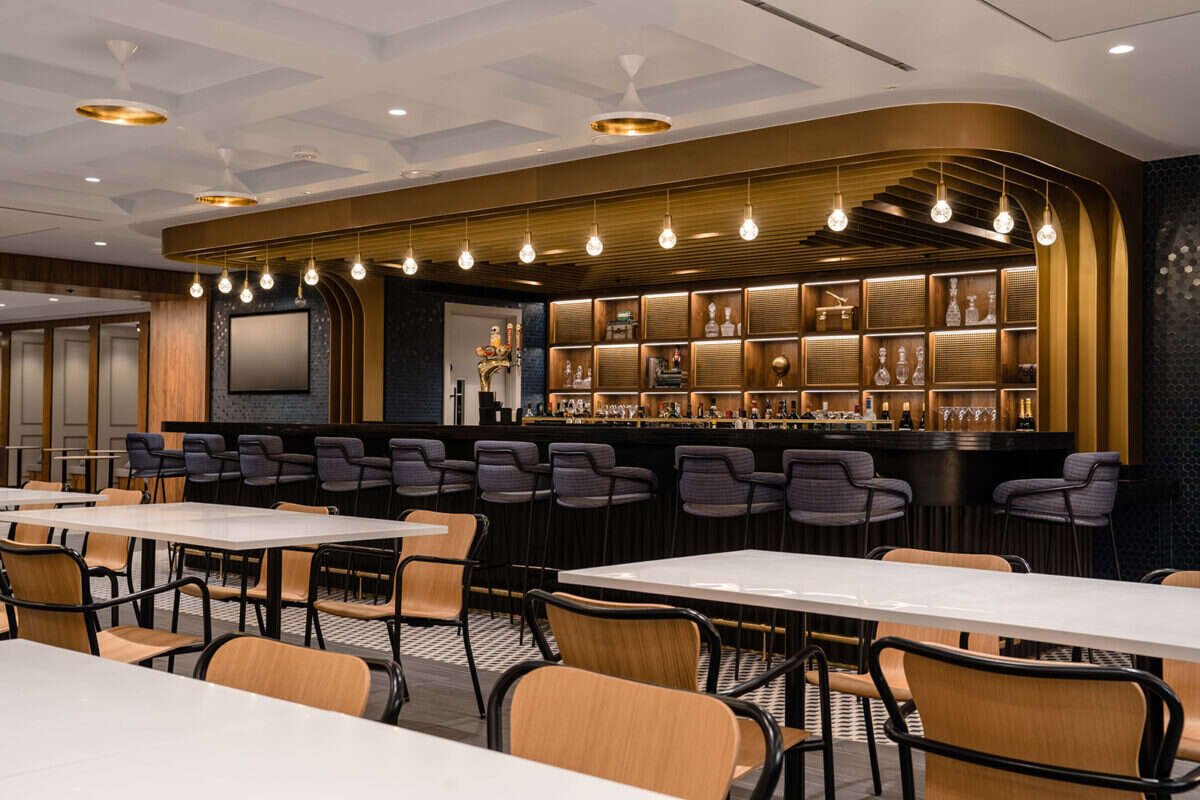 American Express will open the doors to its very first Centurion Lounge in Europe at Heathrow Terminal 3 this October. And for the lucky few that get to escape the crowds at London's busiest airport and while away the hours in this exclusive setting, there is plenty to be excited about.
The long-awaited opening is the third new location unveiled by American Express this year and comes at a time when UK travel restrictions are starting to ease. Each space in the coveted Centurion Network is thoughtfully curated to reflect its location and the latest addition is no exception.
"In our Centurion Lounge in London's Heathrow Airport, we collaborated closely with premium British partners who not only embody both the vibrancy and creativity of the city but really made their own mark on this incredible space," said Pablo Rivero, vice president and general manager for global lounge experiences at American Express.
Members will have a unique chance to experience the best of London's art and design first-hand. The new space features custom-made modern lighting from acclaimed British designers Tom Dixon and Lee Broom, and bespoke furnishings by Konk, Naughtone and Deadgood.
Adorning the walls are a series of beautiful architectural pencil drawings by London-based artist Minty Sainsbury, celebrated fashion photography from Norman Parkinson, and a selection of original pieces by Carne Griffiths and Stephen Marshall.
Guests can enjoy gourmet food while waiting for their flight from Israeli-born Chef Assaf Granit – the culinary genius behind Shabour in Paris, which scooped its first Michelin star in January.
[See also: The Best First Class Airport Lounges]
The talented chef's menu includes signature dishes from his famous restaurants across the globe such as freshly baked Kubalah bread, addictive pita chips with tahini and his mouthwatering "Oh My Baklava" olive oil cake with pistachio anglaise and rose water diplomat cream. Top mixologist Jim Meehan has also designed a selection of British-inspired cocktails to sip while relaxing in the lounge.
Members can freshen up during their visit using award-winning bespoke scented bath and body care products from London-based Soapsmith. Founder Samantha Jameson's six signature scents are inspired by different areas of London and will be rotated seasonally, starting with "Hackney", reminiscent of the grassy and herbaceous marshlands of the borough where she grew up.
Those eligible for complimentary access include: Platinum Card Members, Business Platinum Card Members, Corporate Platinum Card Members, Delta SkyMiles Reserve Card Members, Delta SkyMiles Reserve Business Card Members and Centurion Members, thecenturionlounge.com
[See also: Introducing Gulfstream's Two All-New Business Jets]