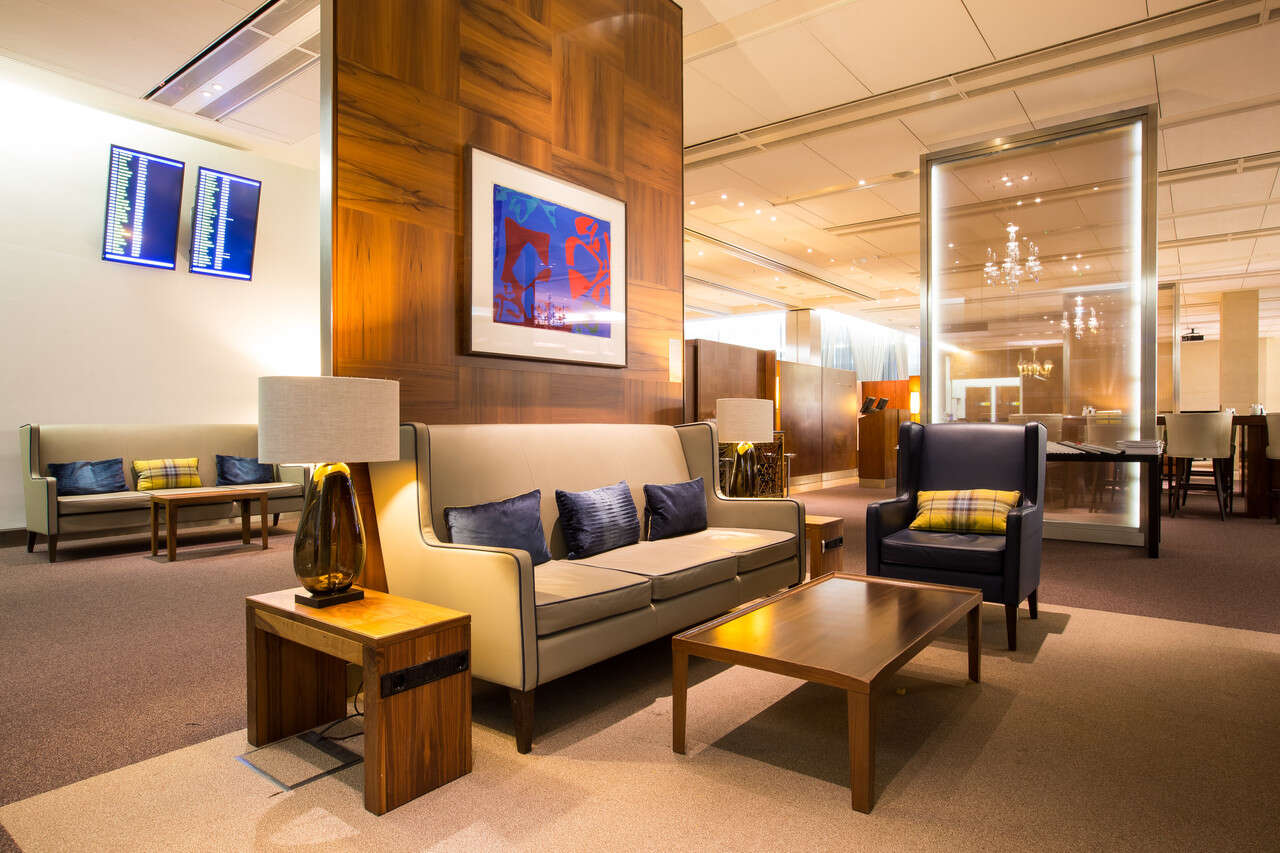 Traveling on commercial airlines can come with its highs and lows, whether this is enjoying world-class customer service onboard your flight or having to wait in a long immigration queue. When it comes to flying first class, however, there is a welcome escape from the crowds – many airlines boast luxurious first class lounges.
These first class lounges range in size and what they offer guests, but all are a welcoming oasis away from the hustle and bustle of a busy airport. This is why Elite Traveler has chosen to showcase some of the best first class lounges in the world. Whether you're looking for restaurant-quality dining options, comfortable and private spaces to work or a pampering session in your own spa-like bathroom, these first class lounges will fit the bill.
Air France La Première Lounge (Paris)
Air France's Salon La Première Paris is the airline's premium first class lounge, found at Charles de Gaulle airport (Termina 2E). The space has been designed with two rooms, a larger one at the front and a smaller one towards the back. The larger room is full of stylish furniture in Air France's signature colors of red, white and grey. Meanwhile, the smaller room has been designed as a private retreat with comfortable sofas against the walls.
Within the Le Première Lounge, there is also a cocktail bar, relaxation area, private bathrooms and four shower suites. Within these shower suites, guests have the opportunity to fresh up between flights or before they step onboard. Inside, they will find a walk-in rain shower, toilet, floating vanity table and amenities including bathrobes, slippers and toiletries from Biologique Recherche.
One of the highlights of this first class lounge is the dining area, which serves restaurant-quality dishes that could compete with several Michelin-starred establishments. Though there is a buffet for drinks and light bites, where the La Première Lounge really shines is with its a la carte dining, with a menu of dishes created by Alain Ducasse. Another highlight is the spa by Biologique Recherche, where guests can enjoy complimentary 30-minute spa treatments.
Swiss First Class Lounge (Zurich)
Easily one of the best first class lounges in the world, the luxurious Swiss First Class Lounge is found at Zurich International Airport (Terminal E). Spread across 8,000 sq ft of interior space, the lounge has the capacity for up to 80 guests – and even when the lounge is busy, it feels spacious and welcoming.
The Swiss first class lounge has a unique offering that makes it one of the best airline lounges in the world; it features two 'day rooms', which in effect are two bedrooms available for guests to use to freshen up. Each of the rooms is similar to a guest room in a five-star hotel, complete with a double bed adorned with Hästens bedding and an en-suite bathroom, as well as views of the runway. Those interested in a 'day room' must request one at the lounge's concierge – they cannot be booked in advance.
The rest of this exclusive lounge has been designed with three areas: a bar, a restaurant and a large outdoor terrace. Part of the bar has been dedicated to the lounge's incredible wine humidor, which is capable of holding up to 1,000 bottles of wine. Meanwhile, diners at the lounge's restaurant will be treated to white tablecloth service and an exclusive menu featuring Swiss regional specialties.
[See also: The Best First Class Airlines in the World]
Singapore Airlines Private Room (Singapore)
Singapore Airlines has always been a world leader when it comes to customer service. For those flying in Singapore Airlines' Suite class or first class, this service goes one step further with the introduction of the Private Room – an exclusive lounge found within the airline's home airport, the world-famous Changi Airport (Terminal 3).
A Singapore Airlines First Class passenger's journey actually begins as soon as you reach the airport. There is a dedicated check-in area for those flying First or Suite class, as well as a private entrance to the airport that leads directly to immigration. After this, guests are invited to visit the airport's SilverKris lounge – and it is within this lounge that you will find the mysterious Private Room.
Within the Private Room, you'll find comfortable leather lounge chairs and armchairs, which have mostly been arranged as pairs or individual seats to give passengers space and privately. There are also two private rooms, a collection of shower rooms and a family room situated within the lounge. The highlight of the lounge is its silver-service dining room, where you can enjoy a range of restaurant-quality dishes from around the world.
Etihad Airways Residence Lounge (Abu Dhabi International)
Slightly separate from the other first class lounges on this list, the Etihad Airways Residence Lounge is actually located within Etihad Airways' main first class lounge at Abu Dhabi International Airport. While the main lounge is available to all Etihad Airways first class passengers, the only guests able to access the Residence Lounge are those that are traveling in The Residence: a three-room private suite found on Etihad's A380 aircraft.
The Residence Lounge has been designed as the ultimate space to relax and unwind before your flight. In the living room space, there are lounge chairs and leather sofas, a dining table, television and a personal bar counter. Guests of the Residence Lounge are also treated to personalized butler service, with your butler taking care of any requests you have during your time in the lounge.
The larger first class lounge outside of the Residence is also an impressive location in its own right. Guests of the Etihad Airways first class lounge can enjoy treatments from the lounge's own Six Senses Spa and dine on a range of world-class food and beverage options, which change over the course of the day.
Cathay Pacific The Wing / The Pier, First Class Lounge (Hong Kong)
The Wing is one of Cathay Pacific's two first class lounges at Hong Kong International Airport (Terminal 1), found on its own level, stretched the main terminal space. Designed as a large, open-air space, The Wing offers guests a range of seating options, from armchairs and lounge chairs to office-style furniture where you can work in peace and quiet.
There are four food and beverage areas within The Wing, including an excellent a la carte restaurant called The Haven – dishes include everything from butter chicken masala to Wagyu beef – and a Champagne bar where guests can help themselves to several varieties. Within the lounge, there are also five shower cabanas that have been designed as mini spas. Each one is temperature-controlled, comprising a walk-in shower, deep bathtub, day bed, workspace and amenities from Jurlique.
Looking for a more secluded space? Visit Cathay Pacific's other first class lounge, The Pier. Designed by Studioisle, The Pier is found downstairs, under HKG's Departures level. Designed as a calm retreat, The Pier features three food and beverage options, eight day suites with day beds and complimentary spa treatments.
British Airways Concorde Room (London)
Situated in London's Heathrow Airport (Terminal 5) with a second Concorde Room in New York (JFK, Terminal 7) to gain access to this exclusive area you must be flying on a British Airways flight in first class. Deep within Heathrow airport, the private space can be found inside the Galleries First Class Lounge.
The Concorde Room has been designed to feel residential, reminiscent of a luxurious living room; it is appointed with comfortable sofas, armchairs and even the odd fireplace. Within the lounge, there is also a space designed as an indoor-outdoor terrace that offers expansive views of the runways, ample natural light and daybeds to relax on.
The Concorde Lounge features a dining room where those waiting for their flights can enjoy restaurant-quality fine dining and full table service, with extensive food and wine menus. Elsewhere in the lounge, guests can enjoy Elemis massage treatments or book private 'Cabana' rooms by the hour, which have their own armchairs, televisions and en-suite bathrooms.
Note: Some lounges and lounge amenities are currently unavailable due to Covid-19 travel restrictions.