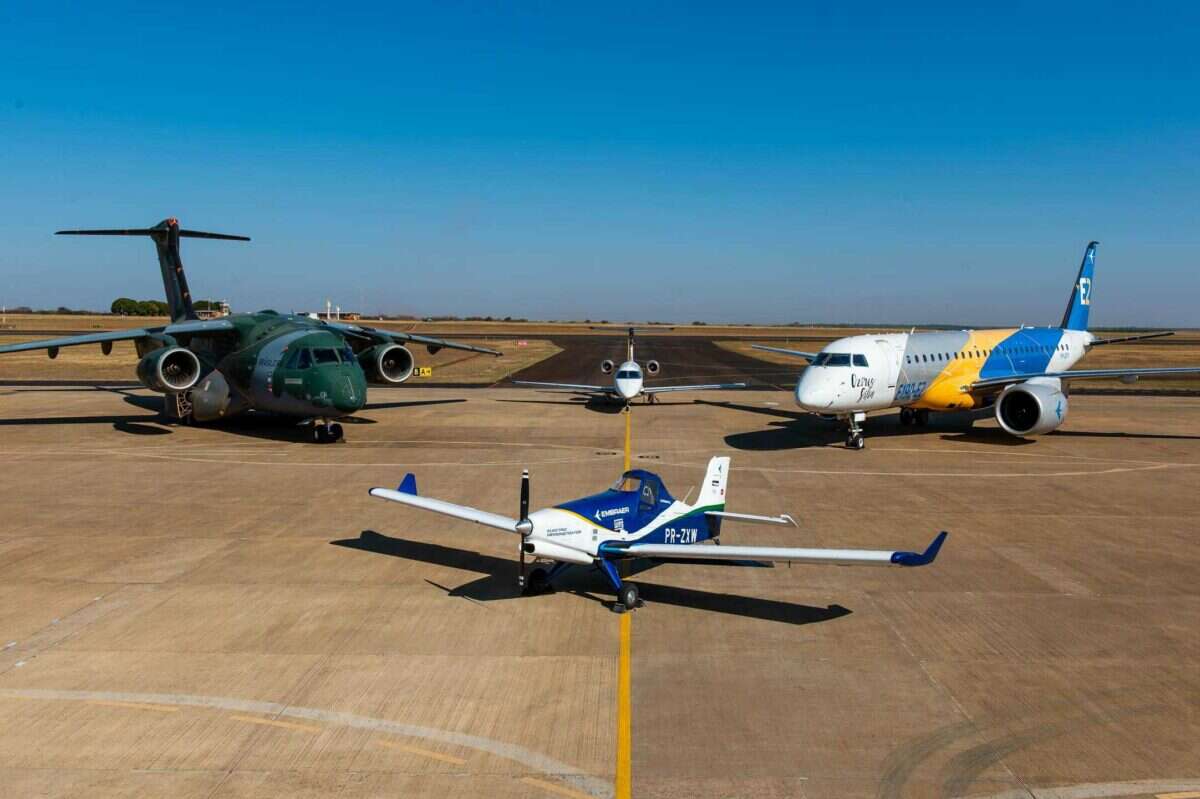 One of the world's leading aircraft manufacturers, Embraer, has announced ambitious new Environmental, Social and Governance (ESG) targets which, if achieved, will see the company's operations go carbon neutral by 2040. Embraer also aims to achieve net zero aviation emissions by 2050 and marked the announcement with the unveiling of an electric demonstrator aircraft.
In a wide-ranging update that also revealed healthy profits for the company, Embraer launched a series of ESG initiatives designed to ensure a sustainable and more equitable future in aviation. As well as a refocused commitment to carbon neutrality, Embraer has also promised to increase the number of women in its Master of Science in Aeronautical Engineering program to at least 25% by 2025. It also announced a deal to bring sustainable aviation fuels (SAF) to its facility in Melbourne, Florida.
It was its zero-emissions goal that took the headlines, however, which has been designed to align with the Paris Agreement's goal to limit global warming to 1.5 degrees Celsius. The news is particularly pertinent as it comes a week after a report from the IPCC warned we were running out of time to prevent irreversible damage to the climate and urged more action to reduce fossil fuel emissions.
"At Embraer, we recognize the urgency of the climate crisis and we are fully committed to a more sustainable future," says Francisco Gomes Neto, president and CEO of Embraer. "We are stepping up our efforts to minimize our carbon footprint by remaining dedicated to innovating solutions that have a broader impact for our customers, our local communities and our aircraft. ESG is at the heart of Embraer's purpose and that's why we've included ESG as one of the pillars in our strategic plan 'Fit for Growth', aligning business strategy with social responsibility and environmental practices."
Embraer will use a series of initiatives to help it achieve its goal by the end of the next decade. The company will continue to develop its electric technologies and integrate SAFs. It will also use offsetting for residual emissions that cannot be reduced through improved efficiency or advancing technology.
[See also: Elite Traveler Reveals Top Private Jets in the World Database]
With electric technologies still very much in their infancy, the use of SAFs across its aircraft will help it reduce CO2 emissions by 80% compared to standard jet fuel. Embraer is currently working with suppliers to ensure its current aircraft are converted to run on 100% SAFs. The company also reaffirmed its commitment to launching the world's first electric vertical take-off and landing (eVTOL) aircraft by 2026. The Eve project, developed in conjunction with Embraer X, is still a long way from its first commercial flight, but Embraer reiterated its belief that it could be flying over major cities in five years.
Further demonstrating its commitment to the electrification of the industry, Embraer revealed it has begun a flight test campaign of the electric demonstrator aircraft.
"The first flight of an aircraft is always an important milestone, and the takeoff of our first zero-emission electric aircraft also represents the relevant contribution of our teams and partners to the energy transition of the sector," said Luis Carlos Affonso, vice president of engineering, technology development and corporate strategy of Embraer. "We are committed to seeking solutions to enable the future of more sustainable aviation and innovation will play a key role in this journey."
[See also: Michael Amalfitano Aims for a Green Future With Embraer]