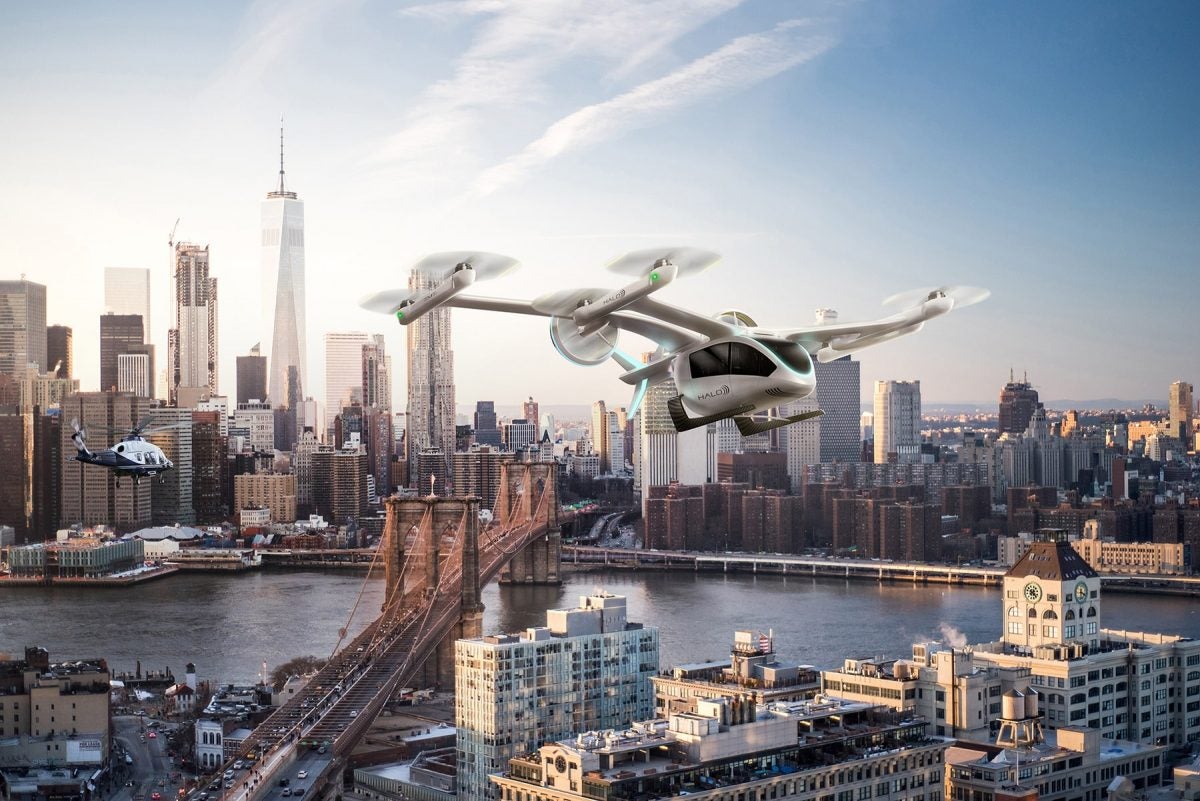 Halo Aviation has announced plans to bring private urban air mobility (UAM), otherwise known as flying taxis, to New York and London by 2026. The VIP helicopter operator has ordered 200 of the Embraer Eve electric vertical take-off and landing (eVTOL) aircraft and plans to spread them equally between the US and UK.
The Eve eVTOL was designed by Embraer X, the innovation arm of the Brazilian aerospace company. It was first launched in 2018 as a concept, but it is now a significant step closer to reality following this order. It also establishes Eve as an out-in-front leader in the race to deliver sustainable, vertical mobility to major cities.
Halo, which was acquired by OneSky Flight (part of Directional Aviation) earlier this year, evaluated almost a dozen different aircraft designs before selecting the Eve eVTOL as its launch product. Its ability to fly on renewable energy not only gives it the required sustainability credentials but also enables it to run quietly – vital for its chances of gaining the required certification.
"We believe Eve has designed an aircraft that not only is well-prepared for initial certification but also has a proven track record of production," Kenneth Ricci, principal of Directional Aviation said. "The outstanding lineage of aircraft design, certification and production that Embraer brings to this aircraft positions Eve with significant advantages in the competitive landscape. And our background as operators has taught us that product support is absolutely vital to the overall success of new programs.
[See also: President Michael Amalfitano Aims for a Green Future with Embraer]
"The relationship between Embraer and Eve will create one of the most successful global product support infrastructures in the industry. Finally, the work that Eve and Embraer have completed around their traffic management system is just one more example of how uniquely positioned Eve is to help us deliver on our vision."
Eve and Embraer have yet to release details of the aircraft's speed, range and capacity, which is in part down to rapidly improving battery technology. In an effort to make the aircraft state-of-the-art, a decision on battery capacity will be made as late as possible. That decision will determine how fast and how far the eVTOL can fly.
Andre Stein, president and CEO of Eve Urban Air Mobility, said: "This partnership is an important step for Eve to assume its position as a global leader in the UAM industry. We are ready to build the future of mobility with our partners in an extremely collaborative way. Halo is aligned with our mission to create comprehensive urban air mobility solutions, and this order marks an important milestone for Eve in key markets.
"We are confident that this mutually beneficial relationship will have a positive impact for many future users and enable both companies to grow their businesses exponentially."
[See more: Porsche and Embraer Partner on New Design Collaboration]