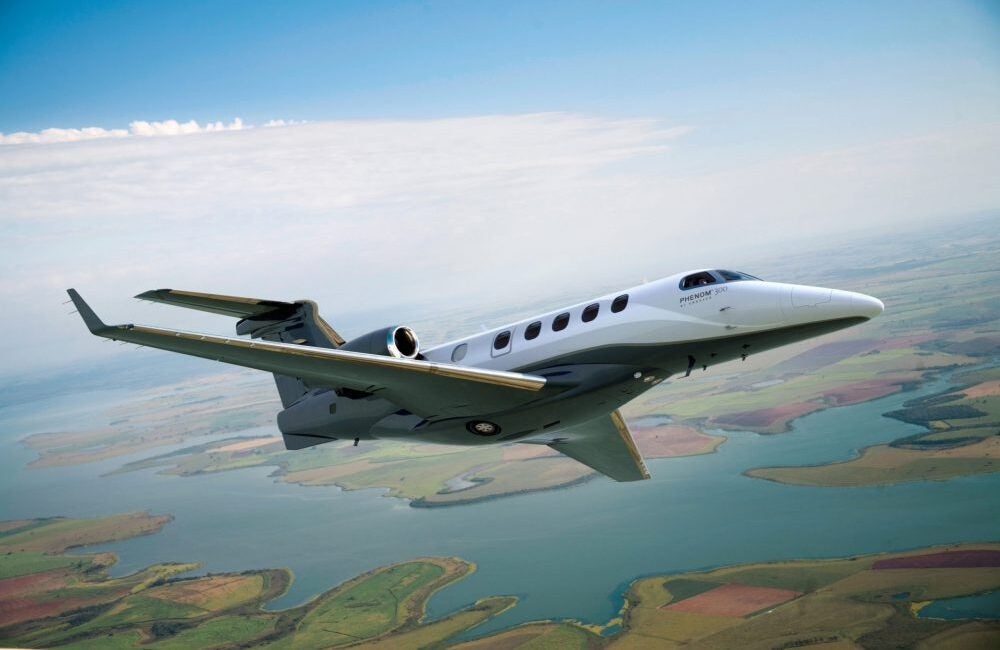 As the president and CEO of Embraer Executive Jets, Michael Amalfitano had to guide the company's global operation through the most turbulent period in private aviation's history, otherwise known as 2020. Like every other sector in the travel industry, private aviation was severely affected by the Covid-19 pandemic. However, while commercial aviation continues to operate at a fraction of its 2019 level, private aviation quickly bounced back.
The pandemic is still very much affecting our travel plans, and private aviation offers passengers a level of safety and reliability that commercial airlines cannot. But while many frequent fliers are championing their personal safety right now, environmental issues remain at the forefront of people's minds. As is well known, private aviation causes significantly more emissions than commercial, and the industry is having to tackle these concerns head-on.
With annual revenues of $1.5bn and an active fleet of more than 1,400 aircraft, Embraer Executive Jets is one of the biggest players in the game. Times may be good right now, but Amalfitano understands there is a pressing need to work toward zero emissions. He talks to Elite Traveler about how the pandemic affected the business and how Embraer Executive Jets is working toward a green future.
How did the events of 2020 affect the business?
We are facing a new era, certainly, with unique challenges and opportunities for the whole aviation industry and global air transportation in general. However, I have to say that the business aviation industry's resilience has been remarkable. There is clear evidence that the market is recovering in both the business and private-aviation segments. We know that people still need to connect, to interact and to fly, especially to keep families together and businesses operating smoothly. Business jets provide a safe, comfortable and reliable transportation experience.
There emerges a new group of people evaluating private air transportation, and this translates into strong first-time-buyer activity and a heated pre-owned market, as well as fractional ownership, jet cards and charter flights recovering nicely. The recovery is starting from the bottom, with a strong demand for domestic, shorter-range flights, and Embraer is very well positioned in this regard with the most technologically advanced and disruptive jets in the light and medium segments of the market, offering to our customers the ultimate experience in terms of comfort, technology, performance and operational support.
We've been able to keep a strong engagement with our customers on the digital environment, taking advantage of creative initiatives such as webinars and virtual tours of our aircraft and facilities. This confirms the trend that many decision-makers interact online, and remote purchasing can be as effective as in-person. We've seen solid interest from new prospects and real buyers with virtually no distressed-asset sales during 2020. Our backlog remains solid, with very few deferrals.
[See also: The Embraer Pulse Concept Is the Future of Private Air Travel]
And how will things change in 2021 as the world gets back to normal?
Normality will be different than one year ago, and 2021 will mark a transition to a new set of behaviors of both current and new business aircraft owners and users. Industry segments are strengthening, and new ones are arising in logistics, pharmaceuticals, agro-business, and digital banking and investment such as fintechs. A new breed of high-net-worth individuals is emerging and, as a result, leading to a stronger-than-usual first-time-buyer activity.
We believe business-driven traffic will reach 2019 levels in 2021 and possibly aggregate to more sustainable industry growth in the short term as corporate owners and investors reassess their fleet plans and, in some cases, right-size their fleet. Corporations will certainly favor innovative aircraft models able to deliver an outstanding customer experience through superior technology, performance and comfort. Aircraft models that present a strong combination of mission flexibility and residual value retention will dominate.
Our aircraft are extremely efficient and incorporate new technologies that make our industry even safer, like the Hepa (high-efficiency particulate air) filters and low cabin altitude pressurization on our Praetor jets or the application of MicroShield360 and Bacoban, long-lasting disinfectant, antibacterial cleaning solutions.
Private jets saw a big uptick in interest due to Covid-19. Do you see believe the increased interest is long-term, and why?
Recent surveys of airline travelers reveal that when choosing travel options, business passengers give more weight to cabin cleanliness, aircraft seating options and airport locations and connections than they used to. This change in behavior leads to a re-evaluation of preferences and choices, evolving to new levels of satisfaction requirements. Moreover, despite travel bans and country restrictions, private-aviation travel has been perceived as a safe air travel alternative, offering far fewer touch points during the travel journey than commercial aviation alternatives. Society is raising the bar and exploring new ways of connecting people and businesses. There is a renewed confidence with safety and security as fundamental pillars of traveling. A seamless-experience-centric air travel ecosystem is quickly evolving and certainly will lead to long-term interest and adoption.
Is there a growing concern among private-jet flyers over the environmental impact of their travel?
As with several other industries, aviation has its contributions when it comes to greenhouse gas emissions, but the aviation community, in particular business aviation, is actively working towards greater environmental sustainability, and this is a desire increasingly expressed by customers and operators. In such context, there is little argument within the industry about the need to achieve zero emissions, and that is why, in spite of the Covid-19 crisis, leaders continue to push for greener flights and more sustainable aircraft. On a broader ESG (environment, social and governance) approach, we must say private jets are often on the front lines, delivering supplies after natural disasters and supporting humanitarian initiatives. Disaster relief, transportation of terminally ill patients flying for lifesaving medical procedures, emergency organ transportation and blood and serum transfers are some examples of missions performed by business aircraft demonstrating its social importance.
[See also: The Most Exciting Private-Jet Concepts]
What would you say to a new customer who wants to fly privately but is concerned by its impact on the environment?
First of all, flying private is a very smart decision considering how productivity increases with a business aircraft. Secondly, caring about the environmental impact is an extremely fair concern. As mentioned before, the industry and operators are actively working to minimize emissions and become more sustainable.
It is possible to identify initiatives in the short, mid- and long term with the clear goal of making private aviation cleaner. Some fleet operators are using artificial intelligence to optimize routing in order to reduce fuel consumption, while others are exploring ways to offset emissions. We are also seeing operators using sustainable aviation fuel (SAF) either by directly adding it into regular operations or making use of the "book and claim" process. In a more permanent way, we see manufacturers working on the development of more sustainable airplanes with more efficient engines and aerodynamic solutions, such as winglets, the use of recyclable materials, alternative energy sources, more modern avionics as well as the inclusion of ADS-B, RNP SAAR (Automatic Dependent Surveillance Broadcast, Required Navigation Performance Special Aircraft Authorization Required).
Manufacturers also continue to refine the balance of airplane size, speed and range, allowing long-range trips with more optimized airframes. As well as investing in the aircraft and its operation, manufacturers are pursuing cleaner and more sustainable production processes, investing in energy-efficient buildings that make use of cleaner energy sources, recycling and the elimination of waste resulting from operations.
Combined, all those efforts are certainly minimizing the impact of private flight on the environment.
[See also: Porsche and Embraer Partner on New Design Collaboration: Duet]
 What is Embraer doing right now to improve its impact on the environment in the short term?
Embraer was one of the first companies in aviation to comply with ISO 14001, which is the international standard for designing and implementing an environmental management system. Ever since, we have continuously worked on improving our products, production processes, waste management, energy consumption and so on.
Moving forward, Embraer has plans to, in the short term, invest more heavily in the offset of its carbon emissions as well as intensifying the use of SAF. We have been constantly taking part in industry-related initiatives about SAF. In 2019, we joined other OEMs in California to demonstrate our aircraft are compatible with SAF, and our entire portfolio flew on SAF from Farnborough Airport (UK) to Geneva to attend EBACE. Also, on our way to NBAA-BACE 2019 in Las Vegas, we stopped by Salina Municipal Airport (Kansas) to fill up our tanks with SAF.
For the mid- and long terms, the target is to obtain a carbon-neutral operation and produce more efficient, clean products throughout their entire life cycles.
And looking at the longer term, what are the ultimate aims for Embraer with regards to sustainable flight?
A zero-carbon operation is our ultimate goal, and for that we will continue searching for cleaner sources of energy. Electrification and hydrogen are some of the technologies that may become more present in aviation moving forward. We also believe that zero-carbon operation needs to go beyond our gates and include downstream, our suppliers, and upstream, our end customers. It is ambitious, but most aircraft today are quieter and more fuel-efficient than aircraft of the 1960s, indicating that aviation can transform itself through ceaseless innovation.