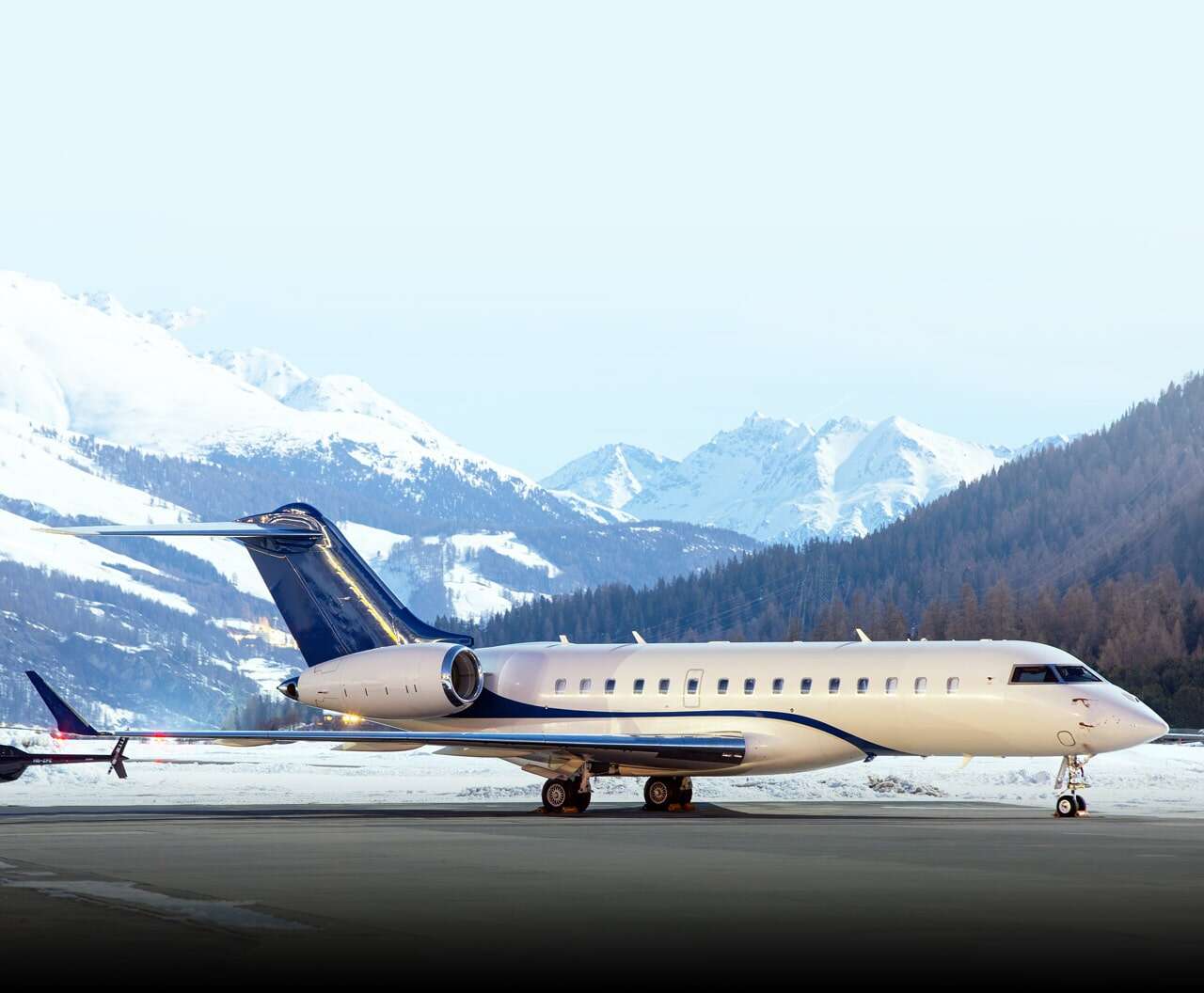 Combining an unrivaled sense of privacy and well as unbelievable convenience, it's no surprise that private jet sales are on the rise. However, last year supply reached an all-time low, with potential buyers forced to scour out new means of securing their perfect aircraft. And that is where pre-owned jet solutions like Jetcraft come in.
With over 60 years of experience, a team of international aviation experts and an extensive inventory of aircraft, Jetcraft is a global leader in pre-owned private jet sales and acts as a go-to for both first-time buyers and owners looking for an upgrade. And, in turn, this dominant sales position has led to Jetcraft's status as an authority when it comes to aviation trends – from what jets are expected to spike in popularity to the markets we can expect to grow.
In its most recent data-driven market forecast, which was released December 2021, Jetcraft predicted that the appetite for pre-owned private jets is only set to grow, with global transactions set to be valued at $12.4bn annually by 2025. We caught up with the company's president Chad Anderson to find out more about the key industry changes he's seen, and any potential developments for the coming years.
[See also: How to Find Your Perfect Jet When Supply is Low]
In your 16 years at Jetcraft, what have been the most significant or surprising changes in the world of private aviation?
One of the most significant changes in the world of private aviation during my career has been the rise of the super-midsize jet category. First defined by Bombardier with their Challenger 300 line, super-midsize jets have become popular due to their luxurious cabin features and lower operating costs than their heavier counterparts. The super-midsize jet has a range of 3,400-3,600 miles and seats 8-10 passengers, other popular models include the Gulfstream G200 and G280.
Another significant change has been the growing accessibility of private aviation. The expansion of business aviation solutions such as fractional ownership and charter has increased the opportunity to enter the market, enabling buyers to trial the jet experience before making a purchase which increases their likelihood of owning an aircraft. Over the past year, we've also seen the path to ownership accelerate, with buyers entering the market for the first time and moving straight to purchasing an aircraft, bypassing business aviation solutions altogether.
How do you think the pandemic has influenced jet preferences, particularly relating to the increase in large jet sales?
The pandemic raised the value proposition of private flying across all jet categories, but we're seeing high demand particularly for large jets, which provide owners with global flying capabilities. As borders continue to reopen and interest grows for long-range travel, demand for large jets which offer the opportunity to fly further is only expected to increase. If you have an office in California and a home in Italy, that's the perfect mission for a large jet as you don't need to refuel.
We're also seeing this trend among first-time buyers who previously opted to start with smaller aircraft – such as a Cessna Citation or Embraer Phenom. These buyers are now taking the jump straight into a larger, long-range Jet. Our 2021 Five-Year Pre-Owned Business Aviation Market Forecast predicts large jet sales are set to increase year on year, with 457 pre-owned large jet transactions expected in 2025.
What regions do you anticipate having the biggest sales growth in the next five years?
North America, Asia-Pacific and Europe have the highest UHNWI (Ultra High Net Worth Individual) populations and therefore offer greater ownership potential, so we expect to continue seeing strong growth within these regions. In business aviation's largest market, some 4% of North America's estimated 112,000 UHNWI population are business aircraft owners, while in the next largest markets, Asia-Pacific (91,000) and Europe (74,000), owners make up only 1% and 2% respectively.
Wealth levels and flying hours are the main drivers to ownership in the three largest regions. In addition, with the increased use of business aviation solutions converging with accelerated growth in wealth among Asia-Pacific and Europe's UHNWI, we expect opportunities to be realized in both regions, increasing ownership levels to narrow the gap with North America.
[See also: Why is There a Global Shortage of Private Jets?]
The Jetcraft market forecast predicts that average values for pre-owned jets will continue to increase until 2024 – do you expect this to affect any one size category in particular?
The healthy rise in average values is not expected to influence a specific category, however, the 4% Compound Annual Growth Rate (CAGR) will have the highest impact on the large jet category due to its higher price tag.
The steady rise in values reflects the rational market we're currently operating in, and our prediction is that average values for all pre-owned aircraft will grow marginally until 2024, with depreciation rates predicted to return to normal by 2025. This predicted rise is mainly a result of the growing demand for large jets which lifts total average values.
What key factors do you think will encourage potential buyers to lean toward ownership over charter solutions?
Charter solutions and ownership both provide great options, but for frequent flyers, purchasing a private jet offers the ultimate level of control for your schedule and environment. At Jetcraft, we're receiving an increasing number of inquiries from new buyers to the market who are looking to business aviation for safe and flexible travel.
Owning your own jet provides you with the added benefit of personalizing it to your requirements, and you have the freedom to make changes or extensions to your trips at short notice. Moreover, owners have the added benefit of choosing to hire a consistent crew they know and trust and can configure the aircraft cabin to their personal taste.
Does your market report anticipate any significant change in owner demographics?
Our 2021 Market Forecast anticipates buying power will increase globally as the HNWI population continues to grow both in numbers and wealth, and at a higher rate than previously seen. A majority report their wealth has increased or remained unchanged during the pandemic. Overall, this means the owner demographics are widening, with more people able to enter the business aviation industry long-term which is an exciting prospect.
[See also: How Jetcraft Predicted the Pre-owned Private Jet Boom]
The past year has seen the lowest number of jets on the market in decades – how is Jetcraft ensuring that its customers can buy their perfect aircraft in such demanding times?
We're currently seeing pre-owned inventory levels at a record low of 3.2%. For those looking to sell or upgrade, now is a great time to do so.
Although tight supply is creating challenges for buyers, at Jetcraft we're managing to overcome this by leveraging our global structure and 60 years' worth of industry experience. Our team is stationed in more than 20 offices worldwide which provides us with timely market intelligence in every critical location.
For those looking to buy, our up-to-the-minute global insights mean we are expertly equipped to source aircraft and can make acquisitions possible by moving high-quality inventory around the world for our clients. With our regional expertise, we guide buyers through country-specific regulations, speeding up the process entirely.
What do you personally think is the most exciting aircraft on the pre-owned market at the moment?
Bombardier's Global 7500 and Gulfstream's new G700 are two exciting aircraft on the pre-owned market, and the large jet segment is a category to watch right now. These aircraft offer global capabilities for those seeking to reaffirm international business relationships and reconnect with their contacts across the world. Major manufacturers are currently investing in their Ultra Long Range Jet programs, making this a category with lots of potential.
And finally, what would be your key advice for first-time jet buyers in the current market?
Today's market is competitive, particularly with the tightened supply of pre-owned aircraft, so it is more important than ever to have the right team with the right capabilities to navigate you through your transaction efficiently. Especially for a first-time buyer, the process can seem daunting, but by working with an established global advisor the process is simplified.
[See also: Twenty For 20: Iconic Jets of the Past and Future]