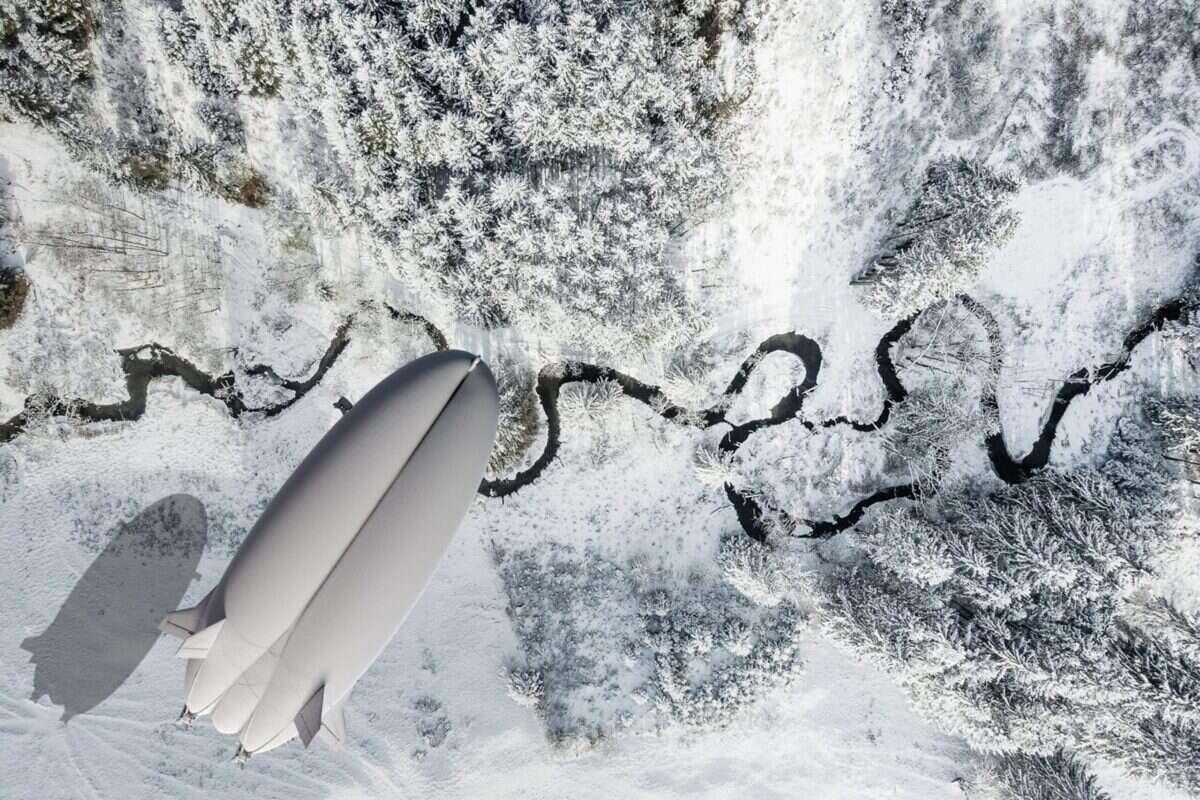 Back in the 1930s, before the dawn of modern jets, airships were the pinnacle of luxury travel. Cruising at slow speeds and low altitudes of around 1,000 feet, passengers enjoyed stunning views as they floated over the cities and oceans below. By the end of the decade, though, this golden age of blimps was brought to an abrupt end with the widely publicized Hindenburg disaster. Now, Swedish start-up, OceanSky Cruises, is on a mission to bring back airship travel as a sustainable aviation alternative, starting with an expedition to the North Pole.
The company's CEO, Carl-Oscar Lawaczeck, always had a keen interest in airships. With over a decade's experience under his belt as a commercial airline pilot, the entrepreneur saw dirigibles as an opportunity to transform the notoriously emission-heavy aviation sector.
"Airships are very light which makes them extremely efficient," he explains. "You need a fraction of the energy to fly them compared with an airplane as you don't have to lift hundreds of tons of metal into the air and move at 500 mph."
For Lawaczeck, while net-zero pledges have good intentions, they are simply not sufficient for tackling the climate emergency. "Today, 80% of the world's energy is supplied by fossil fuels – we're decades away from having an abundance of clean energy," he explains. "That means we need to make a plan on the consumption side. If we're serious about becoming sustainable, we cannot waste energy on travel and transport, we need to change our habits, reduce our energy footprint and preserve energy."
This begs the question should people really be flying to the North Pole onboard OceanSky Cruises' new airship? But the CEO stresses that these luxury expeditions are just the starting point for introducing airships into the commercial aviation industry, which has the potential to preserve huge amounts of energy long-term.
"The challenge with introducing new technology to society is that in the beginning, it's very expensive because there's a lot of development costs," he says. "For example, Tesla introduced the Roadster which is a premium sports vehicle in order to break into the industry. It's the same with our concept – we have to create a business model that makes sense, to pay for those high costs and the best way to do so is through experiential luxury travel because the uniqueness of the trip means that people are willing to pay a premium price."
In this way, the CEO believes OceanSky Cruises' expeditions to the North Pole will appeal to eco-conscious passengers who have a desire to "consume responsibility and help new technologies to flourish which can change the world".
With a double cabin costing a hefty $240,000, the 36-hour journey certainly doesn't come cheap. So what can passengers expect?
While the airship itself is still under development, tickets are already on sale and the first trips from Svalbard (a group of islands north of Norway) to the North Pole are scheduled for 2025. Developed by British manufacturing company, Hybrid Air Vehicles, the Airlander 10 will feature eight spacious cabins ensuring the expedition is an intimate affair with just 16 passengers on board.
As you would expect, the interiors are seriously lavish. "When you fly low and slow, you have an unpressurized cabin, which means you can have very large windows," says Lawaczeck. "Space is one of the factors of luxury. You can go to the bar, lie in bed, visit the restaurant and still watch the beautiful landscape passing by below you." The CEO believes this level of comfort is a major advantage, likening the experience of traveling onboard an airship to that of a "flying yacht".
However, persuading passengers to step onboard could be tricky. The Hindenburg disaster was over 80 years ago, but filmed footage of the ill-fated airship bursting into flames above New Jersey is powerful enough to linger in the public's memory.
This has not deterred the ambitious CEO. "Airships exploding in the 1930s was not something that was common," he says. "It was something that brought down the whole industry because it was the first filmed catastrophe in the world. Today, we're not using hydrogen gas, we're using helium which is inert so it's impossible to set on fire – you will never see those accidents again."
[See also: The Most Exciting Private Jet Concepts]
What's more, he continues, airships land at a "bicycle speed" of around 20 mph which is safer than an airplane (a typical 747, for example, lands at around 160 mph). And if you don't like turbulence there's good news as flying at a lower altitude and a cruising speed of around 20-70 mph means traveling onboard an airship promises a smoother journey.
Of course, it also takes around five times longer to get from point A to B. But Lawaczeck envisions a future where airships can compete with planes and trains as a mainstream mode of passenger transportation as priorities shift.
"The unit cost of airships will come down for sure," he says. "How far is very hard to say but according to our calculations we could probably reach the same price point as airplanes. I hope one day that people actually choose airships, because it's a better experience and there's an extra bonus that it's energy efficient. People will always need to travel quickly but I think they will have to pay for the energy they consume and, in my view, energy in the future will be very expensive."
[See also: Sustainable Skies: Jet Companies Making Positive Change]