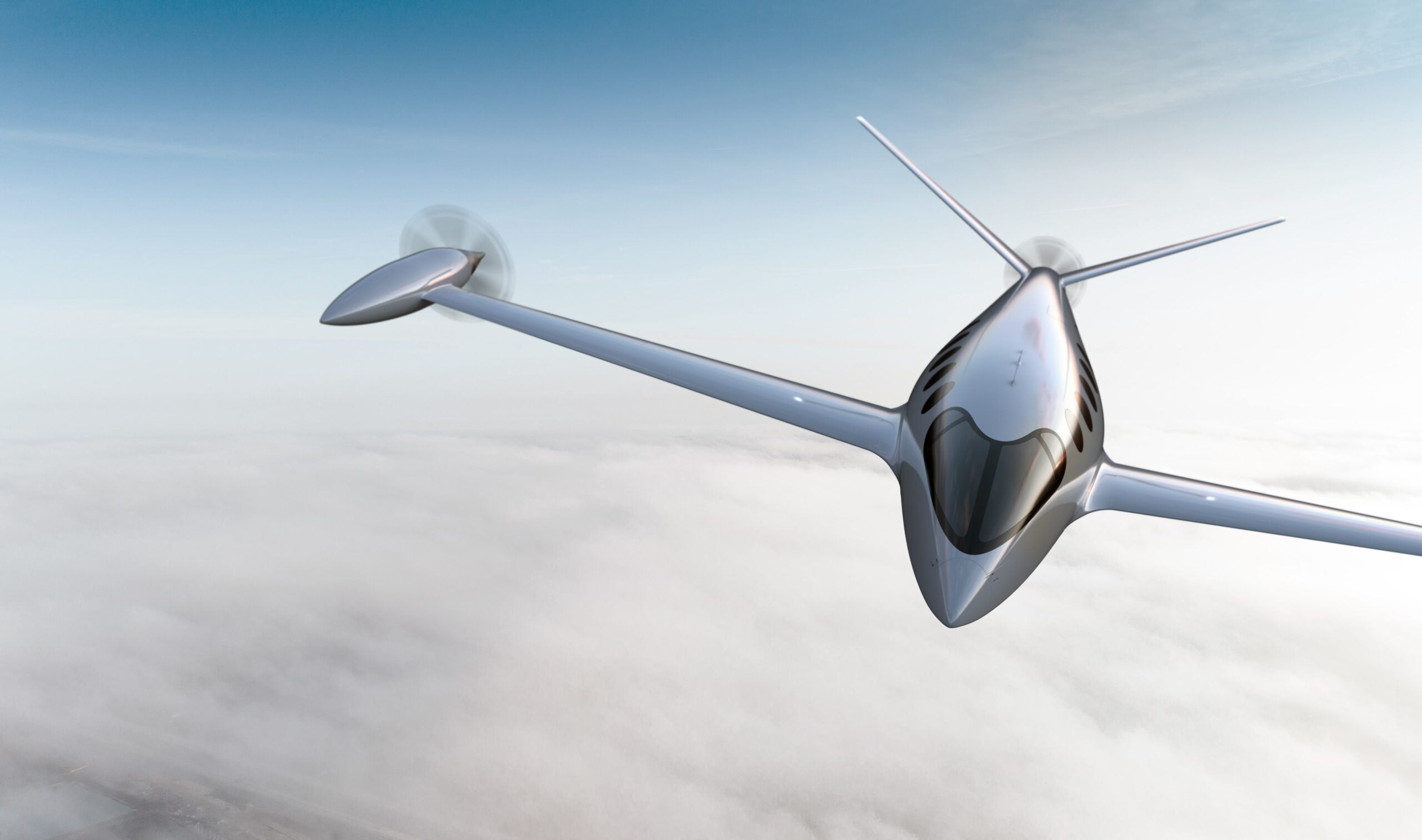 With private aviation more in demand than ever, airplane manufacturers are under increasing pressure to push the boundaries of aerospace engineering and develop cutting-edge private jet concepts to delight and inspire travelers.
From revolutions in supersonic speed to windowless jets, there is seemingly no limit to what aircraft designers can imagine, nor what money can buy, with futuristic private jet concepts becoming more and more outlandish each year.
Although some private jet concepts are a few years ahead of what can be physically built and will therefore remain a concept until technology catches up,  others may be available to experience far sooner than you'd think.
Overture by Boom
The need for speed appeared to all but end with the retirement of Concorde in 2003. However, startup aerospace company Boom is fulfilling travelers' desires for efficient and accessible air travel with the launch of its private jet concept, Overture. Capable of reaching up to Mach 2.2 (twice the speed of sound), Overture is set to be the fastest commercial airline ever created, making supersonic travel more accessible than ever.
The business-class only jet promises to cut journey times almost in half, with a flight from New York to London taking just 3.5 hours. In addition to industry-leading speeds, Overture will also lead the way in sustainability with a commitment to maximizing fuel efficiency, minimizing noise, and ensuring that its engines can accommodate sustainable aviation fuels (SAF). With the demonstrator unveiled in 2020, Boom is hoping to fly Overture for the first time in 2026.
[See also: Why Private Jets Are Cheaper Than You May Think]
IXION by Technicon Design
The views that can be enjoyed from an airplane are completely unrivaled, with patchwork fields and flashes of cities making way for vast oceans – but many travelers find that the classic porthole airplane windows fail to do these vistas justice. It may come as a surprise then, to hear that several aviation companies are toying with the idea of completely windowless planes – for example, IXION, a private jet concept by Technicon Design.
Far from the claustrophobic journey that springs to mind, the windowless IXION will actually give passengers an even better view thanks to the high-definition screens that line the cabin walls. The state-of-the-art screens will project a 360-degree view of the outside world in real-time, via external cameras on the plane's wings. Initially designed for the 2013 NBAA show to showcase Technicon Design's creative design and visualization capabilities, it is unlikely that we will see IXION in the air in the near future – however, it does pave the way for new onboard experiences.
Alice by Eviation
It's no secret that an electric revolution is taking place on land, but this push for greener transportation has also made its way to the skies with sustainability being key in most recent private jet concepts. Unveiled at the 2019 Paris Air Show, Eviation's Alice is hailed as the world's first all-electric commuter aircraft, with prices estimated to start at $4m. Paving the way for more sustainable private aviation, Alice does not require a single drop of fuel, is completely emission-free and is impressively quiet as it soars through the clouds.
Offering a modest range of 440nm, Alice is poised to become the ultimate eco-friendly commuter private aircraft, with significant orders already in place for the nine-seater plane. However, despite the initial promise of a first flight in 2019 and FAA approval in 2021, Alice has encountered a few hiccups in its development process, including a fire at the start of the year, leaving its commercial launch date in question.
[See also: Private Jet Industry Trends Upward Due to Covid-19]
Pulse by Embraer
Imagined to celebrate Embraer's 50th anniversary and anticipate what aviation may look like in the next 50 years, Pulse is admittedly unlikely to grace the skies any time soon with a tentative release date of 2070. Taking inspiration from the world's first-ever concept car – Harley Earl's Buick Y-Job – the futuristic aircraft concept is intended to merge the experience of flying and driving, with passengers transported directly from jet to car via a glass pod.
As well as dramatically changing the way we travel, Pulse would also completely elevate the experience of flying, with the transparent glass pod offering unobstructed views of the outside world. When passengers tire of the view, the windows are designed to transform into an interactive media center allowing you to enjoy a movie or catch up on emails. However, amazing as Pulse sounds, many of its features rely on materials that don't yet exist, such as transparent metals making even a 2070 arrival feel optimistic.
SpaceShipTwo by Virgin Galactic
For the adventurer who has been to all four corners of the world, space travel is the natural next step. At almost 15 years in the making with setback after setback, some thought that the Virgin Galactic space travel concept would never come to fruition. However, with the final tests planned for the near future, SpaceShip Two may be performing commercial journeys to space sooner than we think.
SpaceShips Two's highly anticipated futuristic cabin interiors were unveiled earlier this year. Featuring reclining seats that will absorb the excessive G-force, mood lighting and soft-touch elements, the cabin has been carefully designed to ignite a sense of calm and familiarity for passengers who will have never traveled so far from earth. Set to travel an unprecedented 60 miles up from the earth's surface, lucky passengers will experience zero gravity at the very edge of space.
Explorer by Lufthansa Technik
First previewed at the 2021 Monaco Yacht Show, the Explorer private jet concept by Lufthansa Technik is intended to be far more than just a way of getting from A to B. Instead, the jet acts as both transportation and the destination, in a way that is most often seen on luxury yachts.
Using the Airbus A330 as its base, when on the ground, Explorer's facilities will be like that experienced at a five-star hotel. Potential guests can expect multiple sleeping quarters, including a VIP cabin; full bathrooms; office space; and social areas. There's even capability for an open-air terrace.
Another especially striking feature is the integrated projection system that covers the ceiling of the main social area, which creates a virtual inflight view. Guests can choose the graphic they want to enjoy, from starry night skies to underwater seascapes.
[See also: What Are Private Jet Empty Legs?]