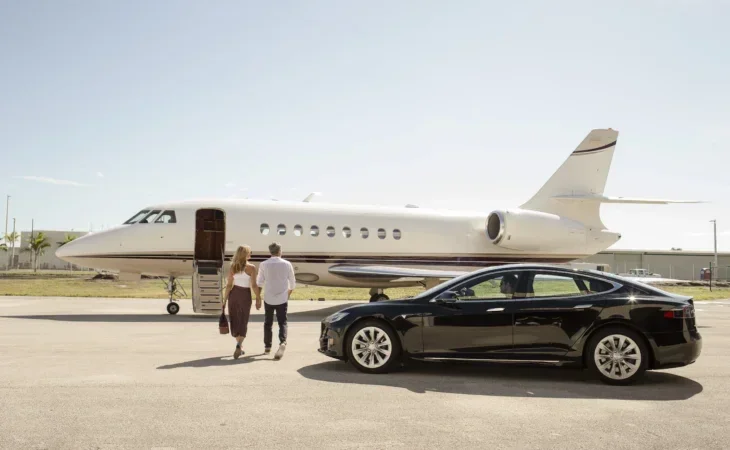 Private jet charter company Victor has unveiled a partnership with Neste, the planet's leading producer of Sustainable Aviation Fuel (SAF), that will enable its clients to cut the carbon emissions of every flight they take.
From June 29, Victor's private and corporate members will be able to choose exactly how much fossil fuel from their booking they want to replace with Neste MY SAF, from 5% anywhere up to 100%.
What is sustainable aviation fuel?
Made from renewable waste and residue raw materials like cooking oil and animal fat waste, Neste MY SAF reduces greenhouse gas emissions by up to 80% over the entire fuel lifecycle when compared with kerosene.
Victor describes the model as a 'pay here, use there' solution, offering SAF for every charter flight, regardless of operator or departure airport. While the low-carbon fuel will not be used on board the aircraft clients fly in, their SAF contribution will ensure another of Neste's in-sector partner flights benefits from a carbon emission reduction by the amount purchased.
Why? "SAF is not widely available today," explains Toby Edwards, co-CEO at Victor. "It's currently only available in a few locations around the world such as the Neste refinery in Porvoo Finland and its availability is typically only at the major airports such as Amsterdam, Heathrow and San Francisco International."
"In 2021 there were more than 800,000 private flights worldwide from almost 4,000 airports – it's a fragmented industry and it will take many years before SAF is available at all the airports that Victor members utilize. Our 'pay here, use there' model has the same benefits for the planet because the emission reduction is still in-sector, without having to wait for SAF to be physically available to be used on the actual aircraft the clients fly in."
[See more: Victor Unveils Sustainable Aviation Fuel Offering]
The private jet charter company hopes the new scheme will increase the demand for SAF, which, in turn, will increase supply and make the greener fuel more widely available. Ultimately, Victor's aim is to enable private jet charterers to make a significant contribution to Net Zero 2050 and assist in the Clean Skies for Tomorrow Coalition's mission to power global aviation with 10% SAF by 2030.
"I am relieved to be announcing our global partnership with Neste today," said Edwards. "The urgent and rapid scaling-up of SAF is essential if we are to achieve our net-zero goals. It's fundamental to all our stakeholders that we continue to be transparent about the emissions of our members' private flights and, where possible, take ownership of the climate crisis. Our pioneering partnership could create a SAF blueprint for the fragmented business aviation sector and help accelerate its wider usage across the aviation industry."
Johnathon Wood, vice president of Europe for renewable aviation at Neste added: "This partnership is an industry-leading blueprint that we hope other companies will follow as the aviation sector strives for Net Zero emissions by 2050. SAF is essential to reaching this goal, immediately reducing life-cycle greenhouse gas emissions. Neste is committed to supporting aviation's emission reduction goals and believes that requires a joint effort where everyone's choice matters."
[See more: AirPartner Unveils Ambitious Sustainability Strategy]