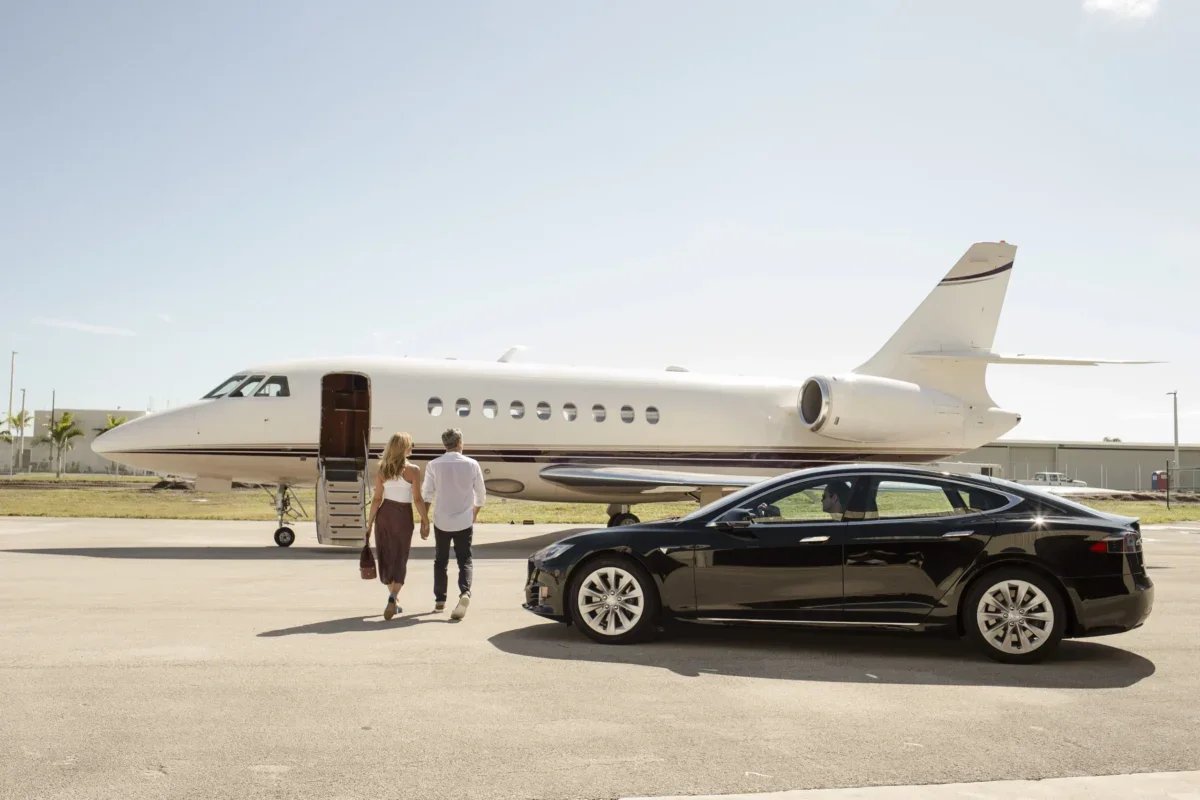 In the face of the climate emergency, the private aviation sector is under pressure to do something about its hefty carbon footprint. But with so many companies touting their green credentials, it can be tricky to separate eco-friendly fact from fiction. So, when jet-charter broker Victor announced it was introducing an opt-out sustainable aviation fuel (SAF) offering with boutique airline AirGo, naturally we were intrigued.
Victor already carbon offsets every flight by 200%, calculating the exact fuel burn for each trip and including the figure in quotes for their clients. However, the jet-charter broker wanted to go even further to minimize its environmental impact.
"There's no silver bullet for the aviation industry when it comes to reaching its net-zero goals," says co-CEO of Victor, Toby Edwards. "It's got to be a combination of factors, but I think sustainable aviation fuel is going to do the heavy lifting."
To this end, Victor partnered with boutique airline AirGo which already has its own SAF program. Those booking a flight through the jet-charter broker who choose the AirGo option will now be given a quote that includes the cost of flying with SAF. Over the lifecycle of the fuel, this can cut CO2 emissions by as much as 80%.
[See more: Sustainable Skies: Jet Companies Making Positive Change]
This sounds great, but how does it work in practice, given current supply issues? The new offering operates on AirGo's Book & Claim model, developed with CO2 offsetting specialist Compensaid. This means that even if you opt in to pay the premium, the aircraft you travel in might not actually be using SAF.
"If you have to ship or transport [SAF] because it isn't widely available, you're burning more emissions just to move it around," explains Edwards. "It's far more sensible to use it at the airport local to where it is produced. Through the program with AirGo, the SAF can then be put on another plane at the regular jet price because the consumer has already paid the premium."
"Anything we can do as a private business to make it easier for customers to pay for SAF will increase demand, which will increase supply and get the ball rolling," he continues. "Otherwise, everyone's just waiting for the government to subsidize SAF flights. Yes, that might happen one day and when it does, brilliant. But in the meantime, we can be proactive and make these decisions for ourselves."
It's not just the fuel itself that makes AirGo the greener option. The boutique airline also operates an extremely fuel-efficient fleet of aircraft – the Piaggio Avanti – which burns around 40% less fuel compared with similar size jets.
For Edwards, this multi-pronged approach is essential for making a real difference. "The first good decision you can make if you're flying private is to choose [an aircraft] which burns less fuel," he says. "And then once you know what the fuel burn is, you can ask yourself 'Can I fly this plane with SAF? Can I offset my emissions?'"
Currently, only 3% of Victor's clients have opted in to the new scheme with AirGo, which might not sound like a lot but is a significant figure given that SAF accounts for just 0.01% of global jet fuel use.
While the high cost of SAF might explain the relatively low uptake, Edwards stresses that this shouldn't be an issue for those with the means to access private aviation.
"My personal view is that people flying private jets are the ones who should be paying a premium for SAF," he says. "I don't see why young people who quite frankly aren't the ones responsible for global warming should be the ones paying a premium to be flying in economy, which inherently emits far lower carbon emissions than flying private."
"If you can't afford to pay for SAF for your journey, downgrade whichever category you are flying with, because the lower you go, the less carbon you'll burn on a per passenger basis."
[See more: Chris Leach on a Greener Future for Aviation]
Of course, AirGo is just one of the operators Victor works with and SAF is not yet available for every flight. But the co-CEO has ambitious plans to broaden the scope of the offering going forward.
"You can imagine what it would be like if we were able to offer a similar [SAF option] for all of our operators," he says. "We're working very hard behind the scenes to grow that availability."
The partnership with AirGo has given Edwards and his team the confidence that the appetite for SAF exists. "It's been really encouraging to see," he reflects. "I hope that, in time, our competitors start to believe in it too."
"If you make it easy for the consumer to buy a product that's greener and better, let them decide whether they want it," he continues. "Don't assume that because it's too expensive they won't, because evidence suggests that, on the contrary, people will pay more."
[See more: AirPartner Unveils Ambitious Sustainability Strategy]