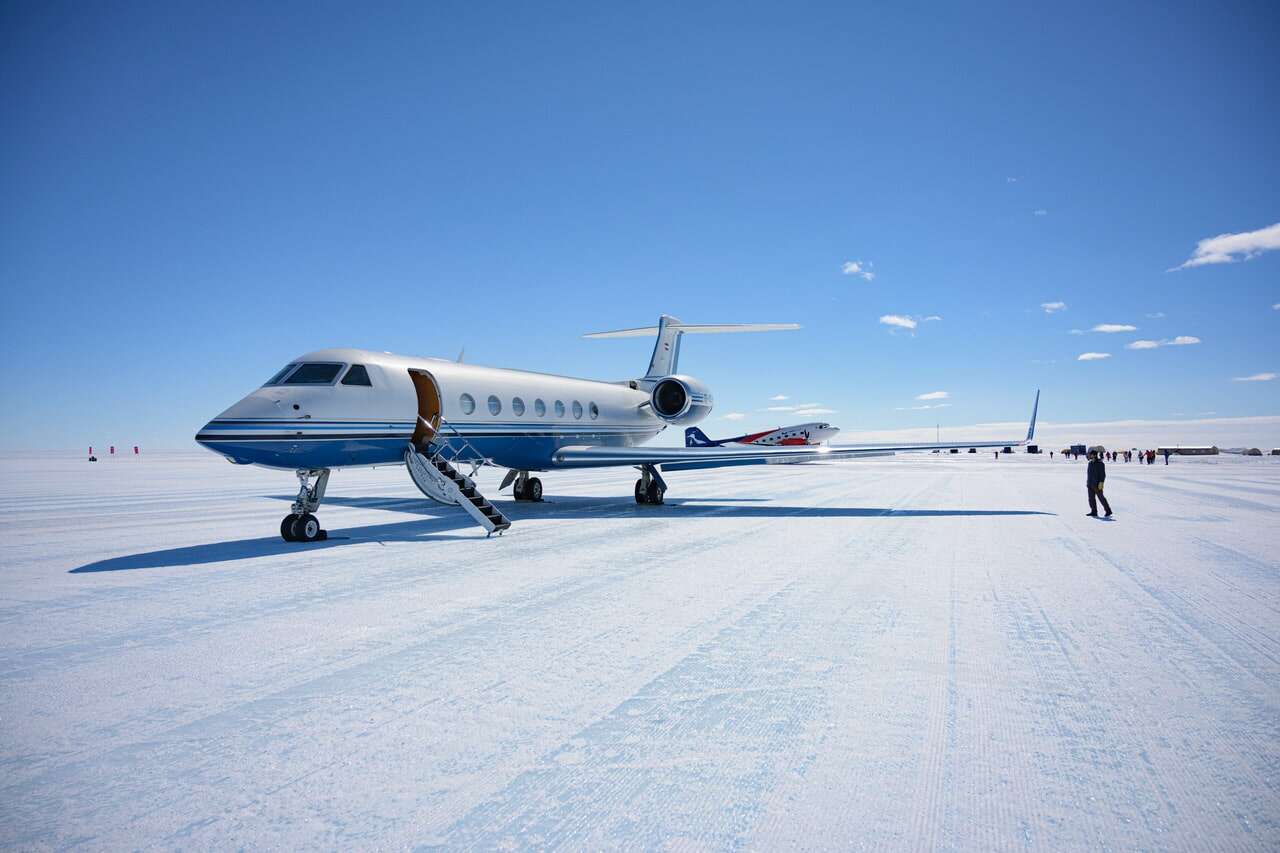 Despite being founded with environmental principles at its core, the serious carbon footprint of private aviation has long been a thorn in the side of White Desert. Now, with the announcement of a Sustainable Aviation Fuel (SAF) roll out across its fleet, the Antarctic operator can make true on its responsible promises.
White Desert's immersive and authentic itineraries throughout the pristine Antarctic wilderness are thoughtfully imagined to showcase a corner of the world that might otherwise just be reserved for scientists and hardy explorers, while still remaining respectful of the fragility of the natural world.
Each of the journeys, which range from witnessing the famous Emperor penguin hatching season to learning essential polar exploration skills, includes private jet transportation to White Desert's state-of-the-art luxury camp. The company has also broadened its offering to use its fleet to transport scientists to its Antarctic research bases.
However, despite White Desert's commitment to carbon offsetting each journey and its carbon-neutral certification received in 2007, the damage of traditional Jet A-1 fuel can't be ignored. By switching to SAF, which is produced from waste oils and fats, across its entire fleet, the company has the potential to reduce its aviation carbon footprint by up to 80% when compared to traditional fuel use. SAF is also recorded as emitting fewer soot particles, which is a particularly important quality for aircraft in Antarctica, as high soot content has the potential to exacerbate snowmelt.
[See also: Twenty For 20: Iconic Jets of the Past and Future]
"We do so much to minimize our impact in Antarctica, from building specially-designed camps to removing all waste each season, but the one area we couldn't reduce was the fuel we were burning in our planes. All we could do was offset," says Patrick Woodhead, White Desert CEO. "With the advent of SAF fuels, suddenly all this has changed, and we're delighted to invest in what is undoubtedly the future of aviation."
White Desert will shortly receive its first test delivery of almost 8,800 gallons of SAF in time for its upcoming season. Following the initial test, the company has outlined plans to make a complete switch to sustainable fuel in the next three to five years, dramatically limiting its environmental impact. The current fleet includes a Gulfstream G550 for travel into the Antarctic region as well as two Basler BT-67s, which facilitate safe and comfortable travel within the Antarctic's interior.
While the SAF supply is currently coming from California, White Desert has committed to monitoring the future availability in closer geographic proximity in order to limit the carbon impact of transportation.
This newly announced SAF rollout makes White Desert the latest in a series of private jet operators who have recognized their responsibility to help combat the ever-growing climate crisis and offer travelers a more environmentally conscious way to see the world, without compromising on luxury.
[See also: Elite Traveler Reveals Top Adventures for 2021]