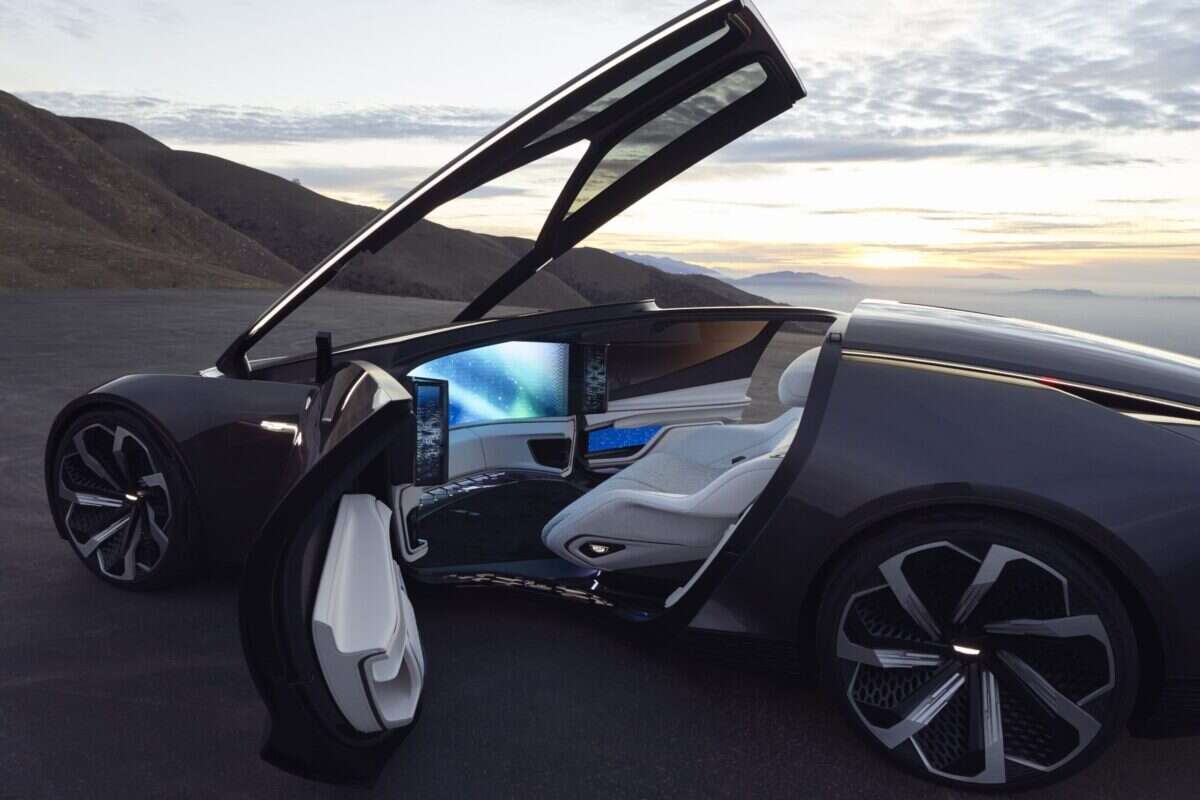 With its sleek silhouette and panoramic glass roof, Cadillac's latest electric and autonomous luxury vehicle concept, InnerSpace, has been designed to make an entrance. "If I'm showing up at some hot restaurant, entry and egress occasions are very significant," says Bryan Nesbitt, GM's executive director for Global Advanced Design and Global Architecture Studio. "There's a lot of people waiting outside, everybody's looking – it's a dramatic vehicle that shows up. The roof opens, the doors open and the seats actually pivot out to you."
This futuristic new design joins PersonalSpace, a single-seat vertical takeoff and landing concept (akin to a human-size drone) and SocialSpace, a boxy autonomous vehicle with space for six, in the growing Cadillac Halo Portfolio. Tying these concepts together is a desire to elevate the passenger experience by leveraging cutting-edge technologies and enabling travelers to make the most of the extra personal time that fully autonomous mobility brings.
"Customers in the luxury space are looking for carbon-neutral solutions and more experiential fulfillment," explains Nesbitt. "There's a lot of time that can be maximized while you're commuting and that becomes really precious because of the busy schedules of these types of customers."
Unveiled at the Consumer Electronics Show (CES) in early January, the InnerSpace concept has been thoughtfully designed with comfort in mind. Cadillac's autonomous vehicle features two seats merged into a single reclining couch with plenty of legroom and a wrap-around LED display screen instead of a steering wheel. Outside, Goodyear tires featuring SoundComfort technology help minimize vibrations and noise for a smooth journey.
"It's all about having that quality time with somebody special," says Nesbitt. "So imagine if you're working in LA, the car can go and pick up that person, then you could spend overnight in Palm Springs or down in San Diego. You might want to sleep for a little bit before arriving at that destination and the vehicle would allow you to do that."
Perhaps most impressive is the AI-driven biometric input, accessed via the giant screen that enables passengers to select from different themes for their journey ranging from entertainment to wellness. For example, explains Nesbitt, "if you're feeling anxious we want to be able to mitigate that as part of our customer experience. So we're collecting all of this data and managing it at a multi-sensory level through aromatherapy, light therapy and audio therapy. It can be completely bespoke relative to a particular user's needs which is really exciting for the luxury space."
Above all, he stresses that the technology must be easy to interact with. This is where GM's software platform, Ultifi, comes in, enabling additional features and updates to be delivered seamlessly over the air.
[See also: Rolls-Royce Reveals its First Fully Electric Car]
If you're hoping to get your hands on a vehicle like this, you'll need to be patient. InnerSpace remains a concept for the time being providing a vision for what the future of personal mobility could look like by the end of the decade – a world in which there are 'zero crashes, zero emissions and zero congestion'.
Nesbitt acknowledges there is a long way to go before this goal becomes a reality but believes concepts like this are a crucial stepping stone along the way. "The truth is, it takes years to identify and then ultimately validate what is really useable for the consumer," he says. "It's important to have almost a beacon for ourselves of what could be possible with this kind of technology integration. Automotive companies are large and complex with multiple skill sets that have to be corporately organized. If we can create these visions, it's something that everybody can see and understand so we can move forward."
In the meantime, Cadillac continues to move steadily towards an electric future with the debut of its LYRIQ all-electric SUV featuring supercruise technology with hands-free driver assistance, set to launch production in 2023.
While the industry is one of the most competitive in the world, GM's executive director relishes the task ahead. "One of the things I love about CES is that it reminds you how much of an arms race if you will, that it really is – everybody's looking at the promises of new technology," he says. "The work we're doing on a day-to-day basis is challenging, but I think that's part of the excitement – it's about really making a difference."
[See also: Bentley Bentayga Hybrid: A Glimpse into the Near Future]