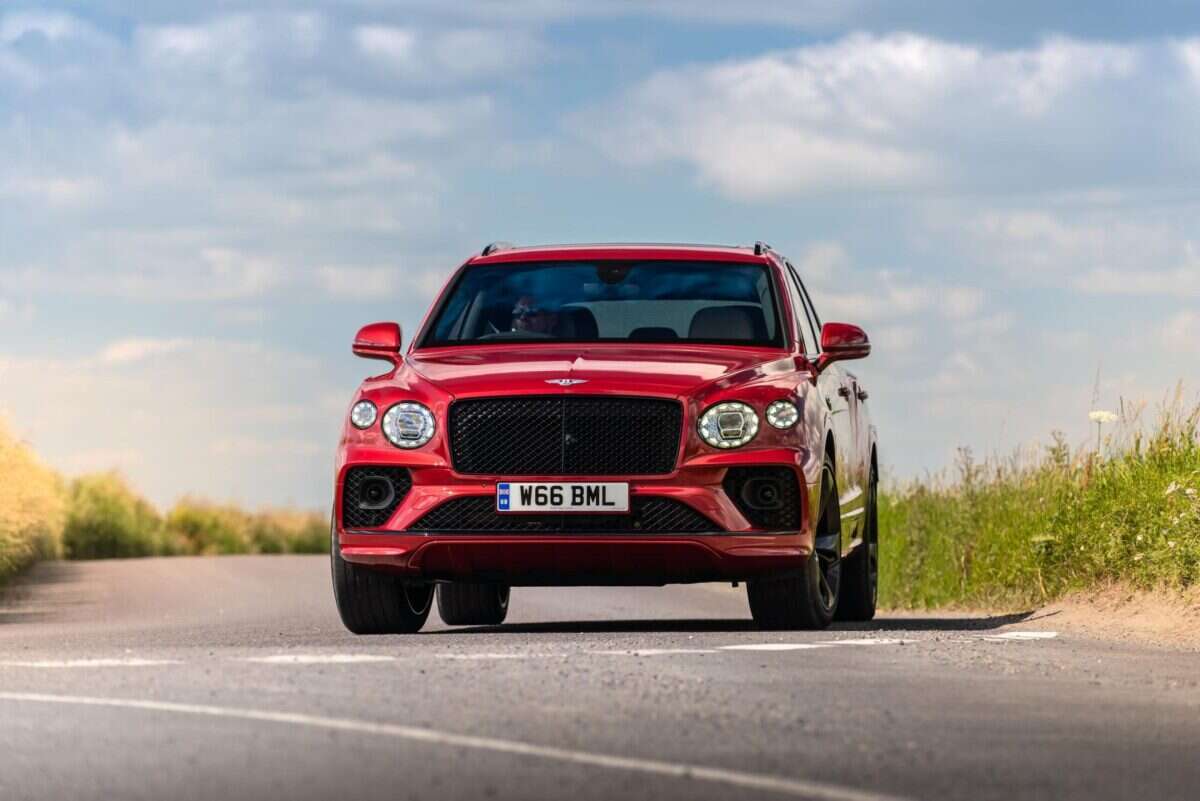 At first glance, the Bentley Bentayga Hybrid meets everything you have come to expect from the luxury car manufacturer. The exterior is striking. Its intense red color blends beautifully with the black 21-inch wheels. Its headlights dazzle even when they're turned off. And, of course, it is huge (6ft 5in wide and 16ft, 8in long). Wherever it goes, the Bentayga commands attention. Inside, the hand-crafted, award-winning interior effortlessly blends contemporary style with classic luxury. It is under the hood where this Bentley differs from its predecessors, a fact that becomes evident when you turn it on. Instead of that iconic V8 roar, there is silence. Welcome to the world's first true luxury plug-in hybrid SUV.
Bentley's first foray into the world of plug-in hybrids is a modest one, at least on paper. The Bentley Bentayga Hybrid has a 17.3-kilowatt-hour electric motor that works with a turbocharged 3.0-liter V6 engine. The motor is powerful enough to run the car in EV mode for just over 30 miles and up to 86mph. That's enough to get city folk through their daily commute, but only just.
[Bentley Reveals First Bentayga S Model]
Clever operations help to improve the range, like haptic feedback on the accelerator that indicates the motor is at its limit. The pedal also vibrates when lower speed limit areas or junctions are approaching, encouraging you to lift off and bank the kinetic energy. In hybrid mode, when a destination is entered into the sat-nav, the computer calculates the necessary mix needed to ensure the electric motor runs out just as you arrive. That ingenuity compensates for the weight of the motor itself, making this hybrid model more efficient than the traditional V8 on the highway as well as in the city.
In a practical sense, these are small steps towards sustainability, but symbolically, this car stands for so much more. The Bentley Bentayga Hybrid is just the start of an all-out acceleration towards electrification. As part of its Beyond100 strategy, Bentley plans to sell only hybrid and electric cars by 2026 and complete the full transition to an EV-only line-up by 2030. For a car manufacturer that is growing rapidly in the US and China, it is a dramatic business decision.
But it is also one the company believes is essential for its future. In the UK, home of Bentley, the government has banned the sale of new gas-only cars by 2030. The EU has proposed only zero-emission cars be sold by 2035. China's climate action plan states something similar and pressure is growing in the US to match it. More importantly, Bentley believes customer behavior is changing faster than the legislation. The Bentayga Hybrid's sales back this up: since launching earlier in 2021, it has accounted for 40% of all Bentaygas sold. The demand is there, but with just two hybrids (the Flying Spur Hybrid is also available), are they on track for that 2030 goal?
"We recognize that the world around us and our customers are changing, and we've got to change with them," says Alex Quelch-Cliffe, decarbonization manager at Bentley Motors. "If we don't, we'll be left behind. That is one of the key takeaways from the Beyond100 strategy – that this is now the time for change.
[See also: The Top New Cars in the World]
"We are definitely on target with what we set out. We made a very clear commitment to have this two-phased approach. The first is to have hybrids available as soon as we can implement them, and then launch our first battery-electric vehicle (BEV) by 2025. The first BEV will be important for customers who do longer journeys, but for those customers who are based in cities and commute short distances, we think the hybrids we offer now will meet that need."
Changing to all BEV and hybrids by 2026 is not just about developing new cars but compensating for what might be lost. Although there are several internal combustion engine cars in development, none are in their infancy. The era is coming to an end and the quintessential roar of the Bentley V8 is on its way out. That is undeniably a core piece of Bentley gone, so what is left?
Quelch-Cliffe says: "When I was a kid growing up, the V8 engine and the luxury interiors were the things that made Bentley, Bentley. We need to ensure we keep that quintessential Bentley-ness in our products.
"When we reflect back on our history, the interiors are a key element for what customers will want going forward. We do not want to take a cookie-cutter approach and do what everybody else is doing, which is to make a super easy, lightweight vehicle. We want to keep the luxurious interior and the great Bentley exterior design. It has got to be quintessentially Bentley and British. It must have that sense of luxury and effortless power but packaged in a more sustainable and luxurious way."
What Quelch-Cliffe is referring to is the weight. To maximize range, car companies have made their EVs as light as possible, which invariably means skimping on luxuries. But there is no shortage of luxuries in the Bentayga Hybrid First Edition I am sitting in. It weighs close to three tons, a serious handicap for range. But this is a non-negotiable for Bentley, as is evident in the First Edition.
[See also: Rolls-Royce Reveals its First Fully Electric Car: Spectre]
High-quality leathers and chrome finishes make it one of the most beautiful interiors on the road today. The windows are thick, the speakers all-encompassing and the seats, plush. The silence in EV mode is serene. Although still an imposing figure on city streets, the Bentayga Hybrid's silent momentum gives it an understated majesty that an internal combustion engine can no longer command. It is luxury, just a new kind of luxury. By the time you have finished your allotted miles in EV mode, you pine for the tranquility to return.
For those customers making their first foray into the world of EVs, this is a solid stepping stone. If in four years' time, Bentley reveals its first EV to be a Bentayga, there will be plenty of customers convinced of its appeal by this hybrid model.
End-to-end carbon neutrality
But the finished product is just half of the story. There would be little point in buying an EV if its journey to your front door was a dirty one. That is where Bentley's eco-mission is really ahead of the game. Its Crewe factory and headquarters have been carbon neutral since 2019. While originally heavily reliant on carbon offsets, this year Bentley claims to have reduced its reliance on carbon credits by 80%, with its actual CO2 emissions falling dramatically. By the time Bentley's line-up goes fully electric, it will also take more carbon out of the environment than it expels.
"We outlined it in Beyond100 as one of our key commitments for 2030," Quelch-Cliffe says. "One of our quadrants is sustainable luxury and the aim of that strategic project is to deliver end-to-end carbon neutrality. It touches on all departments and all colleagues. Carbon neutrality was achieved in 2019 and we continue to build on that across the site so we don't have to rely on carbon credits. But there are wider aspects to consider and wider actions to take on site."
The Bentley factory in Crewe is already a green campus. Solar panels line its factory roof and the car park, providing 7.7 megawatts of energy (enough to power 1,750 homes). Every inch of spare space has been 'bee bombed' to help improve biodiversity and provide a habitat for "Bentley Bees". Rainwater is captured for use in domestic services and logistics vehicles have been converted to run on a low-emission vegetable oil-based alternative to diesel.
One of the biggest challenges will be finding suppliers that align with their standards, or convincing current ones to change with them. It has recently joined the Leather Working Group, becoming the first automotive group to do so, and is working on its own S Rating to award to all suppliers. This is not just about end-to-end neutrality, but again aligning with the changing views of customers.
Quelch-Cliffe says: "One of the things we have always been known for in our cars is the use of fine quality materials and the challenge of the future is to continue that but ensure it is done in a more sustainable manner. It is one of the bigger challenges the purchasing team faces, but with the experience we have got over the previous years for sourcing the most luxurious materials, it is simply a new challenge to find sustainably sourced and renewable alternatives.
[See also: The Data Behind the Electric Car Market's Explosive Growth]
"Being part of the VW Group is a benefit for us in terms of that sustainable strategy going forward because we are all aligned. Our collective purchasing power makes sustainability sourcing a priority for the whole group. We work with them and we are also working internally with implementing the S rating. That is not just about the carbon footprint, it is also about the environmental effects, the social effects and the compliance requirements. I think that is a key part of aligning what we are trying to do as a business with our supply chain and future partnerships as well."
Much like the global efforts to combat the climate crisis, so much has been done but there is still so much to do. Quelch-Cliffe admits that while Bentley's factory operations are very advanced when compared to its competitors, significant challenges still lie ahead.
"We are still committed to developing ICEs (internal combustion engines)," Quelch-Cliffe admits. "It takes us about three years to develop a car from beginning to very end, so we've been working on cars that are still in progress. We want to complete the model cycle and not throw away the work. After that model line, the real focus of the R&D team will be pushing towards that 2025 delivery for the first battery-electric vehicle. There is a big focus in not just the R&D team but the whole business that that first BEV and the hybrids that are going to be delivered at that time are the best that they can be.
"We have really got a big challenge in the next 10 years as part of the Beyond100 strategy to roll out electric vehicles that meet our customers' requirements. There are a lot of electric products out there at the minute, lots of different brands offering different options. For operations, we had a jump start but we have really got to focus on how we expand it to our products and our suppliers."
Bentley Bentayga Hybrid from $160,000, bentleymotors.com