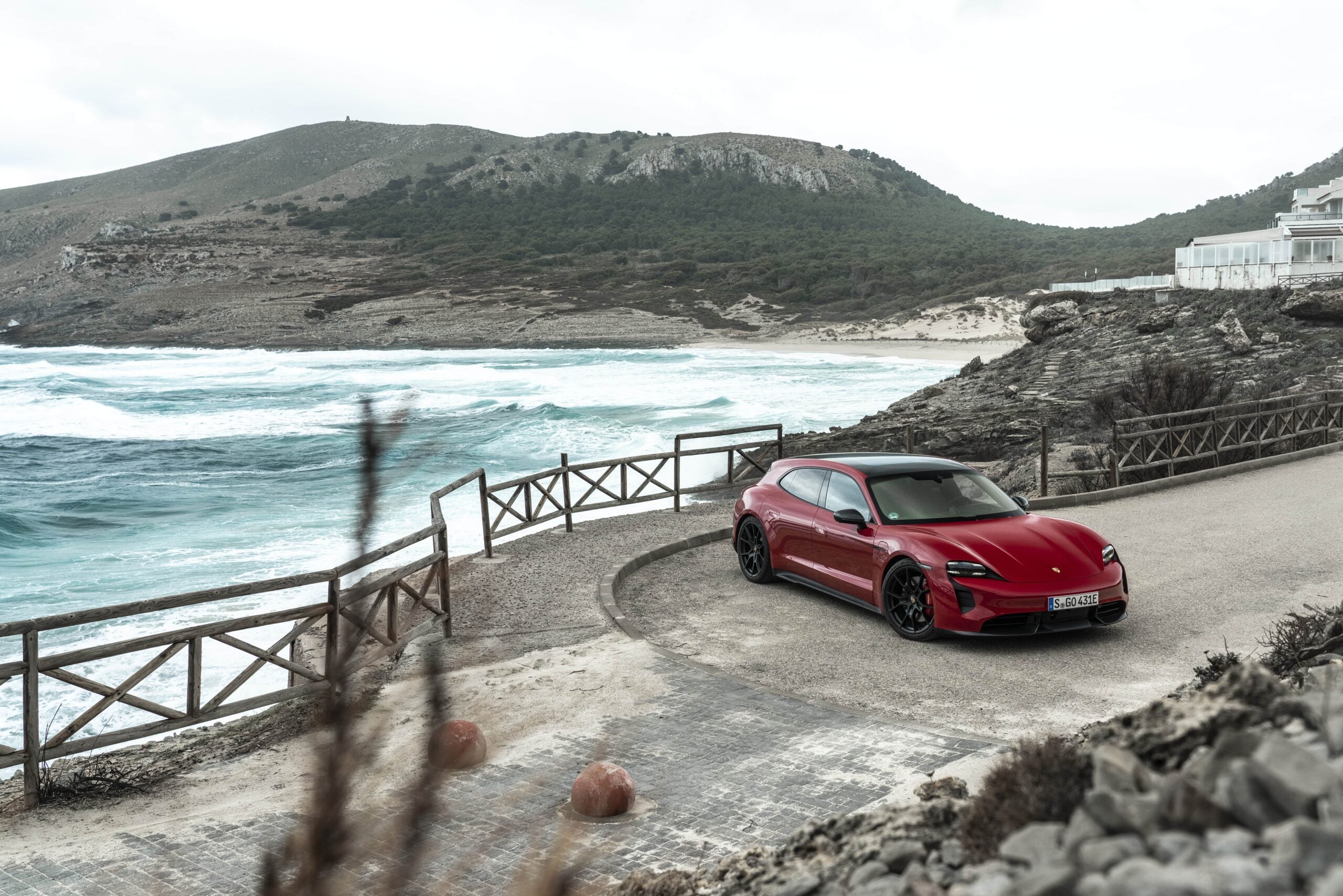 Alexandra Cheney looks at two of Porsche's most exciting new releases, which harness the power of electric and hybrid power.
At this moment, the Byzantine power struggle within automobile manufacturing between electrified engines and turbocharged motors cannot be denied. Singular brands like Mercedes-Benz and Porsche choose to produce both types of vehicles simultaneously, sorting out their respective futures while continuing to perfect their gas-powered precedents.
[See also: Twenty For 20: Game-changing Cars of the Past and Future]
Tremendous power: Porsche Taycan GTS Sport Turismo
As the first electric GTS, Taycan GTS Sport Turismo provides a total power output of 590 hp courtesy of two permanent-magnet electric motors, a 93.4 kWh Performance Battery Plus and its 800-volt architecture.
According to Porsche, Taycan can fast-charge (when a DC charger can be found) at speeds up to 270 kW, going from 5% to 80% in 22.5 minutes, all the while maintaining a 0-60 mph in 3.5 seconds. Translation: With each electric iteration, gas alternative vehicles are becoming easier to own, less difficult to figure out, and more fun to drive.
Make no mistake, the numbers speak for the popularity of this shooting brake; 28,640 Taycans were sold from January to September 2021, outpacing sales of the 911, the Panamera, 718 Boxster and 718 Cayman.
[See also: Bentley Reveals Flying Spur Hybrid at The Macallan]
Where the Taycan GTS Sport Turismo thrives, however, is in its adaptability. Equally at home in the snow or on the track, thanks to its all-wheel drive, the balance of power is typically pushed to the rear wheels. Not overpowering or terribly torque heavy, as is often the case with electric engines, the GTS proves to be more drive style than naming convention.
More aggressive bumpers and side skirts come standard, as does a gloss black trim. The extended roofline, complete with a transparent roof, transfers seamlessly into the rear fender haunches. A proper wealth of touchscreens greet driver and passengers, including standard upper and lower central touchscreens and the curved-screen instrument display.
However, quite smartly, the brand retains some hard switches and controls in an effort to allow owners to retain the familiarity of former, perhaps non-electric Porsches in the midst of a larger transition.
Porsche Taycan GTS Sport Turismo from $133,300, porsche.com
Still racing: Porsche Panamera Platinum Edition
From 1950 to 1954, the Carrera Panamericana was held in Mexico, challenging participating vehicles for more than 1,800 miles over the course of seven days. While speed mattered, it was endurance and reliability that ultimately won.
The Panamera, now in its second generation, derives its moniker from not only the race itself, but the sentiment that rides shotgun. Since its launch in 2010, the four-door luxury station wagon has become a kind of hatchback for consumers. No fewer than 24 model variants now grace the Panamera lineup, with a selection of conventional options plus plug-in-hybrid powertrains.
New for 2022, the Platinum 4 E-Hybrid Platinum Edition features a twin-turbocharged V6 and 455 hp. One of three new models, this edition spotlights the brand's adaptive air suspension — more specifically, the Porsche Active Suspension Management (PASM), which allows the driver to select different ride heights and levels of firmness.
[See also: The Top New Cars in the World]
The result is a spectrum of possibility when it comes to ride comfort and handling. Entirely at home leaning into and pulling out of the curves of Sunset Boulevard — where one or two other Panameras may have been passed — the Platinum Edition held gazes thanks to its mélange of interspersed satin and gloss finishes.
Although the brand is firmly steeped in electrification, it's worth noting that the Panamera cements Porsche into a once controversial (albeit aging) segment. While some consumers are laser-focused on future products, there's a robust market for others that remain curious but cautious. The Panamera is there to greet them, with 21-inch design sport wheels, black sport tailpipes, door sill guards in brushed aluminum and 14-way comfort seats.
Porsche 2022 Platinum 4 E-Hybrid Platinum Edition from $115,200, porsche.com
This article appears in the 04 Mar 2022 issue of the New Statesman, Spring 2022