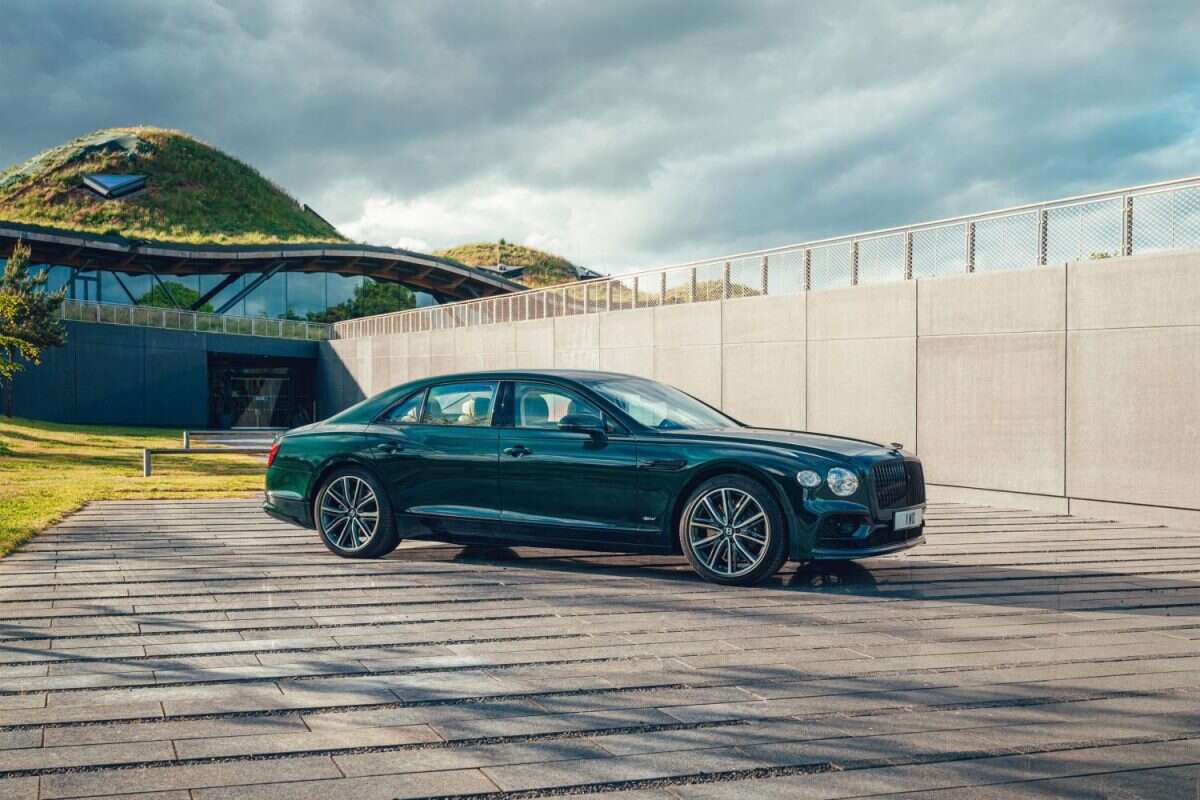 With a promise to go fully electric by 2030, Bentley Motors doesn't have much time to waste. The Crewe-based luxury coachbuilder has no fully electric cars for sale and just one plug-in hybrid, a Bentayga. But this week its partial-EV offering doubled in size with the unveiling of the Bentley Flying Spur Hybrid. It marks another significant step in the company's aim to become end-to-end carbon-neutral by the end of the decade.
The Beyond 100 strategy is one of the most ambitious in the automotive industry. Bentley Motors not only aims to offer exclusively EV cars from 2030 but also remove all carbon emissions from its production line. That means completely remodeling the inner workings of its luxury vehicles, which have become legendary for the roaring V8s under the bonnet.
This new Flying Spur Hybrid builds on the technology currently offered in the equivalent Bentayga by using the very latest in lithium battery technology, thus supplanting it to become the most environmentally friendly Bentley ever made. The electric motor works in harmony with a 2.9-liter V6 to produce 536 bhp, 95 bhp more than the Bentayga Hybrid.
[See also: Twenty For 20: Game-changing Cars of the Past and Future]
With its rapid throttle response, the hybrid model also gives little away to the Flying Spur V8. The hybrid achieves 0-60 in 4.1 seconds, just 0.2 seconds slower than its much thirstier cousin. A full tank of gas in the hybrid will get you 434 miles, more than any other Bentley and 34 more than the V8. The car will also cover 25 miles in all-electric mode, enough to complete most day-to-day journeys to and from the office. At the end of the day, the E-motor can be recharged in as little as two and a half hours.
The Macallan Partnership
The unveiling of the Bentley Flying Spur Hybrid embellished the announcement of a new brand partnership with The Macallan Scotch whisky. The car made its public debut within the Speyside distillery, launching a link-up that will see a suite of collaborative products from the luxury brands.
Car and whisky partnerships are nothing new (Bowmore and Aston Martin, for one), but this one makes more sense than most. The two brands are steadfast in their commitment to being more sustainable. The Macallan has sustainability running through the core of its operation and is the proud owner of a Butterfly Mark. Both Bentley and The Macallan were also included in Elite Traveler's Ultimate Guide to Responsible luxury.
Igor Boyadjian, managing director at The Macallan, said: "The Macallan and Bentley Motors each have a rich past, and shared values of mastery, craftsmanship, creativity and innovation. Our collaboration presents a remarkable opportunity to compare our time-earned knowledge and learn from each other, supporting fresh thinking about our businesses, our customers, and ultimately our products.
"A key focus of the partnership will be our commitment to a more sustainable future. The breath-taking natural landscape at The Macallan Estate provides the perfect platform for us to embark together on this exciting and extraordinary journey."
[See also: Bugatti Joins Forces with Electric Car Leader Rimac]