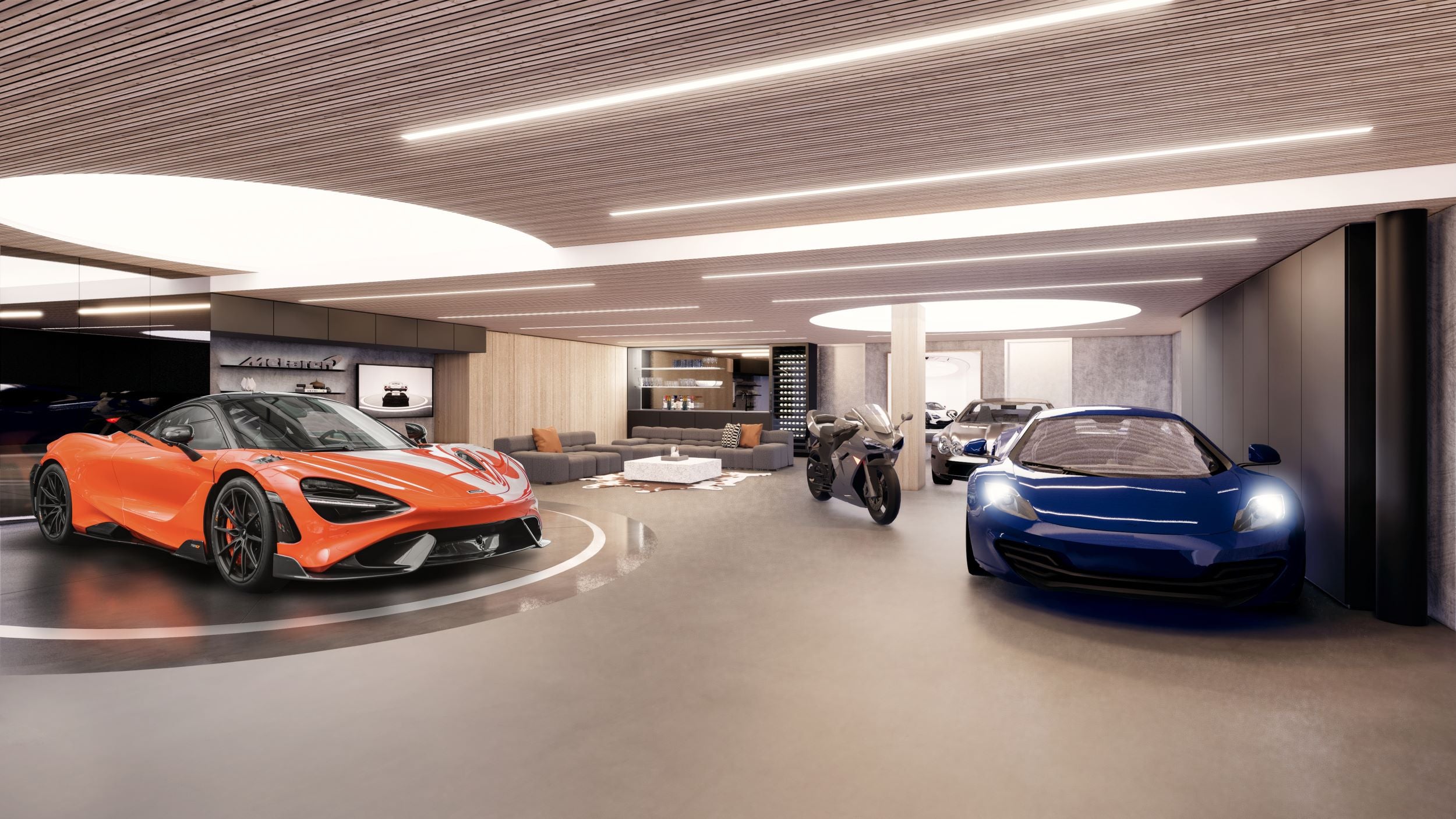 Pendry Residences West Hollywood has dreamt up the perfect accompaniment to go with the penthouse in its new luxury residential development on the Sunset Strip: Its very own custom Supercar Garage complete with a one year lease of the new ultra-hard-to-get-your-hands on supercar, the McLaren 765LT. 
Created in collaboration with McLaren Automotive North America, the 1,719 sq ft private gated garage dubbed "The Show Room", can be accessed via private elevator by Pendry Residences West Hollywood's Terrace Estate 608, a luxury two-story, three-bedroom penthouse. 
The garage has space for up to five cars, a private washroom and a design allowance for the purchaser to customize the space to meet their exacting specifications – including an option to create the ultimate McLaren garage designed by the award-winning Ehrlich Yanai Rhee Chaney Architects.
Located just off Sunset Boulevard, one of Hollywood's most iconic locations, the garage, penthouse and car can be yours for a cool $16m.
[See also: Pendry West Hollywood: Planning a Hotel Launch Amid a Pandemic]
Tina Necrason, executive vice president at Montage International believes the garage will be prized amongst car-loving Angelinos. She said: "Los Angeles residents are passionate about their cars and our Super Garage offers one discerning owner the opportunity to house their most prized vehicles in a space that is as luxurious as the Residence itself." 
She added: "Through our collaboration with McLaren, Pendry Residences West Hollywood further elevates the residential living experience in Los Angeles."
With only 765 McLaren 765LT's set to be available globally and this year's allocation sold out, Tony Joseph, president of McLaren North America is excited to be able to offer one Pendry resident the chance to get behind the wheel. "We are delighted to be working with Pendry Residences West Hollywood to help create the ultimate auto enthusiast's dream garage," said Joseph.
 "The 765LT is the most dynamically advanced and engaging McLaren LT model to date. With allocations for the US market already filled, this is a unique chance to experience this incredible supercar."
And if one luxury ride wasn't enough, McLaren is also including a kid's electric-powered McLaren Senna for a budding speed demon.