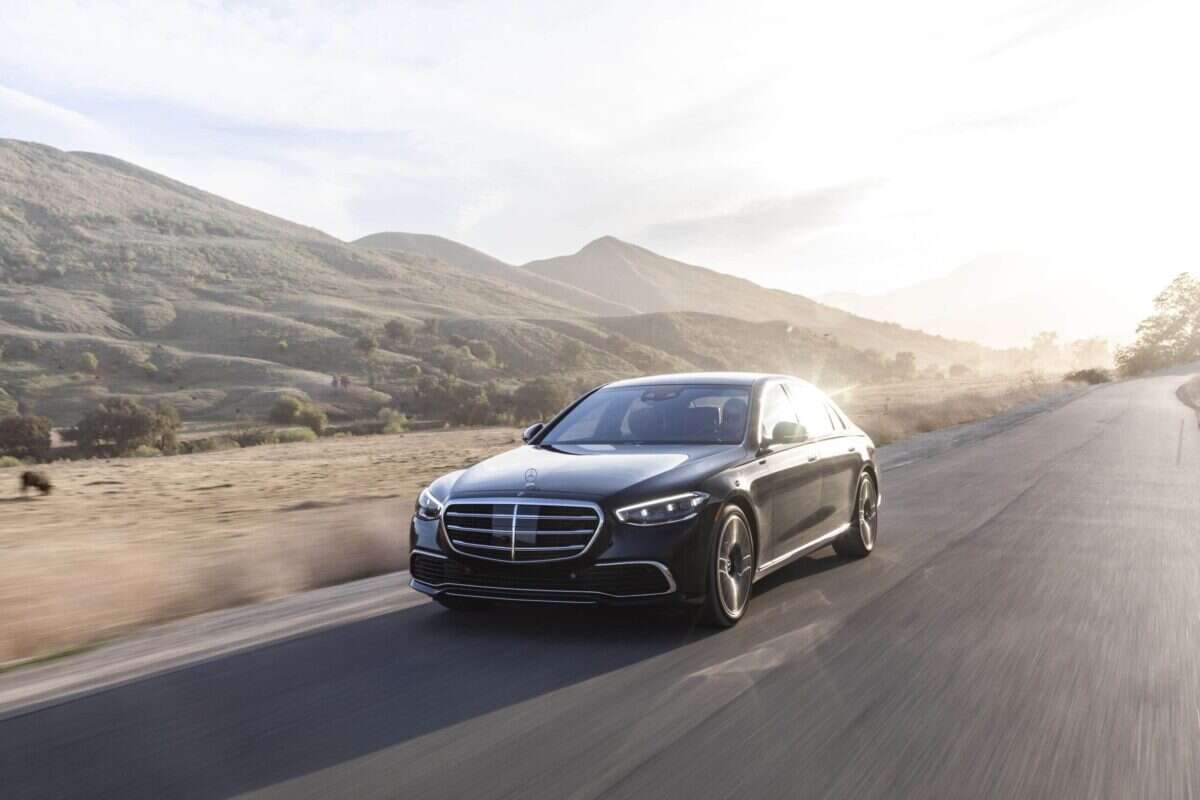 At this moment, the Byzantine power struggle within automobile manufacturing between electrified engines and turbocharged motors cannot be denied. Singular brands like Mercedes-Benz and Porsche choose to produce both types of vehicles simultaneously, sorting out their respective futures while continuing to perfect their gas-powered precedents. Here, we take a look at two notable new releases from Mercedes-Benz for 2022.
Mercedes-AMG EQS
With the EQS, Daimler AG debuted the first of four Mercedes-EQ models (including a forthcoming SUV) that will share a completely new electric architecture. As the initial battery-electric AMG production model, the Mercedes-AMG EQS tends to a multitude of rulers. Sporting 751 hp and 752 lb-ft of torque via the optional dynamic plus package, it's an "ambassador in the performance segment" according to Philipp Schiemer, CEO of MercedesAMG.
It'll smoke any naturally aspirated, supercharged, turbocharged anything off the line, as proven by this author at a set of particularly dubious red lights in Palm Springs. The two motors (one each at the front and rear axle) contain fully variable AMG Performance 4MATIC+ all-wheel drive. But being fast only goes so far. There's a touch of sterility in the drive; something that, technologically speaking, is likely due to the approximately 350 sensors and cameras that monitor, watch and record road types, conditions, driver preferences and alertness.
[See also: The Range Rover Fifth Generation: A Modernized Classic]
The EQS is not a vehicle but more of a "learning machine," according to Benz. The quite literal centerpiece is the MBUX Hyperscreen — at 56-inches wide, the unit spreads from A-pillar to A-pillar across the front of the cabin. Three screens backed by eight CPU cores and 24 GB of RAM sit under a glass cover, appearing as one uninterrupted dash. Critics note that it sits a little tall when in the driver's seat, but it is impressive nonetheless.
Mercedes cheekily refers to the AMG EQS as "100% emotions, 0% emissions." With a range of 300 miles, and fast DC charging with up to 200 kW (meaning 180-mile range recharged in 19 minutes), it's worth noting that the brand is a central player in reducing range anxiety.
2022 Mercedes-AMG EQS from $150,000, mbusa.com
[See more: The Data That Proves the Electric Car Market is Exploding into Life]
Mercedes-Benz S 580 4MATIC Sedan
This year is deemed "the year of S" by several Mercedes-Benz executives, and a trio of debuts — S-Class, AMG EQS, SL — promise to redefine the Silver Star. The first new release is the Mercedes-Benz S 580 4MATIC Sedan, the globally beloved flagship that has been amped up to a 4.0L V8 biturbo outputting 496 hp. "The car simply gets better the more time you spend in it," Dimitris Psillakis, CEO of Mercedes-Benz USA, told Elite Traveler.
The etymology of the 'S' denotation dates back to 1903, when Wilhelm Maybach, chief designer at Daimler-Motoren-Gesellschaft, developed the Mercedes Simplex 60 hp, a premium 'touring saloon.' The 'S' stands for Sonderklasse, or special class. Its popularity is undeniable. Mercedes has sold more than four million S-Class sedans worldwide.
[See also: An Icon Reborn: Rolls-Royce Unveils Phantom Series II]
The current iteration is a beauteous enigma. At 17-ft long and a weighty 4,775 lbs, the S 580 4MATIC Sedan shouldn't manage 0-60 mph in 4.4 seconds. But it does. The acceleration and handling are light and responsive. The Burmester 4D Surround Sound system begs for a windows-down, volume-up drive, perhaps through California's Los Padres National Forest. In the hills above Santa Barbara, the two resonators in each of the backrests convert bass tones into vibrations, resulting in driver bliss. (There's also ear-level speakers integrated into the head restraints for a total of 30 speakers).
There's 64 shades of lighting, customizable scent, and cabin noise reduction if silence holds greater appeal. The Executive Rear Seat Package offers a more buttoned-up approach via two 11.6-inch touchscreens, infotainment system controls, and ventilated, heated, massaging, and reclining seats, as well as seat cushion airbags. The heated headrests function as both a flex and a bow for the brand.
While some features are expected, like the second generation debut of Mercedes-Benz User Experience (MBUX), others are positively delightful: Rear-axle steering, which reduces the turning radius by up to 7 ft, 10 different massage programs and twice as many recyclate components as the preceding model.
Available exclusively in the long wheelbase, S 580 4MATIC Sedan from $117,700, mbusa.com
[See more: The Cars You Cannot Miss at Top Marques Monaco 2022]
This article appears in the 04 Mar 2022 issue of the New Statesman, Spring 2022