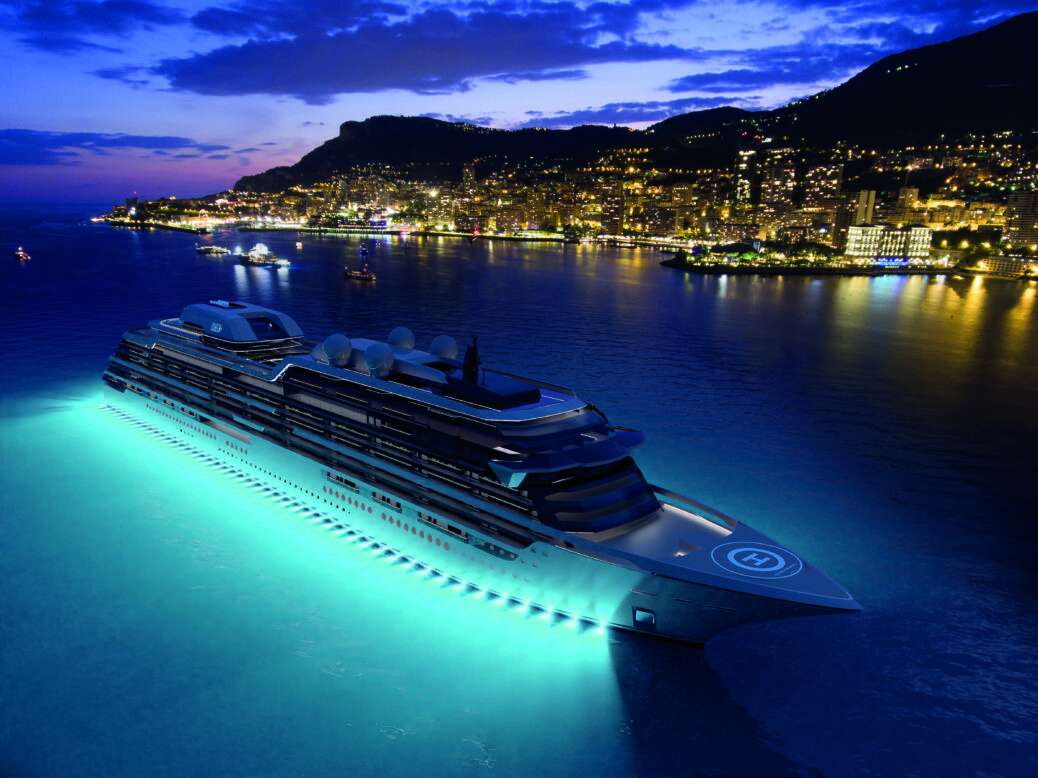 The first ten residences aboard Njord – a 948-ft superyacht powered entirely by carbon-neutral fuel – have officially hit the market. Priced between $8.5m and $70m, the properties are set to become one of the most exclusive addresses on the planet.
Slated for delivery in 2026, the gigantic vessel is being developed by Ocean Residences Development and will be built by the esteemed German shipbuilder, Meyer Werft. In total, Njord will be home to 117 private residences, with the most exclusive apartments boasting six bedrooms and spanning 9,000 sq ft.
Each of the residences will feature floor-to-ceiling windows and spacious private balconies for taking in the sea views. The apartments will be kitted out with kitchens complete with custom cabinetry designed by Studio Becker and high-end appliances from Gaggenau.
[See also: The Most Impressive Superyachts at the Monaco Yacht Show]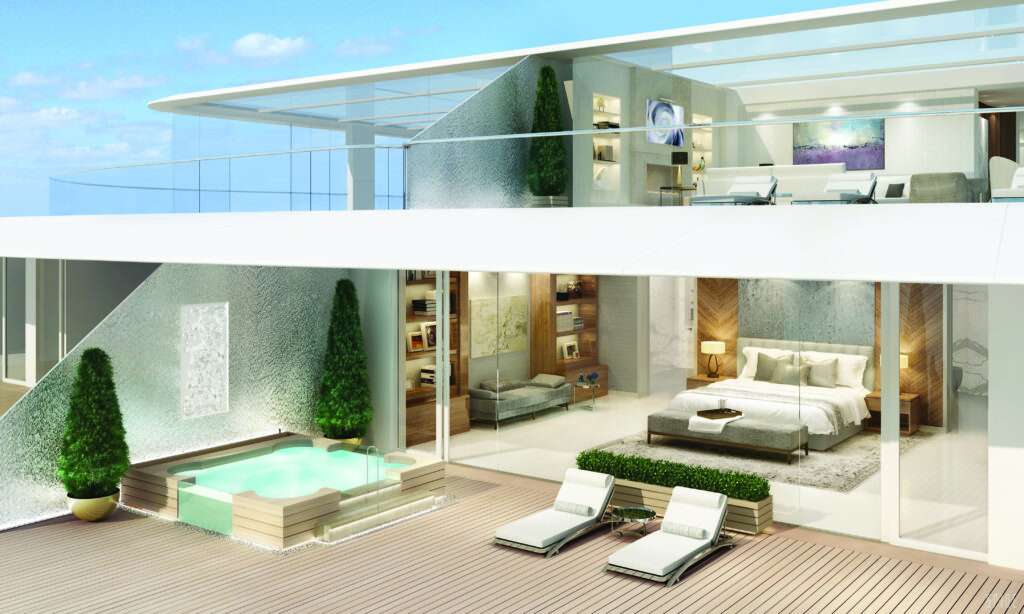 Perhaps most impressive of all is the incredible amenities residents will have access to while living aboard Njord. These include a Eurocopter 160 with an onboard hangar, four superyacht limo tenders, two dive and fishing boats, a yacht and sail club, a dive center, an excursion lounge, a golf simulator, and a telescope space observatory.
Njord will also be home to six distinct restaurants and bars, a Chenot Spa and Wellness Center, Chenot Gym and Fitness Center, a concierge hospital, two outdoor pools, an array of boutique shops, a night club, jazz lounge and 10,000 bottle wine cellar.
Of course, expert staff will be on-hand to take care of residents' every need from laundry and housekeeping to travel planning and floristry.
First announced in 2020, Njord has been thoughtfully designed with sustainability in mind. The superyacht will be powered by bio-methanol and fitted with batteries for hybridization and heat recovery systems.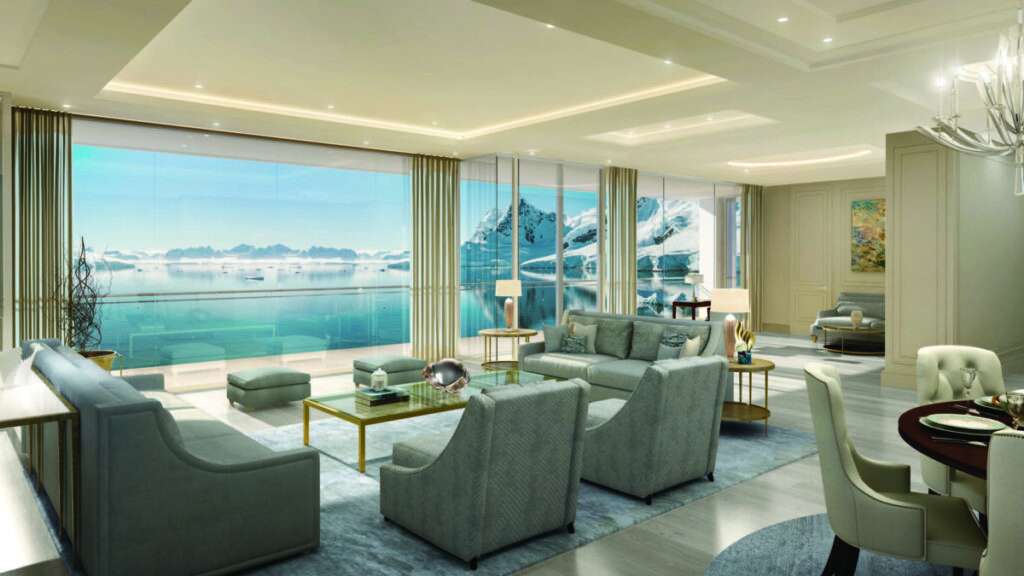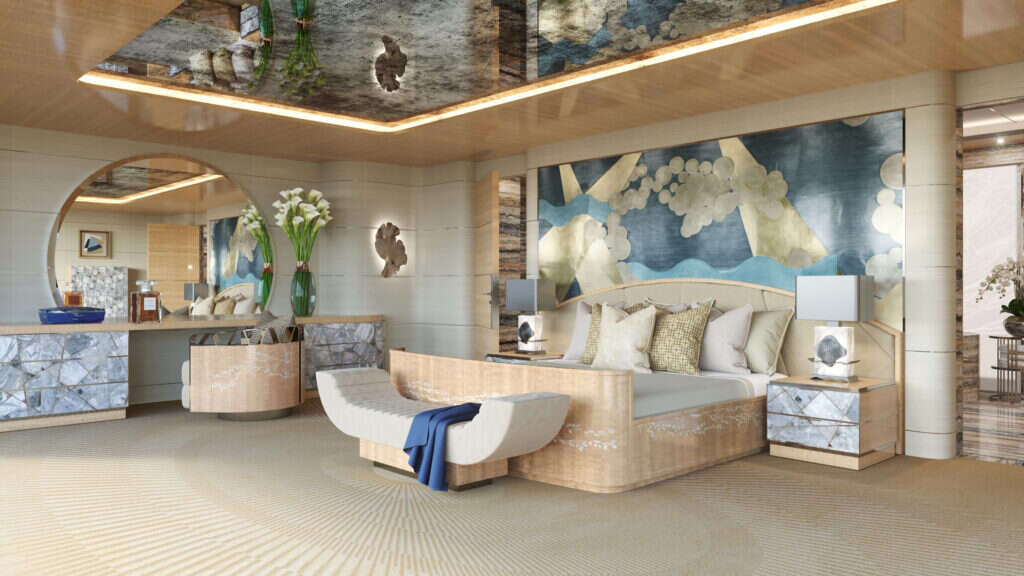 She will also be fitted with technology for undertaking valuable marine research including an oceanographic laboratory, multi-beam echo sounders with HD 3D mapping, an air and water sampling system, two submarines and ten exploration zodiacs.
The first residences are currently being sold by global real estate brokerage, The Agency. "We are proud to represent the sales and marketing for the first ten incredible residences aboard Njord, one of the most innovative and exclusive residential offerings in the world," said the company's founder and CEO, Mauricio Umansky.
"With its thoughtfully designed residences, endless array of amenities and philanthropic and scientific purpose, buyers have the unique opportunity to live aboard one of the finest vessels to ever be built."
Njord isn't the only residential superyacht currently making waves. Last year, Norwegian shipbuilder VARD announced plans to build Somnio – a 728-foot superyacht that will be home to 39 super exclusive condos across six decks, with prices starting at $11.2m.
[See also: Four Seasons Announces First Branded Yacht]