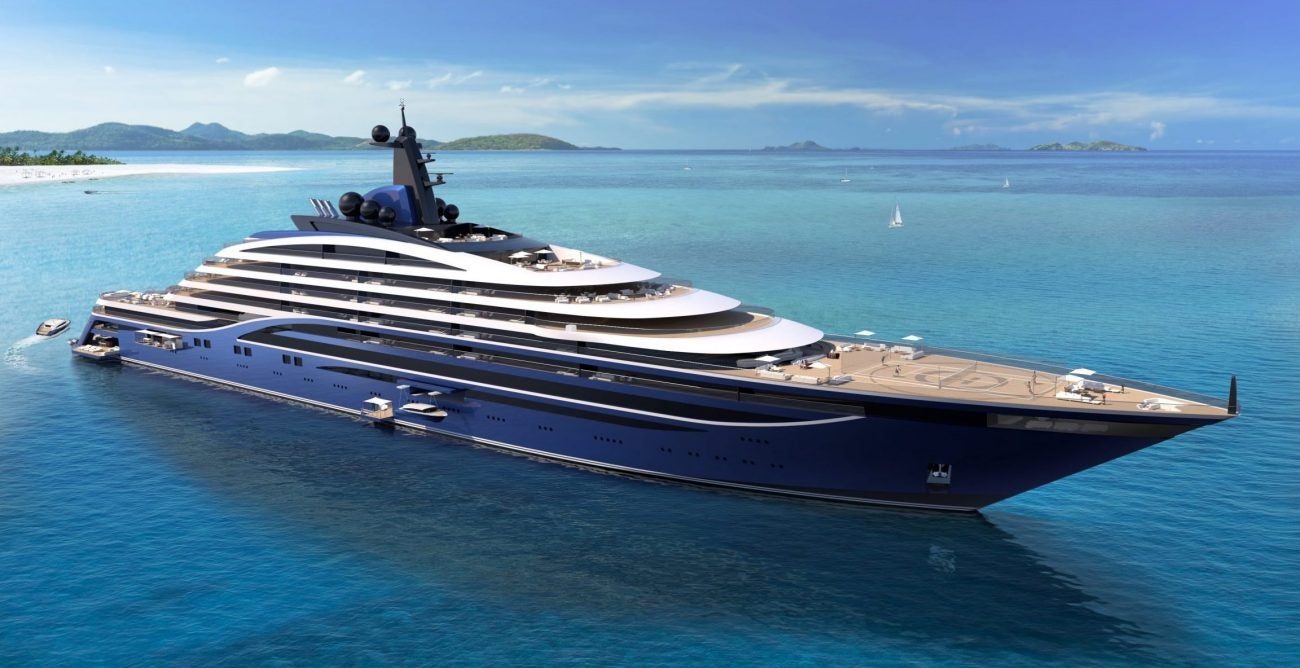 Set to launch in 2024, those in the industry have described superyacht Somnio as the world's first 'yacht liner', as it is the first vessel of its type designed for co-ownership. 
Yet Somnio's ambition is multi-layered. Aside from a new model of ownership, Somnio is also projected to be the world's largest yacht at an astounding length of 728 ft and a gross tonnage of around 33,500GRT. Her sheer size will enable 39 deluxe apartments to fit across six residential decks, with bespoke interior design and outfitting upon purchase allowing for complete customization at the owner's discretion.
With purchases occurring on an invite-only basis, future residents of Somnio will have the opportunity to explore all four corners of the world in perfect comfort and security. Of course, as the nature of a superyacht is a vessel through which to see the world, the designers and crew behind its construction understand that its ambitions and dreams must align with a goal of sustainability and environmental protection.  
[See also: Jean-Michel Gathy to Help Lead the Design of M/Y Njord]
Environmental Considerations
The team behind the project is working with the Detroit-based Somnio Global (a scientific research and development organization) to ensure that advanced technological features are incorporated into the superyacht's design, guaranteeing that travel aboard Somnio is not only eco-friendly but also contributes to environmental protection and ocean safeguarding at large. 
Many new yacht technologies are set to be trialed on Somnio, with the priority being to challenge issues such as CO2 emissions, invasive species migration through the transference and release of ballast water, micro and macro plastics pollution, and ocean acidification. It has already been decided that solutions such as the adoption of renewable energy sources, chemical-free water treatment and the reuse of plastics will be implemented prior to her maiden voyage.  
As part and package of the experience, Somnio will also helm environmental expeditions and conduct research into the state of our oceans, with the help of international experts enlisted to update owners on how best to approach key issues and uplift the natural world. 
[See also: Lürssen Reveals Superyacht Project Enzo]
The Somnio's Interior
Working in tandem with environmental considerations is renowned UK-based architectural company Winch Design. Its notable projects include the 2019 Aurora Borealis and the upcoming XVenture explorer yacht, yet they have also fitted private jets and more recently, a boutique resort in the Seychelles. The breadth and depth of experience at Winch Design will surely prove crucial when tasked with creating tailormade living experiences for each of the Somnio's occupants.  
The onboard shared amenities are also projected to encapsulate the very height of luxury, ranging from a 10,000-bottle capacity wine cellar to a variety of restaurants, bars and onboard beach clubs and lounges from which residents can admire city views and natural vistas.  
[See also: These are the Yacht Interior Designers to Know]
"Somnio will be the only residential superyacht in the world and has been designed to exacting standards that are commensurate with a life of opportunity," says captain Erik Bredhe, previously master of The World, the only previous residential vessel at sea. "Owners will share a truly unique lifestyle at sea, with a hand-picked crew and a never-ending global itinerary of carefully selected destinations and experiences befitting a yacht of this nature."
Certainly, life aboard the superyacht Somnio will be an experience unlike any other. This new 'yacht liner' is unique in its offering of private yacht ownership for which one does not have to sacrifice a sense of community, as future owners will be traveling alongside family and friends to parts unknown, from Antarctica to the ocean's most remote islands.
For more information visit somniosuperyachts.com
[See also: How to Design an Amazing Superyacht Interior]