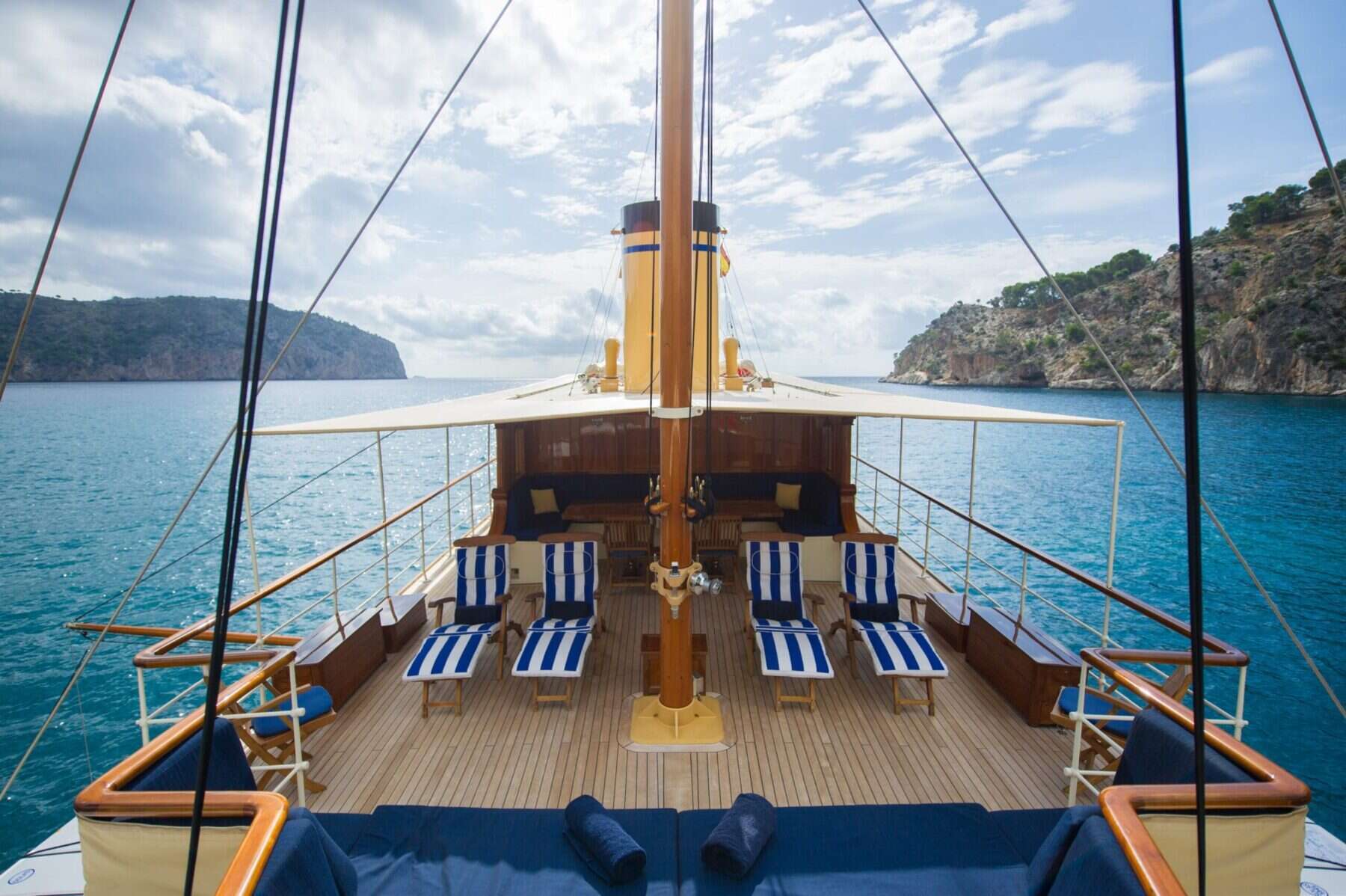 The rugged beauty of Scotland's coastline is the ideal cruising ground for naturists and history lovers. And what better way to explore than on board a piece of history itself, the Fair Lady? Built in 1928 at British heritage shipyard Camper & Nicholsons, this 121.1-foot classic yacht cocoons you in her period features. Immerse yourself in a bygone age with formal dinners, a hand of bridge after dinner and not a screen in sight. The owner of Fair Lady explains to us why Scotland holds such a special place in his heart: "Scotland is a vast, varied terrain covered with mountains, lochs, forests, wild beaches and waterfalls. I cruised the west coast, and all I had for company was my family, a seal colony, some puffins, dolphins, otters, mink and a multitude of birds. We hiked, we swam in lakes, we had a true adventure – well away from the crowds. I'm delighted that we have brought Fair Lady back to home shores so others can experience Scotland in this way. Remote, beautiful – pure escapism and a place to live out a dream."
[See also: The Best Charter Yachts in the World Right Now]
Itinerary
Day 1
Board Fair Lady in Oban, a quaint seaside town on Scotland's west coast. Cruise to the island of Iona and drop anchor to head ashore for a bracing walk to the top of Dùn 1 and to explore white sand beaches and the island's many historical sites.
Day 2
En route to your overnight anchorage at Kentra is Fingal's Cave on the uninhabited island of Staffa. The sea cave is forged from hexagonally jointed basalt, creating unnerving symmetry for a naturally formed structure.
Day 3
From Kentra, hop across to Armadale Castle and gardens on the Isle of Skye. Explore over 40 acres of vibrant woodland gardens and trails against the backdrop of the castle's romantic ruins. Parts of the gardens date back to the 1790s.
Day 4
From Inverie, you'll cross the Sound of Sleat to Loch Scavaig, one of the most dramatic anchorages in Scotland, before heading up to Loch Harport and the Talisker Distillery. Whisky connoisseurs can enjoy an in-depth tour followed by a guided tasting of five expressions of Talisker.
Day 5
Eilean Donnan is one of the most recognizable landmarks in Scotland. The 13th century castle stands guard over Loch Duich, Loch Long and Loch Alsh and is home to Jacobean artifacts, period furniture and stunning views.
Day 6
From Eilean Donnan, travel to the calm waters of Loch Drumbuie, home to an abundance of wildlife. Take advantage of this sheltered spot by jumping into a kayak – try to spot a dolphin or two from the water.
Day 7
On your way back to Oban, pass through Lochaline, an area of outstanding natural beauty known for its fly fishing. Keen anglers can take their rods ashore and test the water for salmon, trout and sea trout, or if you prefer some underwater exploration, the wrecks of the Sound of Mull are nearby.
Day 8
Head back to Oban to disembark and return home on the Spirit of Laudale, a Cessna 208 seaplane. Alternatively, fly across Loch Linnhe to the Laudale estate. The recently refurbished house is an ideal base to continue your Scottish adventure. Try your hand at clay pigeon shooting, archery and sailing before retiring for a dram of whisky by the fire.
Charter Fair Lady from £56,000 per week (approx. $72,298). Contact James Clark, head of retail charter, +44 207 766 4300, charter@burgessyachts.com, burgessyachts.com
Image credits: Amy Murrell, Phil Silverman/Shutterstock
[See also: Yersin: The Eco Superyacht for Sustainable Explorers]