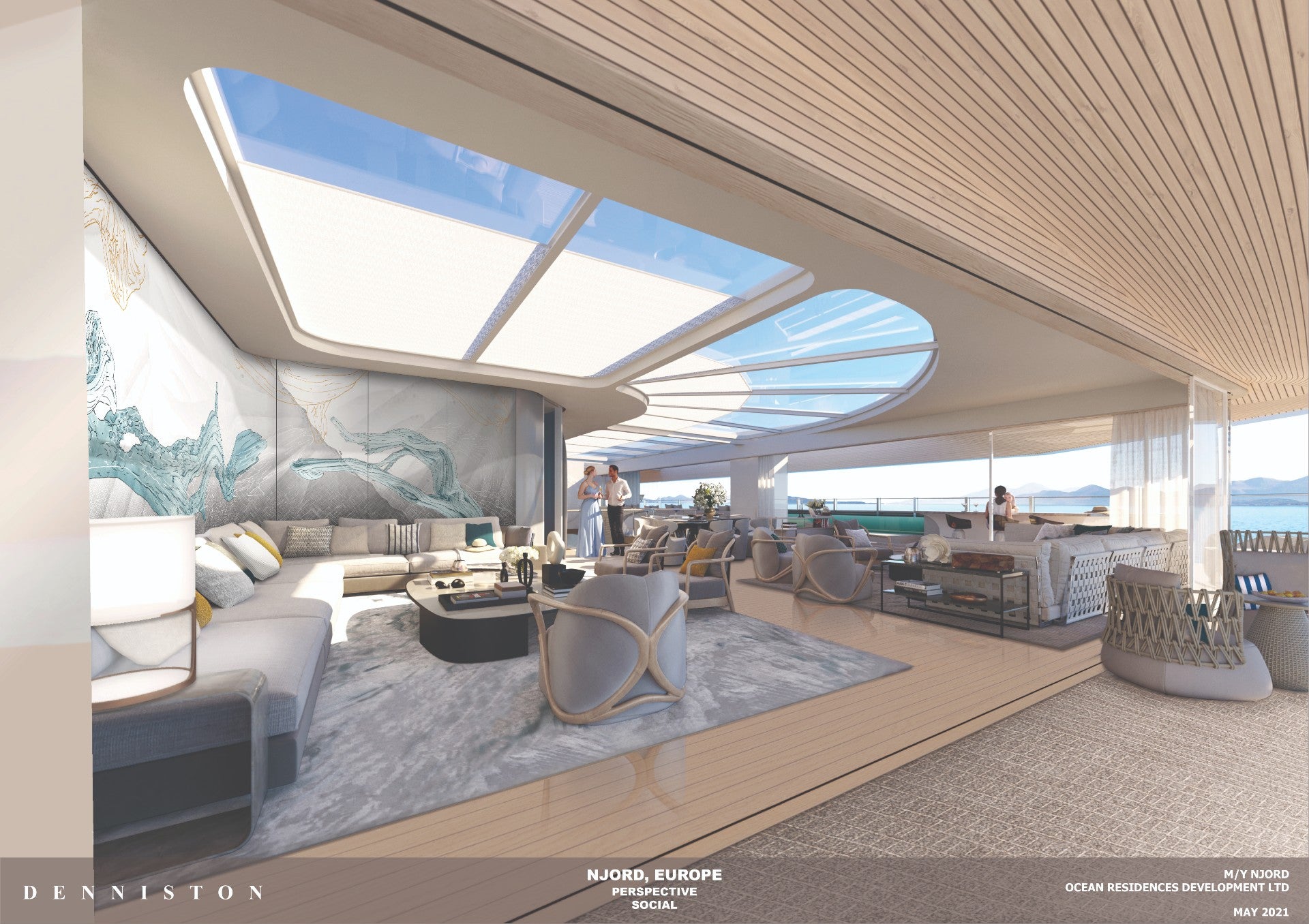 Currently being brought to life by Ocean Residences Development Ltd., M/Y Njord is a pioneering residential superyacht that is set to change the future of super-luxe properties and the yachting world. Spanning an extraordinary 960 ft, M/Y Njord will feature 117 luxurious residences that range from two to six bedrooms – in a world first, 14 of these will be duplex properties and two will be triplex residences with private elevators.
It has recently been announced that renowned interior designer Jean-Michel Gathy will be joining the project, becoming one of the two lead designers for M/Y Njord. Gathy will be working closely with Francesca Muzio of FM Architettura to create the interiors of the residential superyacht, while Espen Øino International's founder Espen Øino leads the exterior design.
"I am thrilled to have this legendary architect join our venture which we have undertaken to create this most exceptional super-yacht called M/Y Njord," says CEO of Ocean Residences Development, Kristian Stensby. "Jean Michel's vision will bring an exceptional lifestyle and design content to the interiors, which we will be proud to extend to our residents to offer a completely new way to live."
[See also: Discovering the World's Most Exciting Yacht Concepts]
The majority of Gathy's designs for M/Y Njord will be found across decks 10 – 13, as well as in several of the top residences and penthouses. For the larger properties onboard, Gathy has included a range of spaces in his design to make the residences comfortable and homely, including a walk-in wine cellar, safe room, private gym and cheese room. Gathy plans to work closely with each buyer to include any faculty or style they might request.
"Everything is in the details," explains Jean-Michel Gathy. "Ultimately, I want to create a shelter, a safe haven where those who choose to live onboard M/Y Njord can close their eyes and let the day work them, instead of them working the day. The difference is subtle but fundamental. Who in the world has a home that one day faces east at sunset, and the day after faces west at sunset? No one!"
Ocean Residences Development plans for M/Y Njord to become the most technologically advanced 'green ship' in the world, saying that it will "operate at the highest environmental standards". What this means exactly has still not been revealed, but Gathy gives a sneak peek into the thought process behind the commitment to understanding and working around environmental concerns.
"It is a responsibility for every developer, architect, planner, and even every country – let alone every human being – to contribute to the health of our planet," he says. "Whether it is marine conservation, environmental conservation, or heritage and cultural conservation, everyone on this earth has a responsibility to contribute by respecting and enhancing them."
[See also: The Best Hybrid Superyachts in the World]