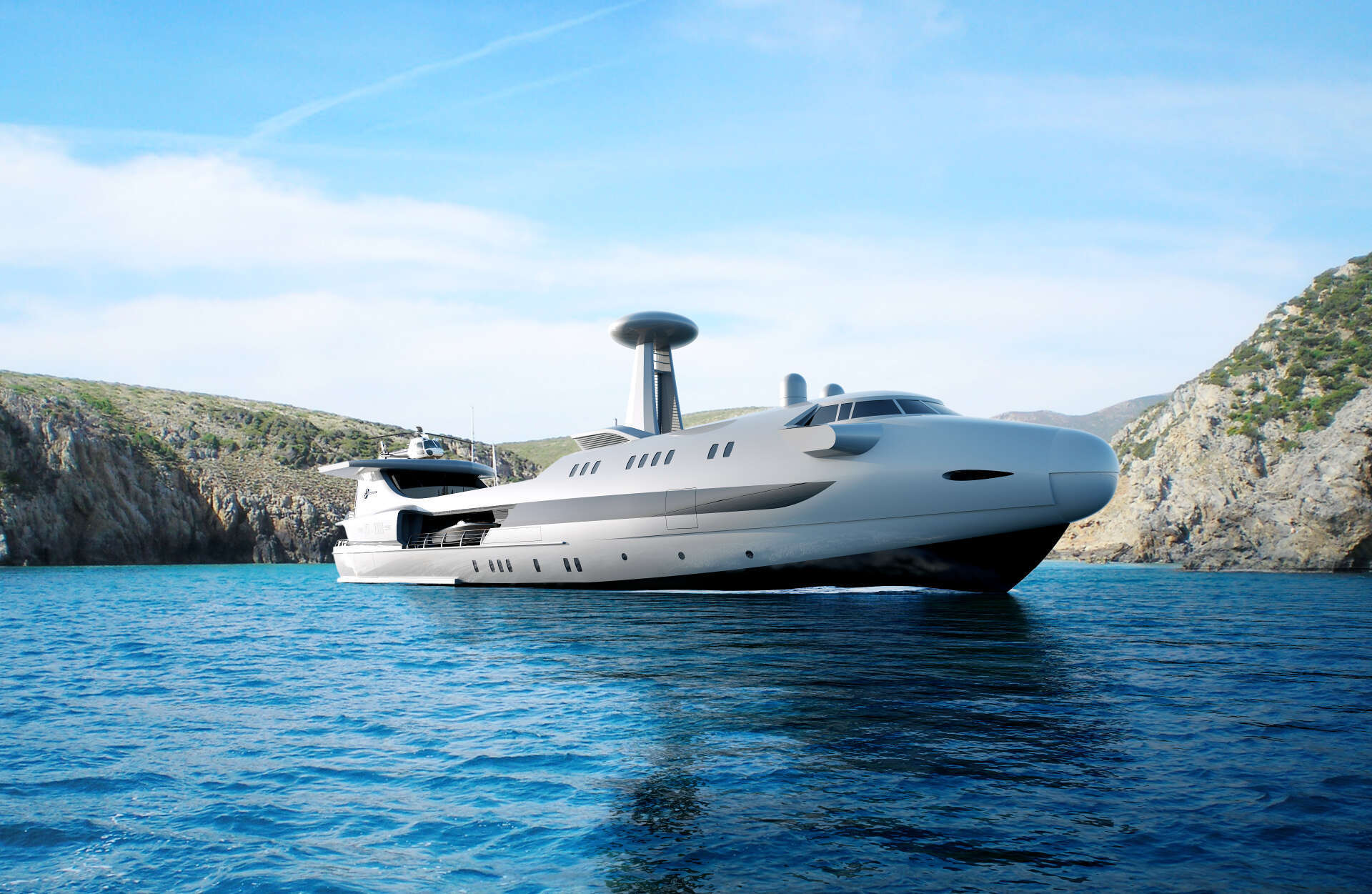 When it comes to design and technology, the world of superyachts is one of the most pioneering industries out there. Whether it's a new shape or testing the limits of a yacht's size, superyacht designers are always working with cutting-edge ideas. However, even within the superyacht industry, these dreams can go one step further – some designers are creating superyacht concepts for vessels that go above and beyond our current capabilities, pushing the boundaries of what is possible.
With this in mind, we've curated a selection of some of the most exciting superyacht concepts in the world, including some that might never see the water and others that could be gracing our seas within the next few years.
[See also: Octopus: On Board the Original Explorer Superyacht]
Project L
Celebrated designer Thierry Gaugain and boutique brokerage SuperYachtsMonoco have been working together on a collaboration that could change the course of yachting history: the astounding 390 ft Project L, which has been inspired by "a dream of paradise". The innovative yacht will be powered by a diesel-electric hybrid propulsion system, balancing fuel efficiency with autonomy for long-range cruising.
Shaped like a smooth beach pebble, Project L is designed to glide through the water and will be able to fully open to the elements, creating a direct connection between guests and the natural environment. "Project L isn't a concept of something that may eventually work," says director of SuperYachtsMonaco, Alex Banning. "The engineering has been studied and verified to perform. L can be built and – Thierry and I sincerely hope – one day soon [she] will be delivered to an owner as unique as her."
Aqua
Many superyacht concepts are embracing the need to move to more sustainable fuel sources, whether this is using solar power to generate electricity or opting for hydrogen to power the vessel. One of the most innovative hydrogen-powered designs comes from the Dutch design studio, Sinot Yacht Architecture and Design, which has created a design for a 360 ft plus motor yacht called AQUA.
[See also: How to Charter a Superyacht]
AQUA would have a range of 3,750 nautical miles and a top speed of 17 knots, with space on board for 14 guests and 31 crew across its five decks. The design includes a 360-degree observatory, large swimming pool and an expansive VIP suite that would occupy the front half of AQUA's upper deck. If this wasn't enough, as AQUA would be fully powered by liquid hydrogen its only by-product would be water, meaning the superyacht would be carbon neutral.
Migma
Founded by designers who previously worked in the automotive industry – specifically at Ferrari – RUMA Design is a studio that aims to emulate the finesse and precision of automobiles in other sectors. A natural connection was made between supercars and luxury vessels, with the team at RUMA moving towards a sleek catamaran design with a low center of gravity and sinuous design.
The result is RUMA's award-winning design for MIGMA, a noiseless 180 ft electric catamaran that runs on hydrogen power. Translated from Greek, 'Migma' means 'mixture', a name that is apt for this catamaran: the concept mixes unique spacing – its core structure is in the middle, with elements growing out of it – with innovative engineering techniques and fluid design that is reminiscent of marine wildlife.
Pagurus
One of the most ambitious yacht concepts in this list, Pagurus is the concept for an 80 ft amphibious catamaran created by Italian design studio Lazzarini Design. Pagurus – meaning 'crab' in Latin – was originally imagined as a military vessel, with a top speed of 24 knots and a structure that has been inspired by the body and shape of the eponymous sea creature.
What separates Pagurus from other yacht concepts is its potential for 'amphibious' activity: the catamaran's hulls would be lined with screw-like cylinders, allowing the vessel to move across sand or mud. Water friction against the screws would also generate electricity to power its batteries. Pagurus would have the capacity for eight passengers and four crew members, with living areas subdivided between the two hulls and connected to each other through the bridge tower in the middle.
[See also: The Best Hybrid Superyachts in the World]
Black Swan
Award-winning transportation design studio Bozca Design was founded in 2013 by innovative designer Timur Bozca with a vision to "create solutions through design". Many of the studio's designs are inspired by the natural world, including the superyacht concept that has made it on this list: the luxurious Black Swan, which has been designed with both style and high efficiency in mind.
Black Swan would be able to comfortably accommodate up to 12 guests across six guest cabins and a master cabin, as well as having room for a staff of 18. The 230 ft superyacht would have a top speed of 28 knots (cruising speed around 20 knots), which would be achieved thanks to the yacht's four engines and arrow-shaped aerodynamic design, which would be constructed using black aluminum for the superstructure and reinforced steel for the hull.
MY Roswell
One of the latest concepts from prolific artist and designer George Lucian, the MY Roswell is a 210 ft superyacht that would be created entirely out of aluminum. The concept has been designed to be fully electric, with large electrical panels that would cover a number of the yacht's horizontal surfaces. There would also be two electric diesel engines on board as a backup.
Lucian started with the idea of "creating an iconic worldwide recognizable yacht inspired by the future" when designing MY Roswell – the yacht's shape takes its inspiration from spacecraft and military stealth vessels. It would have room for 12 guests and 12 crew and feature a large, covered outdoor area, lounge, dining area and beam length swimming pool on the main deck. There is also allocated space on the upper deck for a helicopter platform and sky lounge.
Avanguardia
Avanguardia – meaning 'vanguard' in English – is another concept from Lazzarini Design. The name comes from the yacht's unique design, which features a control tower high above the rest of the vessel. Not only would this control tower oversee everything happening on the yacht, it gives Avanguardia the appearance of a giant swan – and would be able to detach, becoming a 50 ft day boat.
[See also: What Do We Know About Jeff Bezos and his Yacht?]
While cruising, the control tower can adjust its position and lower into the middle of the superyacht's body. With the control tower lowered, Avanguardia reaches an impressive length of 515 ft and has a cruising speed of around 18 knots. The yacht has been designed to comfortably support 24 guests and 22 crew but has space for up to 60 passengers across its five main decks. Anyone willing to make Avanguardia a reality would have to invest $500 million for its construction.
Codecasa JET 2020
Italian shipyard Codecasa has created a one-of-a-kind superyacht concept with the unveiling of their Codecasa JET 2020 – an idea that has been heavily inspired by the aviation industry and aims to "break the mold of the typical lines" found in yacht design. At 230 ft, if built, Codecasa JET 2020 would become the flagship yacht of Codecasa Shipyards.
Various sections of the Codecasa JET 2020 borrow from aviation design, from the cockpit-shaped bow to the air inlets reminiscent of jet engines, as well as the aft, which features a sun deck evocative of the tail of an aircraft. There would be a total of five cabins onboard for guests, including an owner's suite on the main deck; it has also been designed to feature a sky lounge, dining room, covered gymnasium and a sunken swimming pool.
SY Project Origami
Another concept from Monaco-based George Lucian, this design for a sailing yacht has to feature on any list of the best superyacht concepts in the world. Called Project Origami, the concept takes its inspiration from traditional Asian junks and – as its name suggests – the paper folding art form of Origami. The sailing yacht would be an impressive size, coming in at just over 320 ft.
The yacht would feature 'folding surfaces' on its hull that would have dual purposes; for example, one part of the hull would fold out, opening up completely to create a helicopter pad. Project Origami would also feature several sails divided into sections, which would act as solar panels and generate electricity to allow the yacht to reduce its environmental footprint. Lucian admits that Project Origami would be a challenge for any yacht builder, as he didn't "work with a sailing specialist" when creating the idea.