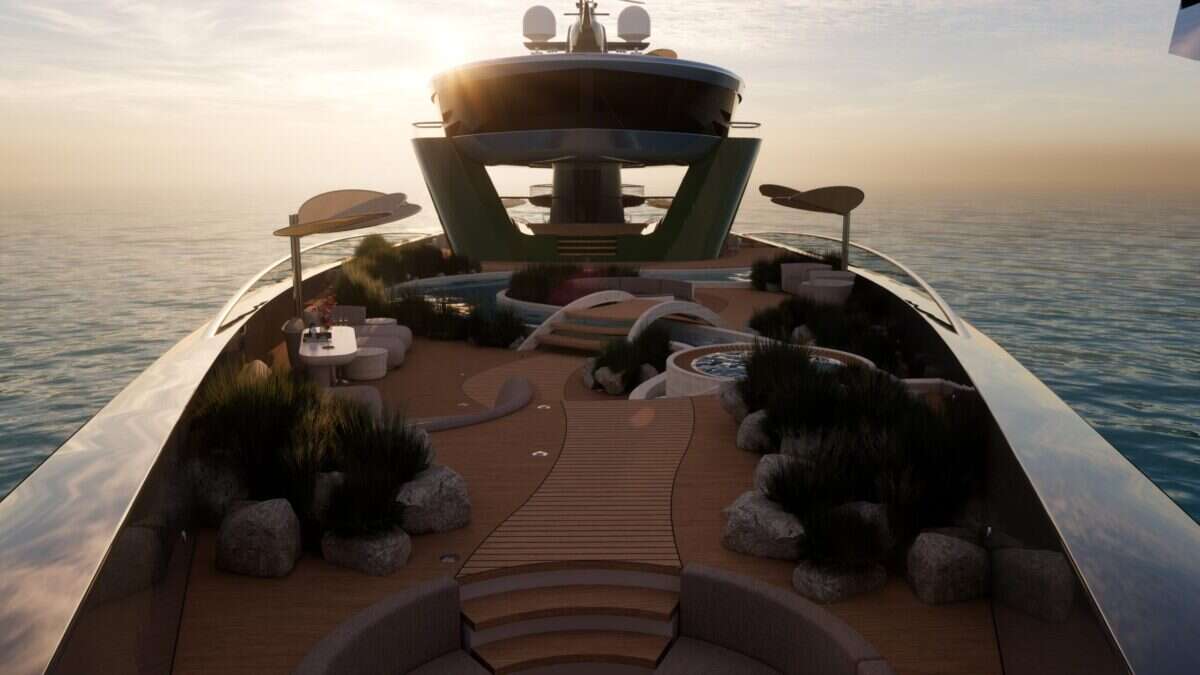 Lürssen has never been one to follow the crowd. Over four generations, the family-run German shipyard has been at the forefront of innovation, building the world's first motorboat back in 1886 with Gottlieb Daimler, and, in 2013, constructing the second-largest private yacht on the planet. So it is perhaps little wonder that Lürssen has now revealed Alice: a climate-neutral yacht concept that it hopes will pave the way to a more sustainable future.
First unveiled at the Monaco Yacht Show in September, the super-sleek 330-ft new model certainly looks the part. Teeming with greenery and featuring decking made from lightweight organically farmed wood, nature is at the heart of the design.
"A lot of owners say that they don't really use the main salon," explained Jim Sluijter, Lürssen's lead exterior designer. "What we ended up with is a boat with a really long sheerline, no main deck and everything else happens above. Alice has an exterior deck of about 330 feet long where you can have all of these exterior activities."
[See also: Twenty for 20: Innovative Yachts of the 21st Century]
[See also: Lürssen Reveals Superyacht Project Enzo]
Indeed, the open-air exterior deck boasts a bar, dance floor, paddle tennis court and several areas ideal for al fresco dining. Above, the smaller upper deck features a helipad, more lounge space for soaking up the sun and a suspended glass-bottomed pool.
Most importantly, Lürssen's yacht concept is climate-neutral. Conventional diesel generators are replaced by emission-free fuel cells which generate electrical energy based on hydrogen reformed from green methanol. There is also an additional methanol engine for when higher speed and energy demands are necessary.
But that's not all. The ambitious yacht concept also utilizes energy-saving technologies such as a waste heat recovery system, which salvages energy from the ship's engine and uses it for onboard heating and cooling. In addition, the heat reflected from mirrored glass windows serves as thermal insulation, reducing the energy load of the air conditioning.
Alice is just a concept (for now), but Lürssen hopes the impressive vessel will spark conversations around moving towards a greener, cleaner future.
Starting to put these ideas into practice, the German shipbuilder is already in the process of building its very first yacht using fuel cell technology, which makes it possible to anchor emission-free for 15 days or cruise 1,000 miles at slow speed. In a further sign of its commitment to pioneering an entirely emission-free yacht, Lürssen has also set up an innovation laboratory to test the integration and operation of a marine hybrid fuel cell system on board a yacht powered by methanol.