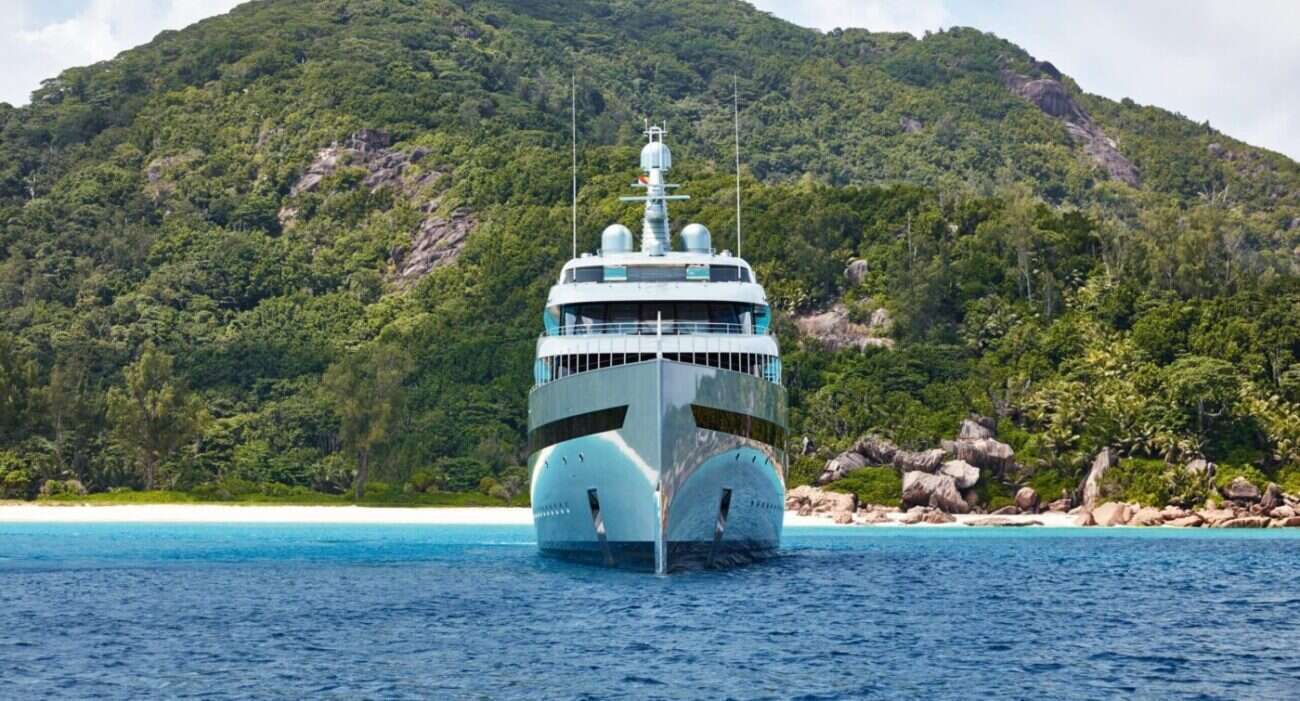 Superyachts, understandably, have a bad name when it comes to being environmentally friendly. But there are many options for enjoying these beasts of the ocean in a greener and more responsible way. Among the growing number of initiatives for lower-impact yachting is hybrid propulsion (the use of a combination of energy sources, such as diesel and battery power), more efficient hulls and choosing sail over motor.  Looking to the future, sustainability is becoming more and more important to those building and buying yachts, and this is reflected in the types of superyachts hitting the water. Ellie Brade takes a closer look at the trailblazing eco-friendly yachts of the past 20 years, as well as the most exciting projects on the horizon.
Ethereal
Launched by Dutch yard Royal Huisman in 2008, 190-ft ketch Ethereal was a trendsetter that paved the way for future 'eco' superyachts. The first superyacht with a true hybrid system on board, she was the dream of owners Bill and Shannon Joy who set out to challenge the norm of yacht building. Together with the shipyard, naval architect Ron Holland and exterior/interior designer Pieter Beeldsnijder, the Joys worked to create a yacht that would have the lowest possible impact on the planet. The result was a technologically advanced design that delivered energy efficiency in a sleek and high-performance package.
Thanks to a twin hybrid electro-mechanical propulsion system, which recharges her battery bank, Ethereal can operate for long periods of time under the quiet stored power of her own resources. Every detail of Ethereal was examined for ways to reduce energy demands—from lighting to air-conditioning—and she delivers an impressively efficient performance when underway. Her open interior, with a warm and welcoming feel, invites guests in— fittingly, as her entire layout was designed to maximize spaces and allow those on board to spend quality time together. Since her launch Ethereal has traveled the world, treading lightly wherever she goes.
Black Pearl
At 350 ft, Black Pearl is the largest sailing superyacht in the world. She is certainly not inconspicuous but, despite her size, she is extremely eco-friendly. Delivered by Oceanco in 2016, Black Pearl is said to have the capability to cross the Atlantic using zero fossil fuel. Plans for undertaking this particular feat were underway when Covid-19 hit and delayed this attempt, but her captain, Chris Gartner, says that the owner and the Black Pearl team are committed to going ahead with that as soon as possible.
[See also: Step Inside the Black Pearl Yacht]
Black Pearl incorporates features that ensure a lower environmental impact: propellers that can generate electricity when operating in 'regeneration mode' and, one of her most impressive features, her sails also double as a source of power. Measuring an incredible 31,215 sq ft, Black Pearl's sails have built-in solar panels that create electricity that is then stored so it can be put to use elsewhere as needed. The DynaRig sails also allow the yacht to be easily operated under sail power as much as possible, greatly reducing the need for fuel.
Savannah
Savannah, built by Dutch shipyard Feadship and hailed as the first hybrid motoryacht at her 2015 launch, is also the world's largest metallic-painted floating object. This beautiful yacht has collected many awards, including the coveted Motor Yacht of the Year at the 2016World Superyacht Awards. Her 'Breathe' propulsion system delivers 30% fuel-saving economies, and she can cruise under diesel electric or simply electric battery power.
Savannah set a precedent for other eco-friendly projects from Feadship, including the ultra-sustainable 308-ft Viva (Hull 817), which has made waves since her February 2021 launch. As attractive as she is innovative, her elegant, four-deck floating superstructure pairs world-class technology with timeless style; features include the 'Nemo Lounge,' where you can peek below the waves and marvel at passing sea life from the comfort of the yacht. The main deck has a 30-ft pool and two main salons that are divided by a video wall, and the owner's stateroom boasts a skylight above the master bed for admiring the starscape above.
ICE
Delivered in 2005 by German powerhouse Lürssen, at the time of her launch ICE (then named AIR) was one of the most technologically advanced yachts. The brief from the owner called for the yacht to be as environmentally friendly as possible, and she delivered that in spades. She was the first yacht in the world to be fitted with Azipods, a diesel-electric propulsion system that offers many benefits including improved fuel efficiency, the option to use multiple energy sources and improved comfort, thanks to lower noise and vibration levels.
Pump jets combined with the Azipods can be controlled by the yacht's dynamic positioning system, allowing ICE to anchor 'electronically' in shallow waters, removing the need to drop anchor and potentially damage sensitive underwater environments. Her original owner had a very clear vision of what he wanted from his yacht — it needed to be big on space with sleek lines and well-balanced proportions yet with large volumes. Design legend Tim Heywood took this brief and ran with it, resulting in a graceful yacht characterized by sweeping contours and grand windows that drench the yacht in natural light.
Artefact
The impressive 262-ft Artefact, designed by Gregory C Marshall and delivered by Nobiskrug Yachts in 2020, is a head turner for more than one reason. Her striking exterior, which makes clever use of glass, is the most obvious, but her eco-credentials are her biggest asset. Built for visionary owners who specifically requested a yacht with a reduced environmental impact, Artefact's many solutions for this brief include 248 ft of solar panels and a battery storage system that allows the yacht to operate without its main engines for periods of time.
[See also: Artefact: The Eco Superyacht that Changed the Game]
Added to that is her dynamic positioning system and Azipod propulsion system – these allow Artefact to easily hold her position without needing to use her anchors and reduce her emissions while also upping her efficiency. In fact, she was one of the very first superyachts built to meet IMO Tier III emissions regulations. For those wishing to enjoy pristine surroundings without interruption, Artefact is also capable of silent operations. This 'greener' superyacht certainly doesn't compromise on comfort and on her launch was the biggest volume yacht of her size in the world. She perfectly pairs form and function… in other words, this award-winning yacht is the full package.
Sailing Yachts
Juliet
Originally launched in 1993, the 143-ft Juliet was reborn this summer after an extensive "go greener" refit at her original build yard, Royal Huisman. Newly transformed into a hybrid yacht, Juliet now bears technologies that will future-proof her for years to come. Her new hybrid system offers numerous benefits including silent operations, zero emissions, peak-shaving, shaft-generated power under sail and reduced fuel consumption. A brand-new gearbox, aligned with a sophisticated new electric motor/generator, will allow electric propulsion that is powered by either the main engine or alternatively the battery pack or generator. Meanwhile, a battery bank will allow Juliet to operate in 'silent ship' mode.
When stretching her legs under sail, the rotation of the propeller will generate electric power. When at anchor she can run on battery power so guests can relax without any noise pollution that might detract from their surroundings. With nearly a quarter a million miles logged since her launch, Juliet is now ready for the next quarter million miles to come.
Swan 88 Hybrid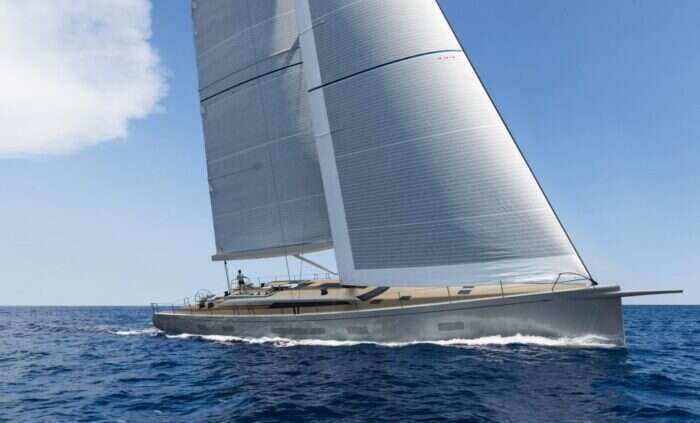 Finnish builders Nautor's Swan has joined the trend for hybrid yachts with its Swan 88 Hybrid model, which has a hybrid-electric propulsion system that marks a new era for the yard's Maxi range. This new direction for the yard includes making greater use of eco-friendly materials in its designs. The Swan 88 Hybrid is the yard's first attempt at a hybrid yacht, and the design has already borne fruit – in May 2021 it announced it had already sold the first hull.
Described by Nautor's Swan as a "dual soul of racer and cruiser," the Swan 88 Hybrid pairs comfort and performance and is an excellent 'starter size' superyacht that is spacious but manageable. The minimalist exterior design by German Frers is complemented by "a comfortable, harmonious and magical" interior by Misa Poggi. An easy-handle sail plan makes use of the brand's long experience in ocean racing, delivering "efficient, uncomplicated and easily managed sailing". The layout and design has been tailored to maximize guest comfort on longer trips – this first model will be able to travel the world with a lighter footprint thanks to her eco credentials.
Rainbow
Sailing purists the world over treasure the sight of a J Class yacht. Original J Class yachts raced in the 1930s under the Universal Rule, in events including the America's Cup. There have been several replica J Class yachts built in modern times as well. Elegant Rainbow is one such replica and was built in Holland in 2012 by Holland Jachtbouw. Her design was based on the original Rainbow, which won the America's Cup in 1934, and it paired the best of classic yacht design with all the necessary modern technologies and comforts.
Like many other eco-friendly sailing yachts, Rainbow is powered by a hybrid propulsion system – in fact, she was the first J Class to boast this capability. This means a welcome 30% reduction in fuel usage, as well as the option of silent operations when underway. As beautiful on the inside as she is on the outside, Rainbow's luxurious interior makes use of elegant mahogany woods, sophisticated styling and plenty of space to enjoy. If owning a J Class is your dream, Rainbow is currently for sale for a cool $8,250,000.
Canova
Built by Finnish firm Baltic Yachts in 2019, the 142-ft Canova takes the title of being the yard's very first zero emissions yacht over 100 ft. This was a mandate of her owner, who wanted his long-distance cruising yacht to be as green as possible. Canova more than met the mark and carries an impressive line-up of modern technologies including a power regeneration system that, in theory, allows a never-ending supply for the yacht to make use of. An added first is that Canova is the first superyacht to be fitted with a transverse Dynamic Stability System foil, which delivers unprecedented comfort levels for a sailing yacht by reducing heel and motion.
Guests can relax on board Canova and enjoy nine hours of 'silent' mode made possible by an electric propulsion system that also charges the on-board battery bank. An easy-to-handle, yet powerful, sail plan ensures hoisting the sails is a breeze, meaning Canova can make the most of her sailing prowess (again cutting down on engine use). Large spaces and good indoor/outdoor flow make her a home away from home, with communal spaces including the large, sheltered cockpit with drop down glass sides. Canova was built to take her owner and guests around the world and will be venturing to a wide variety of destinations over the coming years.
Sw108 Hybrid
First revealed in 2021, the SW108 Hybrid from South African shipyard Southern Wind Shipyard (SWS) is an exciting diesel-electric concept that has been designed with the planet in mind. It is the result of an impressive collaboration between SWS, Nauta Design and Farr Yacht Design. Featuring the 'SWS Diesel-Electric Hybrid System,' the SW108 Hybrid will allow for efficient consumption of fossil fuels and reduce harmful emissions.
[See also: Discovering the World's Most Exciting Superyacht Concepts]
All this is presented in a sleek, elegant and reliable package typical of SWS. Key features include a plus-sized beach club and a garage with room for a 16 ft tender. Sure to appeal to sailors looking for a reliable and comfortable "greener" sailing yacht, the design is what the yard describes as "a more environmentally friendly approach to performance yacht sailing." The shipyard takes its responsibilities to deliver more eco-friendly yachts very seriously and the SW108 Hybrid will likely set the tone for future designs from SWS.
To the Future…
REV Ocean
Due to be completed in 2024, 600-ft REV Ocean will be the world's largest research vessel. With construction well underway in Norway, REV Ocean is a state-of-the-art yacht that has been designed to ensure 'one healthy ocean.' As a luxury floating laboratory, her impressive facilities will allow her to undertake cutting-edge ocean science. She has an abundance of sustainable features, and her assets will include everything from a deep-diving submarine to a lecture theater for discussing discoveries.
[See also: Inside the Incredible Superyacht REV]
"REV Ocean's hull and propeller were designed for less resistance and more efficiency moving through the water, saving up to 15% on fuel consumption," explains Lawrence Hislop of REV Ocean. "Additionally, lithium-ion battery packs, LED lighting, a heat recovery system, an onboard incinerator and DNV SILENT-R rating all contribute to the philosophy of making REV Ocean one of the world's most sustainable research and expedition vessels." Want to experience REV Ocean for yourself? She will be offering special, once-in-a-lifetime charters that allow guests to play their own part in REV Ocean's important work.
Arksen 85
Last year work began on the Arksen 85 — dubbed Project Ocean — the first self-proclaimed "ultimate marine exploration vessel" to be built by Arksen Yachts. Created to travel the world, with a stable, hardy design, the Arksen 85 is intended to explore with low environmental impact. She's built in an eco-friendly way, with her hull and superstructure made from low-carbon, recycled aluminum. A range of up to 7,000 nm will give her plenty of scope for adventures, and her eco credentials include a solar array option for zero-carbon electrical power and a hybrid propulsion system.
Buying an Arksen yacht offers several bolt-ons such as membership in the Arksen Explorers' Club, which helps owners make the most of their vessels, and an invitation to join the Arksen Foundation, where owners are invited to pledge 10% of their vessels' sea time to ocean-exploration projects. The Arksen 85 offers luxurious comfort and large onboard spaces. This first build will include a full beam master suite, media room and children's cabin. She is due to launch in 2022, and a large portion of her time at sea has already been committed to the Arksen Foundation.
Project AQUA
Project AQUA made headlines around the world last year when rumors started that she was being built for Bill Gates. This speculation was later dispelled but, in the process, the world got a good look at the 367-ft vessel and so too a glimpse of what the future of yacht design might look like. The work of Lateral Naval Architects in collaboration with Sinot Yacht Design, hydrogen-powered Project AQUA represents how yachting might one day achieve zero carbon usage.
[See also: Hydrogen-Powered Yachts: What to Know]
"For Project AQUA we set ourselves an objective of using near-future technology," explains Simon Brealey, principal mechanical engineer at Lateral. "Liquid hydrogen has the potential to be created from renewable sources via electrolysis and as such can be considered a zero carbon fuel with the only local emissions being water. Project AQUA demonstrates [that] the onboard technology to enable a zero carbon project is ready, and we hope that it acts to inspire superyacht owners, shipyards, the hydrogen infrastructure industry and the wider maritime industry."
The Sinot team used "an integrated and highly poetic design approach" when creating her: Cascading exterior decks are paired with a minimalist Japanese beach-style interior that provides living spaces in perfect balance with the water on which the vessel sits.
lateral.engineering, sinot.com
Bliss
Dutch yard Feadship now has a good number of eco yachts to its name, and 312-ft hybrid yacht Bliss is the most recent to have hit the water. Launched in May 2021, Bliss benefits from the very latest advances in technology with an all-new hybrid propulsion system. De Voogt Naval Architects were heavily involved in the design and engineering of the hybrid system, which will allow the yacht to sail in diesel-electric mode. In a win-win for comfort and for the world, "this package helps to protect the environment and provides premium comfort for all who step aboard," says Feadship. Bliss also has Polar Code compliance – what better way to connect with the importance of protecting the health of our planet than by coming face to face with the icy majesty of the Polar regions?
Built for a very hands-on owner, Bliss features an exterior design by Jan Schaffers of Studio de Voogt and interior design by Remi Tessier. This team has created an elegant style that they describe as "natural and welcoming, inside and out." Highlights include nine cabins, a gym and wellness space, a pool and a convertible helideck. Designed for family fun and to see the world this magnificent custom yacht is a timeless triumph.
Eco Explorer
A collaboration between Dutch yard Feadship and French design studio Merveille Yachting, the Eco Explorer concept is described by Feadship as "a genuinely eco-friendly superyacht." The yacht combines all the best elements of motor and sail yachts in one efficient package. She features a mast system that has fully automated wings twice as powerful as a standard sailing yacht rig, while the use of sail power reduces fuel use as well.
Energy is also harnessed from a trio of onboard solutions including wind turbines, solar panels and underwater turbines. These, together with other reduction elements, add up to the use of an estimated 50-70% less fossil fuel, and more than three times the range of an equivalent boat. The 55-ft beam ensures plenty of space on board, with an inviting interior and vast beach club that includes a 49-ft swimming pool. The perfect yacht for seeing the world guilt-free, "the Eco Explorer is on the forefront of cutting-edge, environmentally friendly technology," says Feadship.
feadship.nl, merveille-yachting.com
Vento
A mighty 328-ft sailing yacht concept, Vento is the brainchild of Nuvolari-Lenard. First revealed in June 2021 at the Venice Boat Show, this behemoth was created by design duo Carlo Nuvolari and Dan Lenard to be a "manifesto for environmental protection" and a visual appeal to superyacht designers to create truly green yachts. This radical concept will use the wind as its main source of propulsion and its slipstream hull will ensure it moves efficiently through the water. Its Wing Sail sail plan is more efficient than traditional rigs, allowing for better performance. A diesel-electric system with variable speed generators and variable pitch propellors will allow operations to be adjusted to achieve maximum efficiency.
Nuvolari and Lenard both believe that it is not enough to design a yacht that is "greener," and instead our entire mentalities and attitudes towards yacht design needs to shift. "Vento speaks to a market sensitive to environmental issues, worried about the future of the marine ecosystem, which is ready to do its part," they say. Vento is their testimony and, they believe, proof that a truly green yacht needn't mean compromising on innovative designs and luxurious living.
nuvolari-lenard.com 
Project Crystal
The size of the 308-ft Project Crystal is an eco yacht option for buyers who can't let go of the idea of a very large yacht. She, like the rest on this list, has been designed in a way that will allow efficient operations and energy savings. "As with all our designs, the impact of a vessel on its context is crucial — environmental considerations extend from the controllable pitch propellers which maximize efficiency, through the hydrodynamic optimizations of the hull, hybrid power systems and glazing arrangements that minimize solar gain," says Nick Stark, naval architect at Nick Stark Design.
Project Crystal is named for the distinctive crystalline lattice that forms a striking part of the exterior profile. Designed to be a sanctuary, Project Crystal is a safe and relaxing space that is both beautiful on board and from afar. "We wanted to create an aesthetic that is celebratory," says Stark. "The lines flow up and across, both lifting our gaze and also guiding it to what is around us: the people, the community and the environment". The design is able to achieve swift global navigation and she has been crafted with a relentless focus on hydrodynamic fundamentals – the sleek unadorned underwater lines tick the boxes for both fuel efficiency and superb seakeeping. Not to mention she looks pretty exceptional too.
Sunreef 80 Eco
The Sunreef 80 Eco catamaran design is described by Sunreef Yachts as "an eco-responsible luxury craft combining electric propulsion, superyacht living spaces, reliable sailing performance and the latest green technologies in the industry." The Sunreef 80 Eco is the largest in the yard's Eco range, which boasts a large number of appealing 'green' features. These include state-of-the-art batteries, sustainable interiors, wind generators and smart water management. In fact, the entire Sunreef brand has undergone a central shift and rebrand towards producing "eco luxury" catamarans.
[See also: Style and Sustainability: The New Sunreef 80 Eco Catamaran]
Sunreef Yachts have worked hard on developing their own proprietary solar panel system, which has been integrated into the Sunreef 80 Eco design, allowing for 1,765 sq ft of ultra-light solar panels installed around the vessel. Pairing comfort and green technology, she has been designed for long range offshore cruising in total silence and in harmony with her surroundings. The entire design can be customized to suit her owners, with plenty of light-filled spaces in close proximity to the ocean. The first Sunreef 80 Eco is currently in build and due to make her debut in 2021.
AEGIR 2.0
This year saw Tillberg Design of Sweden (TDoS) release its interpretation of an eco superyacht, the 265-ft Aegir 2.0. The design house describes it as "the sailing yacht with the lowest possible environmental footprint." A big claim indeed. The design has a wind-electric propulsion system that recharges her batteries as she sails. This means her range is theoretically infinite – the world will be her oyster. A Dynarig sail plan will ensure excellent performance, while the trimaran hull delivers excellent seakeeping.
Her eco credentials do not mean a sacrifice on comfort as Aegir 2.0 has plenty of luxury features including a swimming pool, beach club space and spacious rooms. A minimalist Scandinavian style interior pairs a subtle color palette with natural materials, complemented by large windows that fill all spaces with light.
Lürssen's fuel cell yacht
There is little public information available about an exciting new project from German yard Lürssen Yachts, but it certainly warrants a place in this list for the feat of being the yard's first yacht with fuel cell technology. Now in build, the yacht has been commissioned by a forward thinking and technology driven owner. This project is huge news as it represents a big step towards an emission free Lürssen superyacht. Flanking the traditional generators, the fuel cell will offer many benefits including the ability to anchor for 15 days or cruise 1,000 miles at slow speed with no emissions.
Complementing this new build project, the yard has set up an Innovation Laboratory that will "simulate and test the integration and operation of a Marine Hybrid Fuel Cell System on board a yacht powered by methanol." Lürssen is certainly looking to the future and has ambitious goals to lead the field in the construction of emission free yachts.