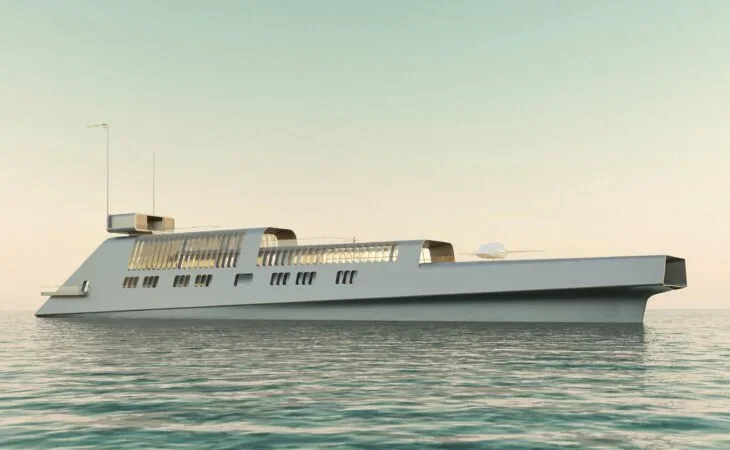 Prestigious design studio State of Craft has debuted its vision for the future of explorer yachts in the form of Mako – a 393.7-ft cruising vessel with generous interiors, exceptional range, integrated air mobility and polar exploration capability.
Inspired by the speed and elegance of the Mako shark, and the fluidity of the waves it resides in, State of Craft has designed a space that is both a comfortable home, versatile entertainment space and thrilling platform for adventure, all whilst, excitingly, with zero carbon footprint.
What's more, the Mako concept lends itself to flexibility, demonstrating an understanding of the desire for adaptability so necessary today: the design is a platform for customization, whether it be for a commercial expedition vessel or a private explorer yacht.
[See also: Lürssen Reveals Climate-Neutral Yacht Concept]
So, in theory, how does it work? A propulsion system of hydrogen tanks, fuel cells, and electric engines- combined with a battery storage system and solar panels. Mako has achieved what has previously felt like the impossible within luxury travel: a sustainable evolution of the yacht build, whilst not compromising on elegance and luxury whilst on board.
And compromise State of Craft has not. Boasting 270-degree views, a dramatically cantilevered aft deck wraps around the yacht's hall, establishing a sense of suspension above water. The exterior decks also include a platform for a remarkably wide beach club and a space for sports and activities. Above the top deck is the Pavilion, a versatile space that can be used as a yoga studio, fitness space, panoramic lounge or even a night sky observatory.
Located in the heart of the yacht is the studio, a double-height space that also takes advantage of the open seas to offer uninterrupted views. The studio presents a blank canvas for understated and welcoming interiors, without losing the sense of the majesty of the boat, offering a room that celebrates both the sea and the sky.
"The Mako is an exciting new project from this leading multi-disciplinary design studio based in London. State of Craft has enjoyed success creating some of the world's most outstanding residential developments and private homes on land and now, on water," State of Craft's press release has announced in regard to their thrilling, pioneering new development.