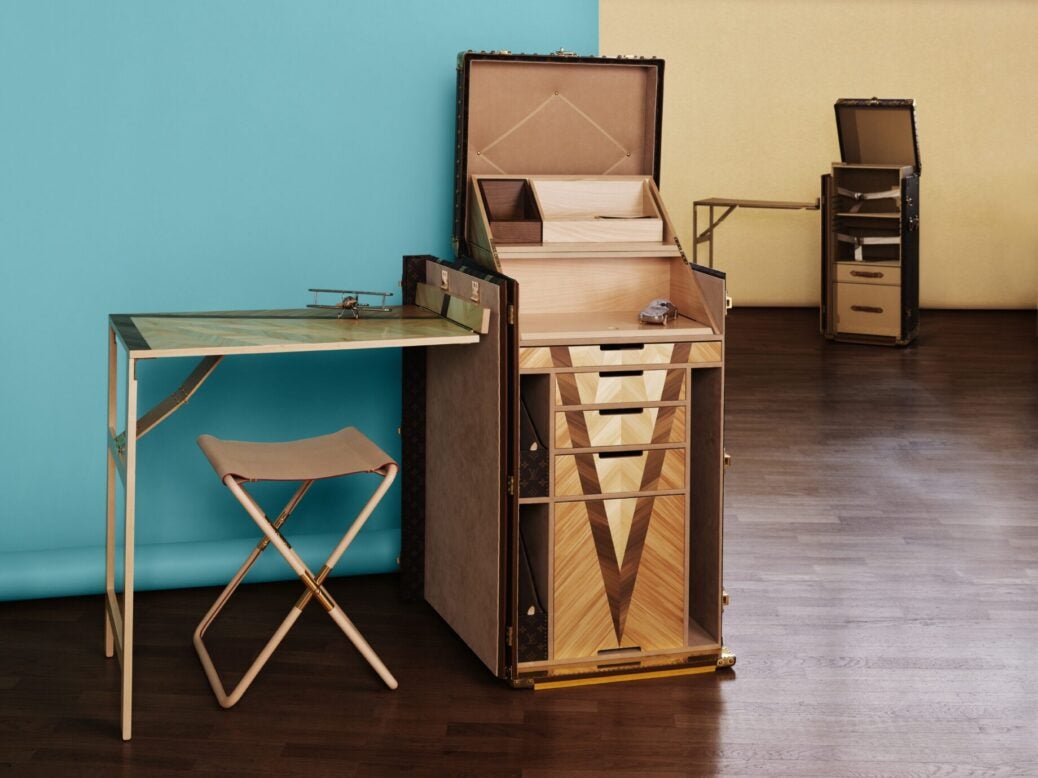 Working from home may be the norm these days, but there is nothing ordinary about this bureau. In 1929, British orchestra conductor Leopold Stokowski commissioned Louis Vuitton to design and manufacture a special-order traveling office trunk.
One of the leading conductors of the early and mid-20th century, he gained his reputation as musical director of the Philadelphia Orchestra, conducting the music for and appearing in several Hollywood films, including Disney's Fantasia.
The original Secrétaire was designed to allow Stokowski to remain dedicated to his work from anywhere in the world. A reconfigured travel trunk, the original design had a box for his typewriter, adjustable shelves, a drawer for sheet music, a hanging file drawer and a foldout desk. It quickly became a highly coveted piece and, as a result, Louis Vuitton (eventually) made this piece available for special orders.
[See also: Louis Vuitton's 200 Trunks, 200 Visionaries Exhibition Opens in LA]
To coincide with the 200th anniversary of Louis Vuitton's 1821 birth, the Secrétaire Bureau 2.0 was reinvented for elevated remote working.
Monogram-coated canvas and gold-hued hardware dress the exteriors and, as the bureau is opened, the collapsible table — generously resized to accommodate today's work-from-home lifestyle — rises directly from the front panel.
A folding stool slots out from its dedicated space and is joined by five drawers and two large spaces for storing documents. Created at Louis Vuitton's workshop in Asnières, France — the brand's first workshop opened by Louis Vuitton himself — the bureau's design reflects a compelling sense of tradition and heritage.
There are two options for the finish: For those who prefer a sleek appearance, varnished wood creates an elegant and understated look, while the straw marquetry option creates a unique optical illusion.
Straw marquetry is a craft that only a handful of artisans are able to create, with French master craftsmen delicately using strands of straw to cover the object. But whichever model you choose, your bureau will feature the iconic initials of an 'L' on the interior door and a 'V' across the main body.
If you choose the Secrétaire Bureau 2.0 to accompany you on your travels, you'd best plan ahead. With the delivery time taking a year, it's not something for spontaneous vacations.
Price on request, +1 866 884 8866, louisvuitton.com
[See also: Louis Vuitton Auctioning Virgil Abloh Nike Air Force 1s]
This article appears in the 05 Sep 2022 issue of the New Statesman, Fall 2022