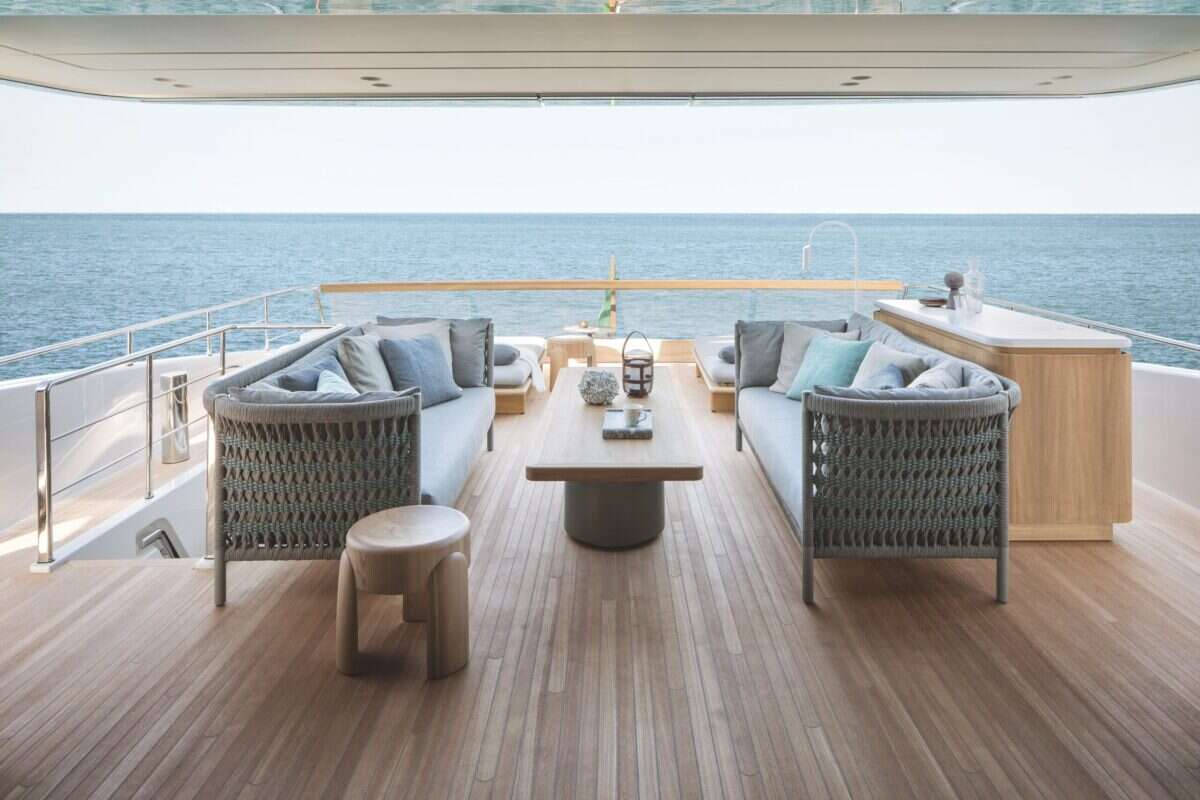 As the design industry has grown and changed across the centuries, it has become almost effortless to find objects and furniture to fit your style — whether that's Arts and Crafts, Mid-Century Modernism, Maximalism or anything in between — and turn your house into a home. However, one element of designing your home that does require significant effort is choosing luxury homeware brands that tread lightly on the environment.
Many of the pioneers in this article have been around for decades, quietly working for the good; others have only launched within the last few years but are already making waves. No matter their beginnings, these dedicated brands are striving for a brighter future — and are creating beautiful pieces of homeware and furniture along the way.
[See also: Twenty for 20: Iconic Eco Homes of the 21st Century]
Janus et Cie
Luxury furniture brand Janus et Cie has been at the forefront of design-led outdoor furnishings for over 40 years, with its pieces featuring in private homes, hotels, resorts, commercial properties and even on board yachts. No matter your style or design taste, you are guaranteed to find something to fall in love with when looking through Janus et Cie's extensive catalog. The brand boasts over 6,000 pieces across its collections, which includes furniture from a range of established and up-and-coming designers, as well as a growing selection of decorative accessories and textiles.
The company takes its name from the Roman god of transitions and duality, Janus, who is depicted with two faces looking forwards and backwards — a meaningful namesake, as the company strives to both honor its heritage and the craftsmanship of its collections, while also making efforts to discover new talents and technologies that will become the future of furniture design. Janus et Cie has always been mindful of its environmental responsibility, developing sustainable materials such as recyclable synthetic woods and sourcing renewable organic materials including teak and rattan.
Bevolo
Established in 1945, Bevolo Gas & Electric Lights is the largest manufacturer of open-flame, handmade copper lanterns in the world. Each lantern or lighting fixture is made by hand in Louisiana. The company opened its first location in New Orleans' French Quarter, where some of its original lanterns — built over 70 years ago — burn to this day, including in historic landmarks like Jackson Square and The Cabildo.
[See also: Chelsea Barracks – City Living in Europe's Greenest Development]
Nowadays, Bevolo offers both electric and gas lighting collections for a range of interior and outdoor spaces in its signature material: copper. Each piece is handcrafted from pure American copper by one of Bevolo's dedicated craftsmen; every piece features a Maker's Mark, one of the oldest forms of trademarking, to show which craftsman is responsible for the work. Copper is an organic, recyclable material that can last up to 300 years. But the company takes its sustainability credentials even further — its gas burners are considered some of the most efficient in the world.
Le Creuset
One of the most admired cookware brands in the world, Le Creuset is best recognized for its colorful cast iron collections, with the design for its signature piece, the French Oven or cocotte, dating back to the brand's humble beginnings in 1925. Le Creuset has been adored by families and chefs across the globe for decades. The 'Father of Industrial Design' Raymond Loewy was also a fan of the brand and the official designer the 1958 Coquelle, which adapted the round casserole dish into a sharper, more minimalist design to appeal to post-war tastes.
Although Le Creuset has grown to offer a range of collections — everything from baking to tableware, cutlery to wine glasses — it is the vibrant, enameled cast iron pieces that draw the most attention, often appearing everywhere from wedding registries to under the Christmas tree. These French Ovens are made to last a lifetime and to be passed down for generations, constructed from the highest quality materials including 85% recycled iron and steel. Skilled craftspeople work at all stages of Le Creuset's production, with each piece being inspected thoroughly before being finished by hand.
Carl Hansen & Søn
Danish furniture maker Carl Hansen & Søn has been crafting beautiful and functional pieces for over 100 years, fueled by a passion for craftsmanship and design. The family-run company (its CEO is Carl Hansen's grandson, Knud Erik Hansen) has a commitment to promoting and preserving Danish design. One of its most influential collaborations, which began in 1949, was with Danish Modern designer Hans J Wegner — the creator of the now-iconic Wishbone Chair. It's a piece that Carl Hansen & Søn still manufactures, along with a growing collection of design-led, exquisitely crafted furniture.
[See also: A Day in the Life of Interior Designer Stephen Sills]
Carl Hansen & Søn is dedicated to working sustainably throughout its entire production process. The company is certified to produce FSC-certified furniture and has long-established connections with responsibly managed forests and sawmills. It has invested in energy-efficient equipment for its manufacturing facilities and considers the health and safety of its craftspeople as paramount to the business. If this wasn't enough, Carl Hansen & Søn repurposes any scrap wood left at the end of the process into fuel, providing heating for over 400 homes in the town of Gelsted in Denmark.
Jan Hendzel Studio
London-based design and craft furniture studio Jan Hendzel Studio was founded by self-taught furniture maker Jan Hendzel in 2015, a product of Hendzel's realization of the importance of sustainable practices in woodworking combined with his wishes for a bigger workshop where he could explore ideas and design his own products. The furniture studio's renown has grown over the years, with several of its products exhibited at design shows including Masterpiece and Design Junction, as well as at the Saatchi Gallery. It has also created bespoke furnishings for several residential and commercial properties, including Japan House and Terence Conran's Wilder restaurant in London.
[See also: Bentley Home Launches the Eco-Conscious 2021 Collection]
At the heart of all Jan Hendzel Studio's practices is a passion for sustainability and longevity. The studio uses quality British materials, finding a balance between using modern manufacturing processes and traditional woodworking techniques to create pieces that are functional, alluring and respectful to the environment. The studio launched its first full collection of furniture — called Bowater — last year; it features nine pieces for the home that have been made exclusively out of British timber, including a desk, sideboard, stools and a shelving unit.
The Citizenry
Offering ethically made and sourced objects and accessories, The Citizenry is a sustainable home decor brand that prides itself on working with artisans from around the world. The young company brings together the best artisanal goods and showcases them under one roof — or, more accurately, one website — to make it easier for shoppers to find exactly what they're looking for. The master artisans that The Citizenry works with are paid fairly (the brand uses Fair Trade standards), ensuring they are getting the best price for their work and are supported in continuing their craft.
The brand is currently working with more than 60 groups of artisans from across 17 countries, and its team is always on the lookout for new craftspeople to work with, spending much of their time traveling from country to country to collaborate with local communities. Despite working with several groups of artisans, it's important for The Citizenry to keep production small. Each of its items is handcrafted and numbered, and the quantities are limited to safeguard the culture and artisans that have created it.
Anthologist
Founded in 2020 by PR specialist Andria Mitsakos, Anthologist specializes in creating beautiful design objects using traditional methods of crafting. What makes this particular brand unique, however, is its two strands of approach: Individuals are able to purchase Anthologist's objects and accessories direct from its website, but there is also an option for hospitality brands to work with Anthologist to discover artisans and curate collections that are bespoke to their venues and interiors.
[See also: How Anthologist is Championing Cultural Preservation]
Anthologist's pieces are often inspired by antiques and artifacts that Mitsakos finds in flea markets. The brand works closely with artisans to adapt these antiques for modern use, using traditional methods of crafting to support forms of production or trades that would otherwise not survive. Anthologist considers itself a positive-impact brand that focuses on this type of cultural preservation; its current collection hails from Mitsakos' home country of Greece — some as pieces that are scalable and others that are limited-edition. However, as a world traveler, Mitsakos is planning to expand Anthologist's offering to include curated collections from other parts of the world, including a furniture collection that has been inspired and made by artisans in the Caribbean.
Take Three // Innovations
Launched by makeup artist Liz Michael in collaboration with Keim Mineral Paints, Gris Paints is a new paint brand that reflects its founder's minimalist aesthetic and measured approach to interior design. Its collection currently includes three series with timelessly chic colors: Nordic, Architectural and Inky. All Gris Paints are entirely sustainable, with colors coming from natural earth oxide pigments to create an entirely unique finish that is UV stable and less likely to fade. The paints are also free of preservatives, acrylics, solvents and synthetic binders.
Since its first glassmaker was born in 1678, it's fair to say that Riedel is one of the most knowledgeable and impressive glass companies in the world. Still family owned (its CEO is 11th-generation Maximilian J. Riedel), Riedel is internationally renowned for glassware, with its objects' designs being shaped to improve the taste of the drink within. Though glass is naturally long-lasting and recyclable, Riedel has increased its efforts to go green over the years, including making up to 50% of its products from recycled Riedel crystal glass and sourcing its main raw materials locally.
Innovative fabric brand Ultrafabrics has been pioneering in the creation of high-quality, animal-free materials for over 25 years. The company has always been dedicated to sustainability and finding ways to create fabrics that are kind to the earth without compromising on performance, durability or aesthetic. One of its latest products, Ultraleather Volar Bio (an animal cruelty free, polyurethane leather alternative) was recently awarded a PETA UK Vegan Homeware Award. Versatile and suitable for a range of applications, Ultrafabrics supplies textiles for a myriad of luxury industries including fashion, furniture, airlines, yachts and automobiles.