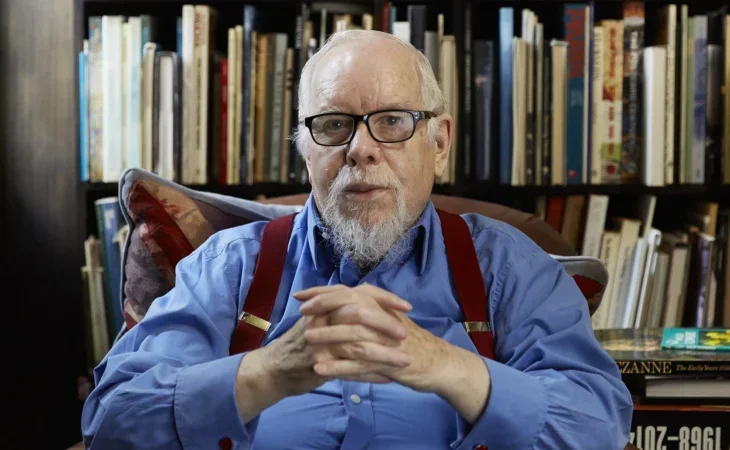 A leading figure in the Pop Art movement, Sir Peter Blake is being celebrated this summer for his decades-long contribution to the art world. The exhibition – titled Sir Peter Blake: The art of travel and a life of artistic expressions – will be on show at the iconic 45 Park Lane from June 22 to July 18.
Perhaps best known for co-creating the sleeve design for the Beatles' album Sgt. Pepper's Lonely Hearts Club Band, some of his other works include the covers of two The Who albums, the cover of the Band Aid single Do They Know It's Christmas?, and the Live Aid concert poster.
In collaboration with the London-based art gallery Waddington Custot, the exhibition coincides with Blake's birthday and will present a selection of his ground-breaking works. By using collages, he infuses his pieces with images from popular culture, constructing a new reality for those reflected in each work.
His most recent series, Joseph Cornell's Holiday, is part of the exhibition and focuses on the American surrealist artist Joseph Cornell. Famous for rarely leaving New York City and never having left the US, Blake's work imagines him traversing the globe. Taking Cornell on the trips he never undertook in real life, in one collage he can be seen stroking a dog in Piazza San Marco, Venice, while in the next he's on a rowing boat in Denmark.
Situated in the heart of Mayfair, Park Lane was first developed in the early 1700s, but the recognizable building that can be seen today dates back to the 1960s. Acquired by the Dorchester Collection, who appointed the renowned architect and interior designer Thierry Despont to transform it into a hotel, it opened as 45 Park Lane in 2011 and has since made a name for itself as one of London's leading luxury hotels.
Playing host to a number of artists, 45 Park Lane acts as a living canvas for an ever-evolving collection of works by contemporary British artists. From new talent to seasoned artists, the hotel has showcased some of the most exciting names in the art world. There is also permanent artwork in the guest rooms as well as Damien Hirst's Psalm series hung throughout its restaurant CUT.
A total of 30 of Sir Peter Blake's artworks are displayed around the hotel's public areas including the lobby and BAR 45. Accessible to all, wander around the art deco institution before stopping for one of their famous negronis.
[See also: Interview: Emily Freeman of 45 Park Lane]