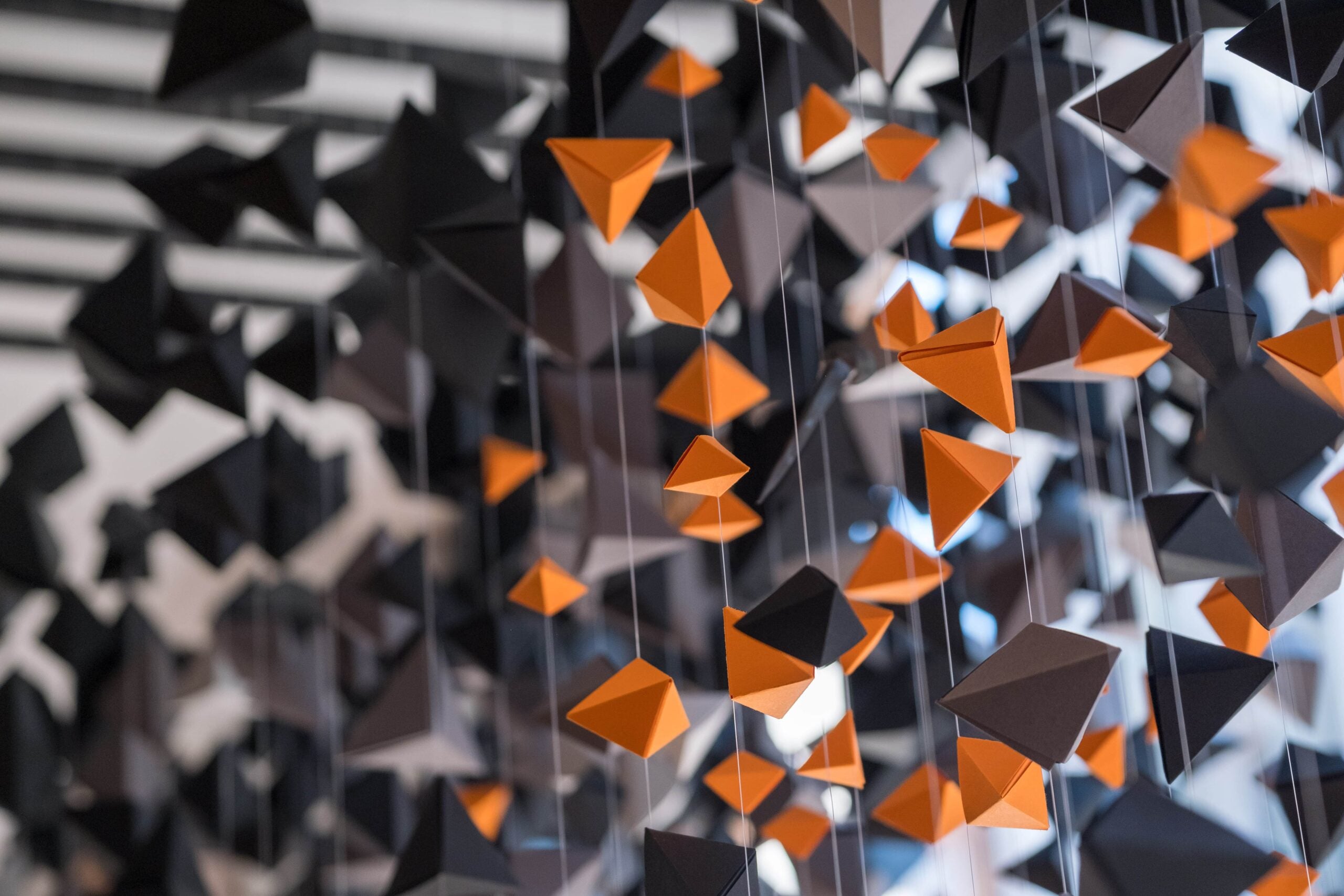 For the London Festival of Architecture, Gaggenau London has collaborated with up-and-coming design house Inclume to create Fragment, an art piece that celebrates their history.
Exhibited in the window display of their location on Wigmore Street, passers-by will be able to catch a glimpse of the black-and-orange installation suspended behind the glass.
Fragment derives its name from the story of the brand, 'it began with a spark', with the abstract piece representing the company's origin as metal smelters over three hundred years ago. The team at Inclume spent 400 hours creating the 4,500 paper shapes before stringing them together to create the striking visualization of Gaggenau's origins.
[See also:
Viceroy Los Cabos Launches
A
rt
Program and Reta
il
Concept
]
"The black paper shapes signify Gaggenau's roots at the edge of the Black Forest in Germany, while orange represents the fragments emanating from the forging process," explains Inclume's founder, Ian Lambert.
"The tactility and texture of the design recall the handcrafted nature of working with metal. And in the center of each orange burst sits a hand-crafted nail stamped with the date of Gaggenau's foundation, 1683," he continued.
These handmade nails are representative of Gaggenau's commitment to unwavering quality, while also serving as a reminder of the company's core values of craftsmanship and authenticity.
Since its conversion to a producer of luxury domestic appliances in the twentieth century, Gaggenau has presided over the design of a range of built-in products found today in many of our homes. From ovens and extractor hoods to dishwashers and tumble dryers, Gaggenau's easy introduction of flair and functionality to home cooking has earned it several accolades over the years.
[See also:
Bentley Home Launches the Eco-Conscious 2021 Collection
]
Currently open by appointment, Gaggenau London will display Fragment until 30 June, 2021. For those who are interested, make sure to stop by and enjoy the stunning visual representation of a company that was, quite literally, forged in fire.
For more information visit gaggenau.com or fragmentgaggenau.com.