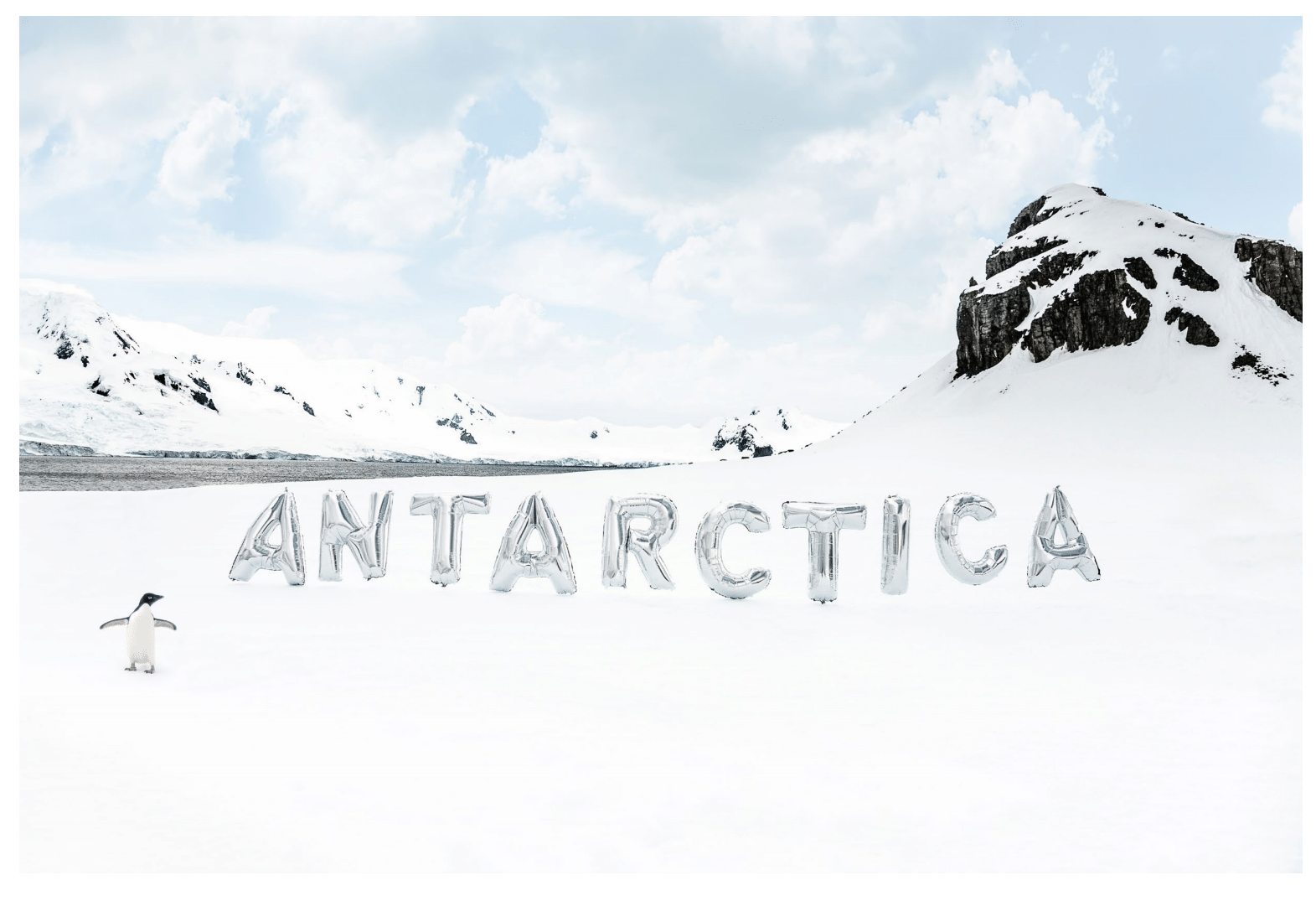 Known for his collections of remote locations, Gray Malin is a Los Angeles-based fine-art photographer with a passion for travel, adventure and interior design. His artwork, which aims to bring people together, often includes aerial photos of stunning landscapes. Throughout his career, Malin has traveled extensively, with photography series set in countless locations, including several American states, various European cities, Australia, New Zealand and Thailand. Most recently, Malin spent time in what is considered the planet's last true wilderness: Antarctica.
Drawn to the unique landscape with its glacier-covered land and imposing floating icebergs, Malin used his time in Antarctica to create a new series of fine-art photographs that juxtapose the natural environment with bright objects usually associated with summer, including plastic flamingos, a beach ball and pool floats. Called Gray Malin in Antarctica, the series captures two parallels coming together and ponders the question of how the Antarctic landscape is changing as our world experiences climate change. With this in mind, Malin has also chosen for the collection to support the Natural Resources Defense Council (NRDC), an international nonprofit environmental advocacy organization. We spoke to Malin to find out more about the collection and his experiences in Antarctica.
Tell us about your experience traveling to and being in Antarctica.
Early in my career, I set a goal to shoot on all seven continents – I knew one day I would travel to "the white continent" despite the challenge it is to get there.  Although I went to work on this project, I was able to convince my sister to join me and assist with the shoot. Inspired by our grandparents' trip to Antarctica, we followed in their footsteps and traveled on the National Geographic Endeavor ship; their spectacular travel photographs inspired me to want to visit the continent, so it was very special that my sister and I were able to go together. Traveling to Antarctica was an unforgettable experience – being that it is ultimately untouched, the incredible glaciers and vast white landscape are once-in-a-lifetime sights.
How did visiting Antarctica impact you and your worldview?
My trip heightened my awareness about the effects of global warming and reminded me of how important it is to preserve the glorious natural environments that our world has to offer. There were a few moments throughout my trip that forced me to face the effects of climate change firsthand; for example, while I was capturing a photograph of an inner tube in the water, one of the icebergs close to the size of a two-story house broke off.
Our Zodiac driver had to drive full throttle to avoid the giant wave approaching, and my sister and I both fell to the floor of the boat. It was a scary moment, and we narrowly escaped the massive wave. Moments like this remind me that Antarctica is a beautiful yet temperamental place, and the effects of global warming make it a location that is ever more unpredictable in its weather, safety and sustainability.
What inspired you to juxtapose objects traditionally associated with summer with the Antarctic landscape?
In the initial stages of planning the concept for this project, I wanted to translate my love for summertime into these images, experimenting with how I could bring the beach to this icy continent and play with that whimsical juxtaposition. However, the more I researched Antarctica and as my concept began to develop, I realized that I could use this series as a way to touch on and create a conversation around the topic of the climate change crisis.
I set out to place summertime props throughout Antarctica's terrain to capture the two contrasting worlds and present a greater message about how climate change is affecting the landscape of our world. During the shoot, we took every precaution to make sure we didn't do any further damage to the environment.
[See also: Master the Art of Giving With Saatchi Art]
What do you hope people will feel when they see the series?
My goal for this series is twofold; I hope that people enjoy the pure and inconceivable beauty of Antarctica while also gaining awareness of how climate change dramatically affects the world's most amazing landscapes.
Penguins are featured in many of the series' images; what was it like getting closer to these creatures?
Penguins are everywhere in Antarctica! We had many scenes where they would wobble into the frame unexpectedly. One of my favorites was when we were shooting three pink lawn flamingos atop of a frozen lake and a cluster of penguins came sliding on their bellies to investigate – apparently they are attracted to the color red.
What do you think is the greatest threat to the Antarctic landscape, and how do you think we can combat this?
Climate change is without a doubt the biggest threat to the Antarctic landscape and many other landscapes around the globe. Tackling climate change is something that takes action at the local, national and international level and requires that legislation at each level is working towards slowing climate change and preserving our natural world. I wanted to release these images now as we enter a new year with the new administration that wants to tackle this daunting topic.
Why have you chosen to support the NRDC with this series?
I chose the NRDC because it is a renowned and leading climate change foundation; it seemed like the right fit for the organization to be the beneficiary of the charitable component for this series release.
The Antarctica collection is available exclusively at graymalin.com.