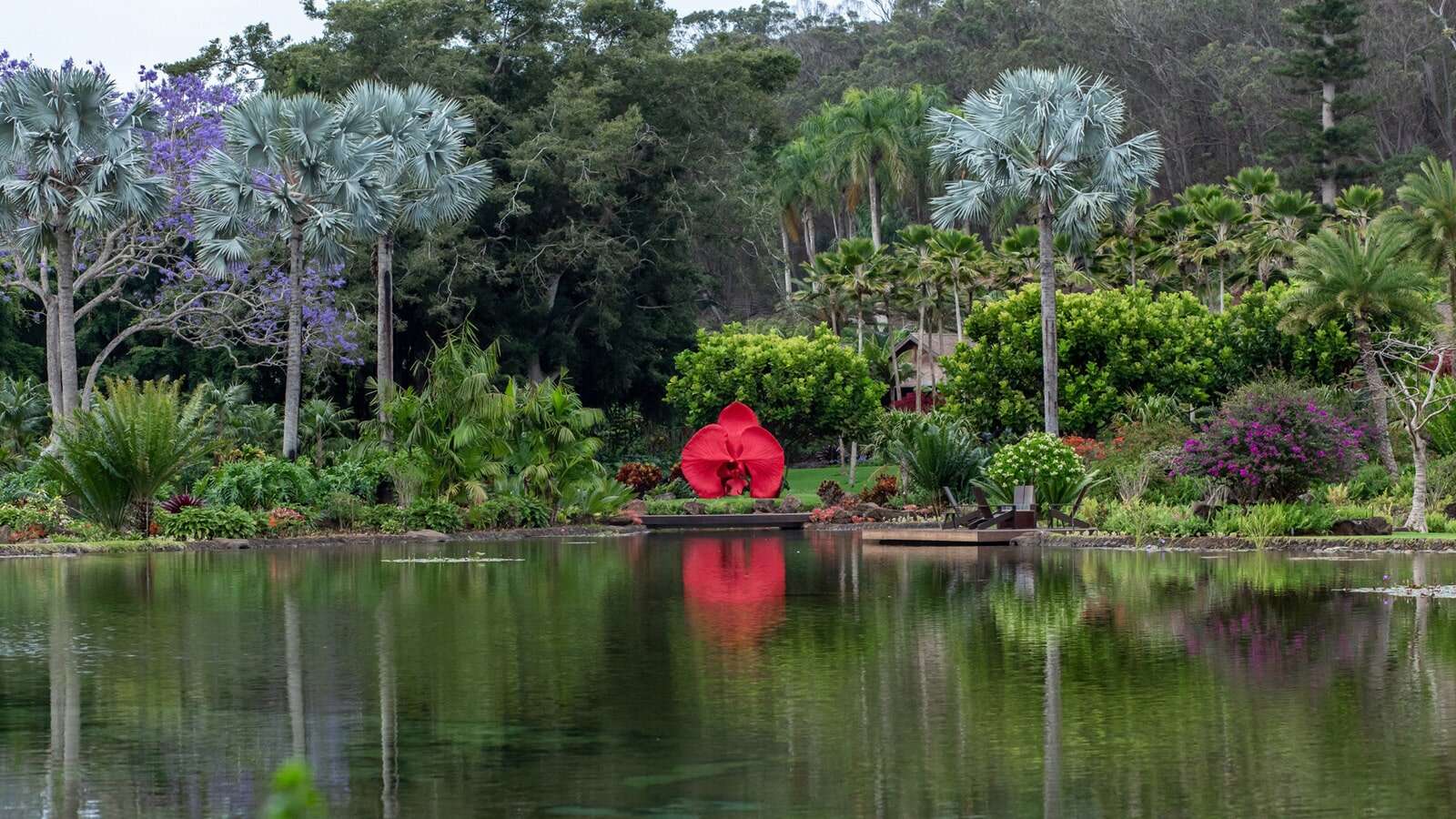 Art forms a key part of the offering at Sensei Lanai, A Four Seasons Resort with a carefully curated selection of works flowing smoothly from inside the walls of the Hawaiian resort out into the surrounding 24-acre grounds. This includes an inviting outdoor sculpture garden featuring an impressive collection of modern pieces, many of which were commissioned especially for the resort.
Sensei Lanai's art-filled garden has been thoughtfully created in order to enrich guests' personalized Sensei journey by inspiring creativity, encouraging relaxation and promoting internal reflection – and with pieces dotted throughout the resort's landscaped gardens, there's something new to discover at every turn.
To help its guests fully absorb everything on offer in the sculpture garden, Sensei Lanai has put together the Art Walk – a comprehensive guide to every piece on the route. The online guide includes a detailed map of the gardens, with information on every sculpture and a few little-known facts about the artist who created it, as well as unique viewpoints to help visitors appreciate the garden and the art within it from every angle.
[See also: Sensei by Nobu at Sensei Lanai, a Four Seasons Resort]
Particular highlights in the Sensei Lanai sculpture garden include Donna Seduta (2001) by Columbian sculptor Fernando Botero, who is famed for his inflated and exaggerated nude figures. The bronze sculpture depicts a woman sitting with an uneaten apple in her hand, protected by the canopy of a large Banyan tree as she gazes over her shoulder towards the Pacific Ocean.
She is joined by a series of other Botero pieces, including Woman on Horse (2011), Adam and Eve (2003) (which can be seen from the resort's lobby) and Dancers (2012).
Overlooking one of the garden's tranquil ponds is Burning Desire (2017), by contemporary British artist Marc Quinn. Quinn's work explores what it is to be human in the world today, and Burning Desire encapsulates this perfectly. The striking bright red orchid in painted bronze sits in stark contrast against the greenery of its backdrop, inviting guests for a closer look just as a bee is drawn to a flower.
[See also: Las Vegas to Host $100m Picasso Auction This October]
Elsewhere in the outdoor sanctuary are works by Spanish artist Jaume Plensa, who plays on misproportioned human features and forms to convey a sense of spirituality and weightlessness. On display at Sensei Lanai are two Plensa pieces: Talaia (2016), which shows a larger-than-life young girl's face in fiberglass-reinforced polyester and marble dust; and Heart of Rivers (2016), which depicts seven self-portraits sitting on the ground and hugging their knees. Each is adorned with the names of the world's great rivers.
The boundaries of the garden also house sculptures by the likes of Emily Young, Guillaume Castel, Balthasar Lobo and Ju Ming, all of which sit between the lush Hawaiian flora of the resort's grounds.
Beyond artwork, Sensei Lanai's gardens also boast a full fitness facility, outdoor yoga spaces, an 18-hole putting course, onsen baths and an outdoor pool, as well as a number of tranquil spaces where guests can retreat to reconnect with nature.
[See also: The Best Wellness Retreats in the US]
The Sensei Lanai, A Four Seasons Resort Art guide can be downloaded via the Four Seasons mobile app.