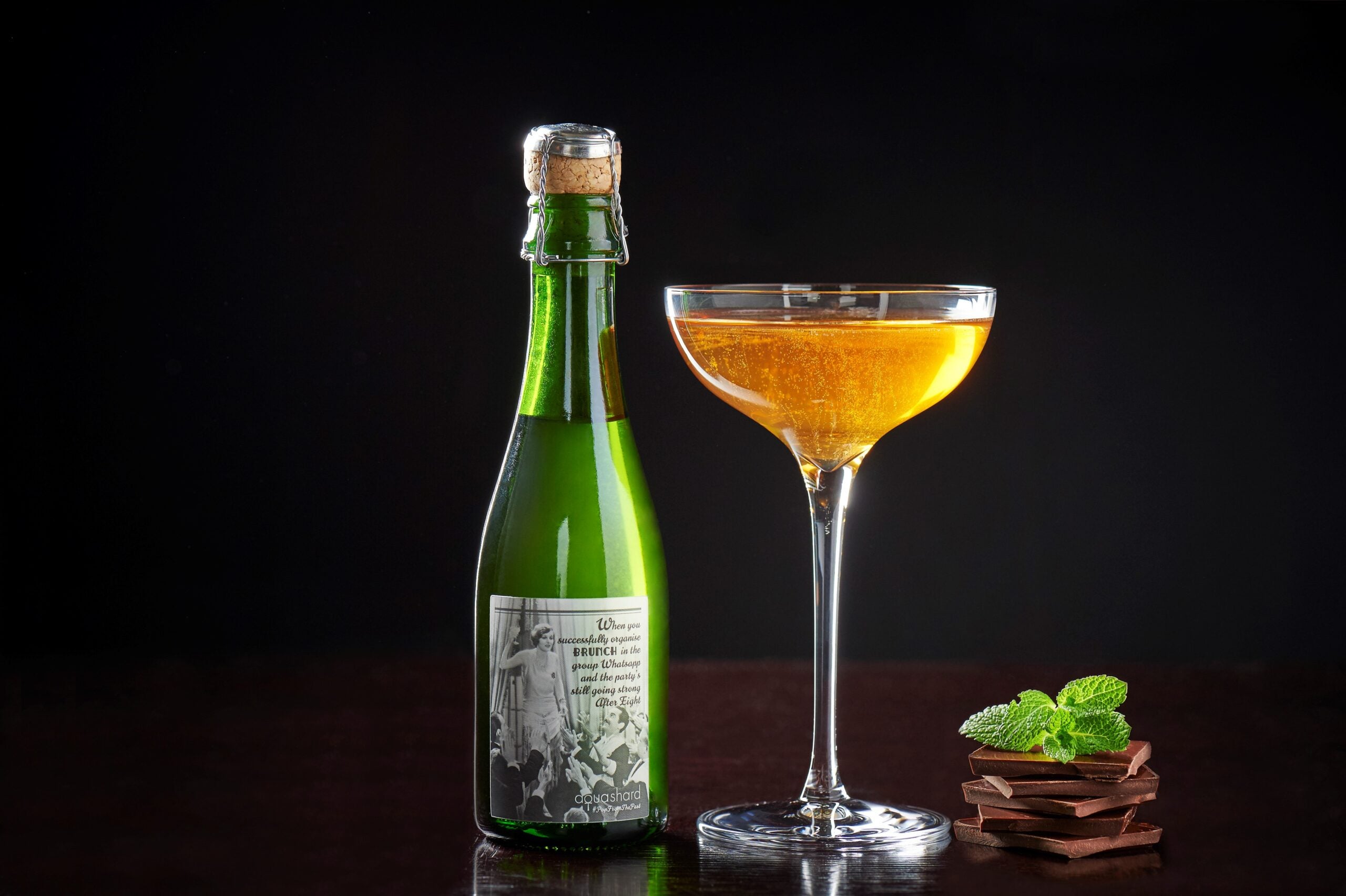 The panoramic restaurant and bar Aqua Shard on the London landmark's 31st floor is among the city's most celebrated venues for cocktails with a view over the skyline at sunset and as the city lights up at night. Now the sumptuous bar with three-story high windows is paying homage to the Club Cocktails that first appeared at the beginning of the 20th century with their Pop from the Past vintage cocktail collection.
Each vintage cocktail comes in the style of the original Club Cocktails, served in individual serving sized champagne bottles complete with fun vintage labels. All lightly sparkling, these then come in a series of quintessentially British flavors, containing a combination of gin, tea and sparkling wine, and are poured for you in a champagne coupe glass.
The Pop from the Past collection includes a manuka and sauvignon blanc option combining a manuka tea infusion, which is brewed for exactly 24 minutes to maximize the tea's flavor profiles, with a muscovado sugar and lemon zest syrup that has been vacuum sealed over 24 hours, Tanqueray No. Ten gin and a floral sauvignon blanc. The mandarin and lapsang cocktail then combines what is Winston Churchill's favorite tea and seasonal mandarin juice with the same Tanqueray gin and sparkling wine.
The apple and cedro option is particularly refreshing as it brings the zest of cedro lemons together with Tanqueray No.Ten, fresh apple juice and a tea infusion of the aromatic Mexican spice anise. And for a more indulgent hit there's the mint and chocolate option; reminiscent of an After Eight mint, this cocktail comprises Tanqueray No. Ten that's been infused with cacao nibs, peppermint tea and bitter cacao.
Find out more about the latest cocktail creations at Aqua Shard by going over to aquashard.co.uk