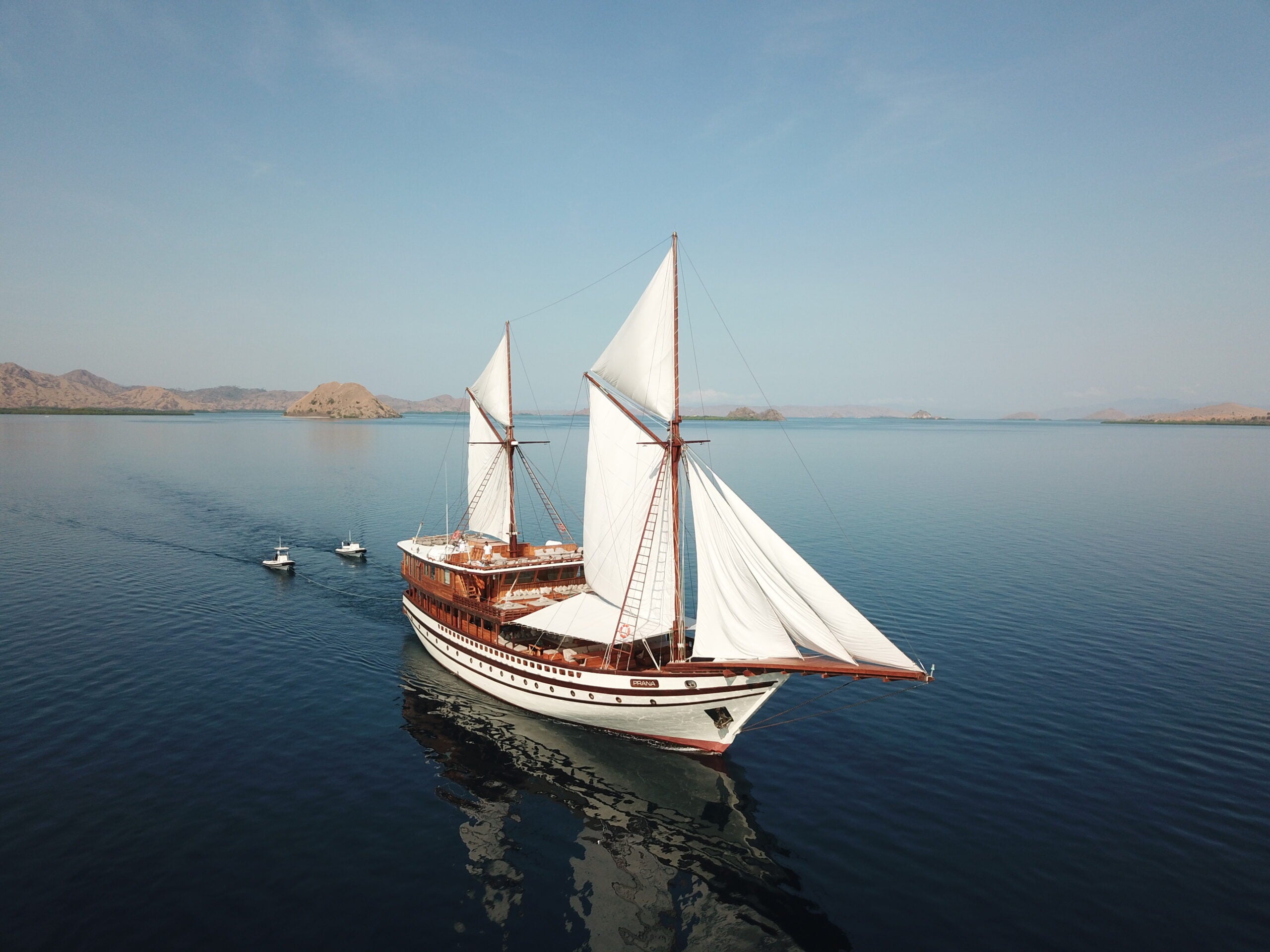 A voyage through Indonesia's remote Raja Ampat archipelago is among the most extraordinary journeys you can take by sea. Just off the tip of Bird's Head Peninsula in West Papua, over 1,500 wild forested islands and cays sit amid cerulean waters home to a kaleidoscope of coral reefs so rich in marine life, they're thought to have the highest recorded marine diversity on Earth.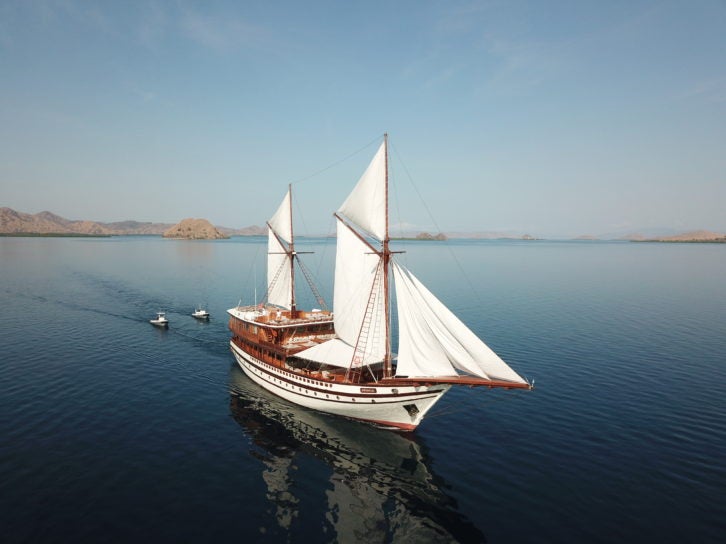 This spellbinding region is so isolated, exploration is best undertaken by liveaboard or sailing yachts — the exclusive charter offering here was elevated last fall with the launch of ultra-luxurious phinisi Prana by Atzaro from the people behind chic hideaway and celebrity haunt, Atzaro, in Ibiza.
Not only is the new sailing yacht lauded as the world's most luxurious phinisi yet, it's also the biggest of its kind, encompassing 9,687 sq ft of beautifully designed usable space. Elements of its design pay tribute to its Balearic sister, encapsulating Atzaro's natural luxury philosophy by combining traditional craftsmanship with contemporary design, pairing wooden surfaces with sumptuous materials in natural tones. The ship's 18-strong crew includes hosts, chefs and spa therapists, and you're accompanied by a dive instructor who'll guide you through some of the most bewitching reefs our planet boasts — Cape Kri's cornucopia of sea creatures has to be seen to be believed.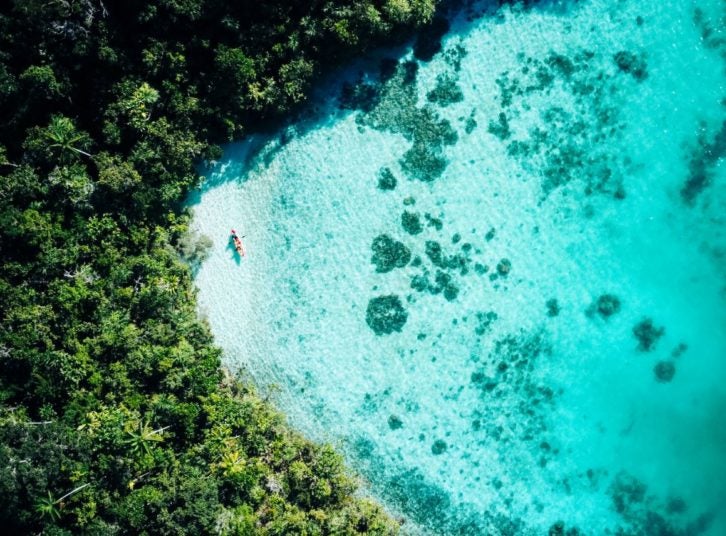 As the wind catches the sails, cross the equator and snorkel with giant manta rays, explore wild coastlines by sea kayak and paddleboard, and zip across lagoons by wakeboard and water-ski. Glimpse village life on Arborek Island, seek out Pulau Pef's prehistoric paintings, and visit the pearl farm of cliff-enclosed Aljui Bay. Back on board, unwind in the Anne Sémonin spa, join yoga classes on the top deck and indulge in Indonesian-fusion fine dining plates under the stars — of the nine spacious suites, shotgun the 828-sq-ft master suite, Batavia.
THE EXPERIENCE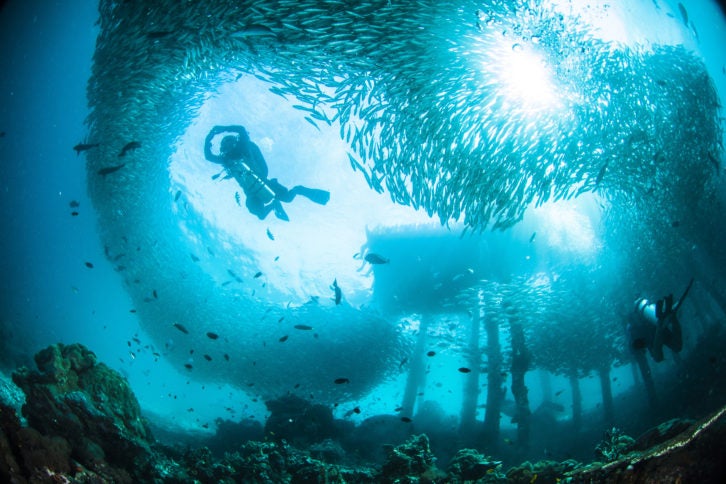 Water sports are an intrinsic part of the experience when you're sailing through Indonesia's remote regions. Diving and snorkeling are a daily draw but the boat's sea kayaks, paddleboards, wakeboards and water skis mean days are easily filled at sea. With such flourishing coral reefs and an abundance of marine life, this is how many people choose to spend their time. But it is also worth venturing onto the islands to climb to panoramic limestone peaks, see some of the native birdlife — by rising early you can hike to see the bird of paradise's mating dance at dawn — and visit remote coastal villages. Back on board, request an Anne Sémonin massage, join a top deck yoga class and end the day with a movie screening under the stars.
STAY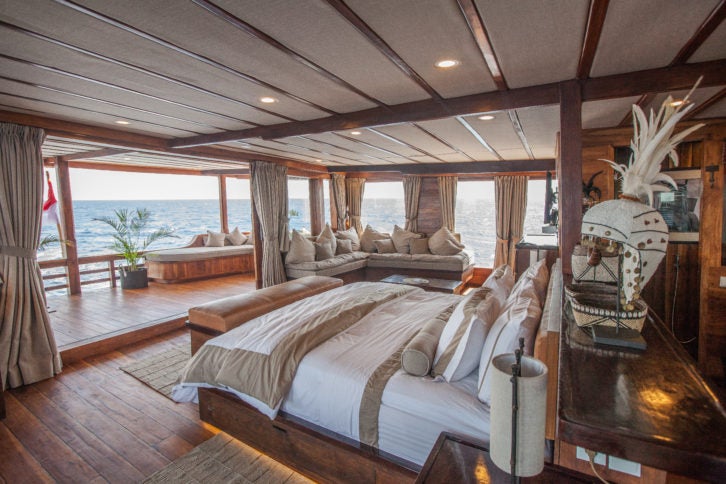 With the nine suites on board, guests have one master, one grand, two deluxe, three superior and two standard suites to choose between. The master, Batavia, is naturally the prize draw with generous space on the upper deck, wraparound windows, and a spacious terrace with 180-degree views that's perfect for hosting an evening's sundowners. Inside, the super king size bed, double bathroom, writing desk and space for lounging comes with the same aesthetic seen throughout the boat — wood and white with fabrics in natural tones and Indonesian design accents.
DINE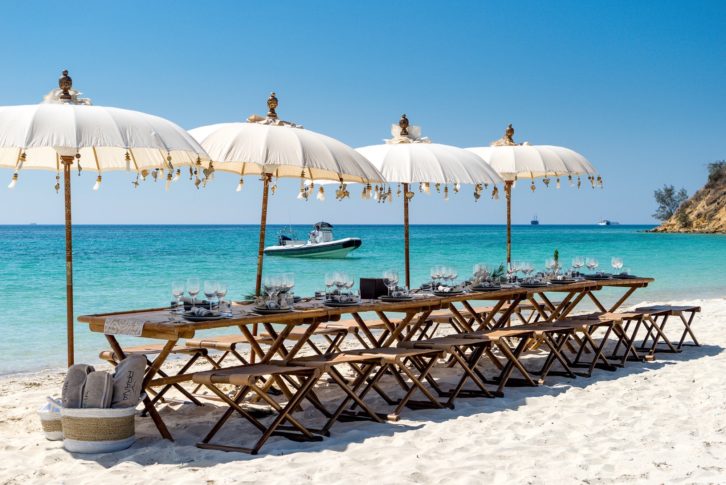 The food on Prana by Atzaro is tailored to suit everyone on board with Indonesian cuisine and international options. Breakfast bring a generous spread of tropical fruit platters, Indonesian rice and noodle dishes, healthy juices and brunch classics like eggs benedict. The three-course lunches are family style and dinners take on a fine dining spin with the occasional evening set aside for tapas on the top deck or a beach barbecue with grilled lobster.
CHARTER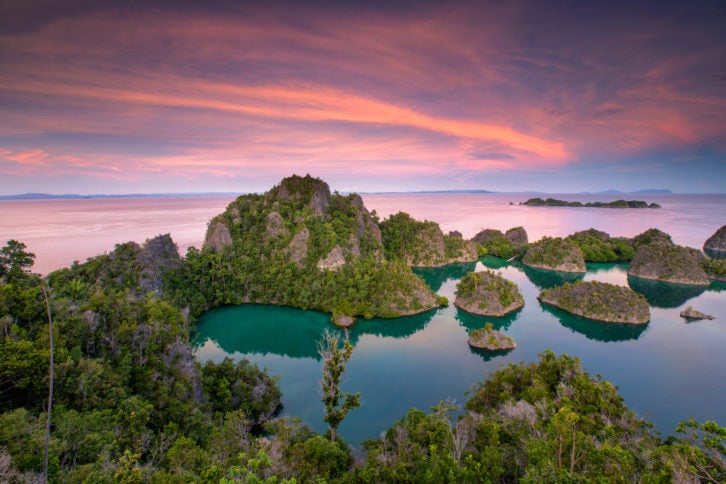 Elite Traveler experienced Prana by Atzaro for one of its Raja Ampat voyages, but the location is dependent on the season. The phinisi sails through Raja Ampat from December to April, cruising around Komodo National Park from June to October and traveling across the Banda Sea in the months between, stopping off at Indonesia's Spice Islands. The boat is typically available for full charter, with space for a total of 18 guests, but individual suite bookings can be arranged on request and organised to fit in with availability.
Charter rates vary from $14,000 to $15,500 per night for Raja Ampat, $13,500 to $15,500 per night for the Komodo Islands, and $12,500 to $13,500 per night for the Spice Islands. For reservations, contact Vicente Guasch, sales director, info@pranabyatzaro.com, +34 971 188 894, pranabyatzaro.com
Prana by Atzaro is featured in the elitetraveler.com/top-50-adventures