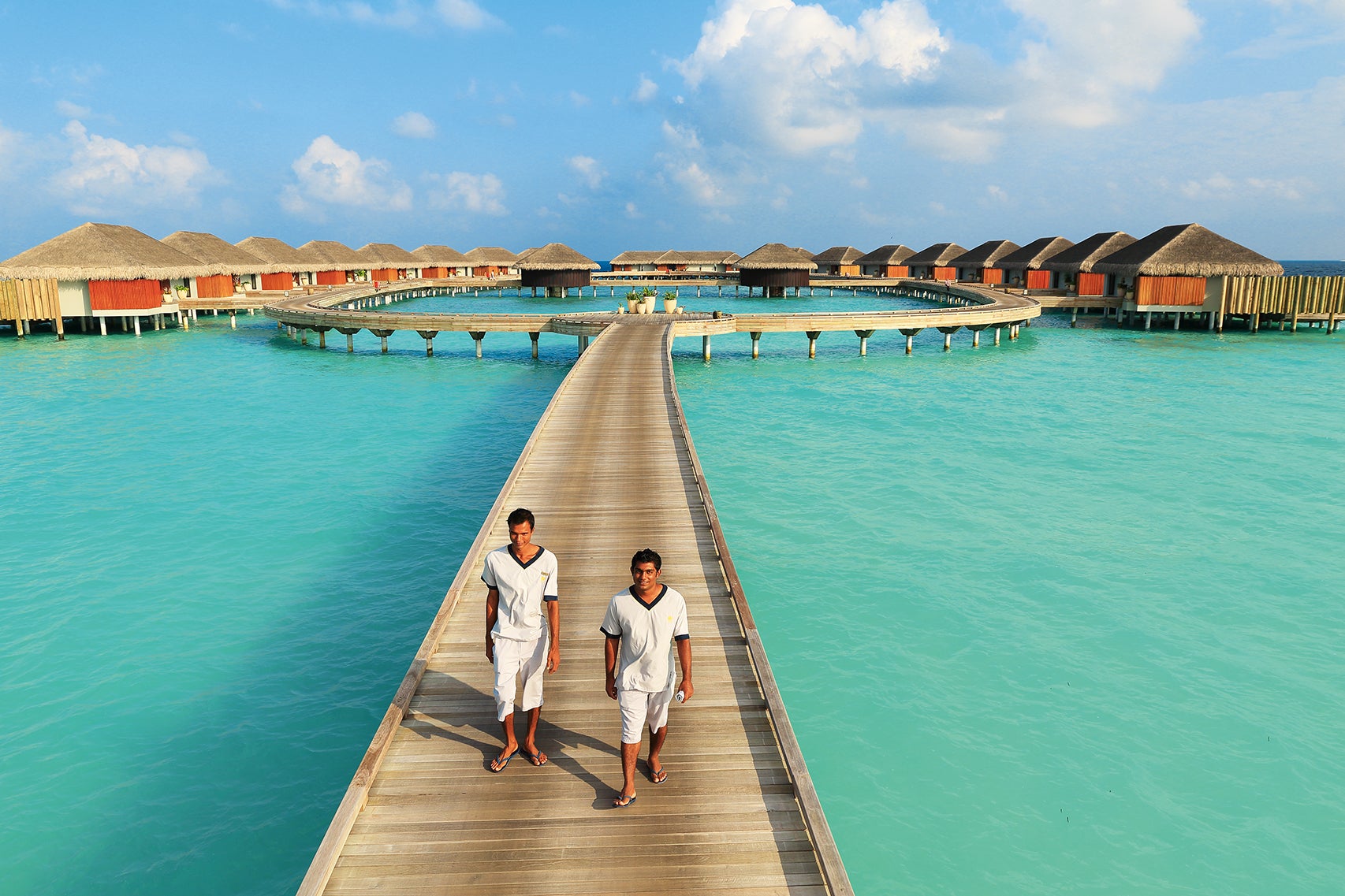 Velaa Private Island may be located in the Maldives' remote Noonu Atoll but since it first opened in 2013 the exclusive resort has attracted worldwide attention, becoming a talking point for taking Maldivian luxury to another level. Now with the news of Velaa securing its own branded seaplane, the promise of a new Princess yacht, and the imminent arrival of a signature Velaa restaurant in London, the island is garnering a fresh wave of attention. We take a trip to this sublime island retreat to see what it is that makes the exclusive resort so unique.
Costing $200m in its infancy, Velaa has never shied away from sheer extravagance; as the passion project of Czech financier Jiri Smejc and his family, the resort was created with the aspiration of it being an exclusive island hideaway that goes beyond luxury. From its array of state-of-the-art water toys and luxury yachts to the island's kids' club, the resort encompasses aspects chosen by each member of the family. Now managed by the founder's brother Michel Smejc, Velaa continues to be a family affair.
But it's the award-winning Czech architect Petr Kolar who's behind each of the decadent villas and social spaces around the island, fusing Maldivian style with contemporary design and showing his creativity through distinct structures such as the tower Tavaru restaurant and its wine cellar are housed in, for which Kolar took inspiration from a butterfly's cocoon.
Velaa takes its names from the turtles that nested on the island's shores, and there's no doubt it fits the picture of the Maldivian idyll everyone has in mind with its flawless white sand merging into a turquoise lagoon, with orchids, hibiscus and pink bougainvillea flowering between the island's tropical flora and palm trees. But of course, it's the luxurious nature of these islands that much of the archipelago's appeal can be attributed to, and this is really where Velaa truly excels; from the palatial villas and decadent cuisine to its wealth of yachts and water toys, every aspect of the stay is superlative in its delivery.
Service is personalized with a butler assigned to each guest, and privacy is key too; whether you're playing a round of golf, scuba diving or setting out on a sunset cruise, every experience is exclusive to you. Testament to this is the resort's dedication to complete discretion; a whole host of celebrities have stayed here but you're unlikely to find who unless they tell you themselves.
This is a setting where you can zip across the turquoise lagoon by jet ski to explore a neighboring uninhabited island, before returning to play a round of golf on the island's world-class course or slip into a blissful slumber at the My Blend by Clarins Spa, followed by an evening spent dining on the gourmet cuisine of chef Gaushan de Silva beneath a starlit sky. On Velaa Private Island every moment is worth savoring.
STAY
Luxurious thatched villas—each with their own pool—are tucked into this tropical flora on their own private patch of beach, or positioned over water for unrivaled access to the ocean. Accommodation ranges from the beach and over-water sunrise and sunset pool villas, to the larger ocean and beach pool houses, and at the top end, the Velaa private residences. The most exclusive accommodation here is the Romantic Pool Residence, which is so secluded it doesn't even have a boardwalk connecting it to the island. Instead, a personal butler remains on call to transport you back and forth, and attend to your every beck and call.
Each villa, house and residence is elegant in design combining natural materials and earthy tones with turquoise accents and Maldivian inspired design features, as well as private courtyards complete with outdoor bathtubs and rainforest showers. And, each year from 2018, one of the residences is to be re-designed by a different leading designer; the first installment of this project is yet to be revealed.
DINE
Dine on Maldivian inspired fusion cuisine with your feet in the sand at the beachfront all-day dining venue Athiri, perch on a stool at the circular bar of elevated teppanyaki restaurant Tavaru, and revel in the decadence of signature fine dining restaurant Aragu where you can tuck into local lobster and premium Wagyu beef in a secluded overwater spot beneath the stars or within the high-ceilinged indoor space beneath an installation of illuminated flying fish. For an aperitif, head to the deck of Cru Champagne Bar or sip sunset cocktails from the poolside Ari beach bar. For a private dining experience, arrange a desert island dinner or dine with the island chief at Tavaru wine cellar's round table as the island's sommelier introduces you to the extensive wine collection.
RELAX
As one of only seven My Blend by Clarins spas in the world, and the first to have been launched in Asia, the spa is another feature Velaa stands out for. Six overwater, ocean-facing treatment villas are connected by boardwalks, with an open-air sunken Jacuzzi, the Maldives' only snow room, a flotation suite, nail studio, hair salon and relaxation area all leading off them. Try the My blend Youth Synergy skin diagnosis and facial, or Velaa Bliss combining body exfoliation, a hot stone massage and Clarins facial.

EXPLORE
Over Water Seabobs, jet skis, flyboard, jetpack and hoverboard are among the exhilarating water sports here, with the addition of kite surfing, stand-up paddleboards, glass-bottom kayaks, catamaran sailing and big game fishing. Make sure you fit in a sunset cruise on any one of the resort's luxury yachts to be treated to champagne and canapés as the sun dips below the horizon.
Under Water Owing to the island's location, diving and snorkeling are especially rewarding here, with the chance to join night snorkeling excursions too. A number of dive sites teeming with marine life are dotted throughout the Noonu Atoll, including Manta Point, Raafushi Caves and Velaa Wreck where tropical fish such as fusilier, lionfish, snapper and oriental sweetlips can be seen in abundance.
On Land A sandy pathway circles the island, cutting a path through the tropical vegetation and palms trees and leading to each of the island's villas, restaurants and spa, as well as an array of sports facilities from squash, tennis and volleyballs courts to a yoga pavilion and, perhaps most notably, the nine-tee, seven-green Golf Academy by Olazabal; designed by Jose Maria Olazabal, and with technology including video analysis and a FlightScope radar tracking device, there's no other golf course like it in in the Maldives. Managed by Troon and having been planted with the world's most expensive grass, as much as $200,000 is spent each year on its maintenance. Alternatively, retreat to Velaa's library to browse the lovingly curated collection of over 1,000 books.

GIVE BACK
Gain insight into Velaa's efforts to safeguard the coral reefs here by visiting the marine biologist, snorkeling or diving to Velaa's hanging coral gardens and adopting your own coral through Velaa's Coral Restoration Project.
EXCLUSIVE USE
For unrivaled privacy guests have the option of renting the entire island. Exclusive use of the island for four nights costs from $1m.