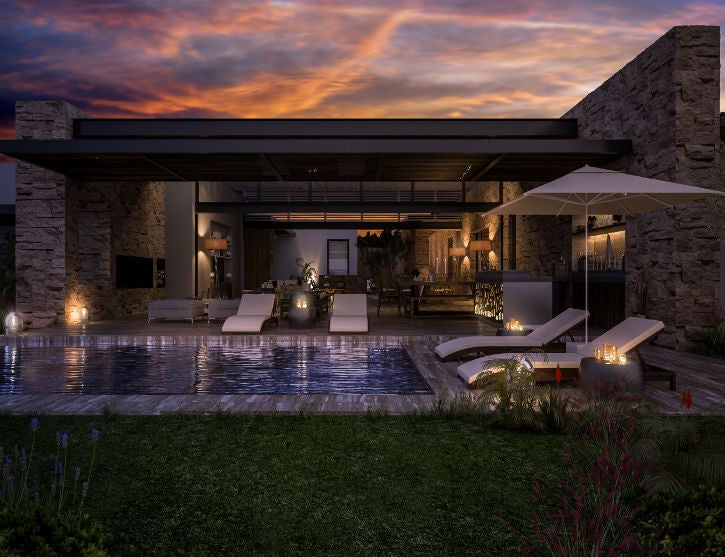 Following on from the exceptionally well-received arrival of Ritz-Carlton Reserve Residences in Mexico's sublime coastal region, Los Cabos, a second phase of development has been announced; this time, with the arrival of 60 new condominiums and the Ritz-Carlton Reserve hotel.
It's within The Ritz-Carlton Enclaves that the fully serviced condominiums will become available in the second quarter of the year, giving anyone who keeps coming to the enticing coastal region the chance to own a piece of this paradise themselves. The Reserve hotel, which is due to open late 2017, will then lie at the heart of this patch of land.
The new development will be adjacent to the 27 single family homes of the West Enclave, which are individually priced from $4.1 million, and of which only 12 properties remain unsold. Each of these 27 villas encompasses 10,000 square feet of indoor and outdoor space, exhibiting sleek, modern architecture and floor-to-ceiling windows with views over the Sea of Cortez. The immaculate outdoor living space then incorporates a private pool and spa, along with a covered living and dining area featuring a bar, fireplace and BBQ.
The properties' desirability can in part be owed to its extraordinary location, as the enclave spans 2,000 oceanfront acres, encompassing a vast expanse of lush landscaped gardens and a three-mile stretch of pristine shores. Residents have access to a world class marina, which accommodates yachts of up to 400 feet, private beach clubs, an estuary, signature golf courses from Jack Nicklaus and Greg Norman, a private sculpture garden, and a 12-acre cactus botanical garden.
Naturally, though, this especially scenic setting isn't the only reason people choose to reside here. It's also the appeal of benefiting from the outstanding service the Ritz-Carlton is known for, with the sense of place that can only come from owning a piece of the land.  And as well as access to the resort's facilities, residents can request the hotel's full range of services, from in-home chefs to housekeeping.
To find out more about the Ritz-Carlton Reserve Hotel and Residences in Los Cabos, and keep up with the development's progress, go over to www.ritzcarlton.com. As a $430 million project, it will certainly be extraordinary.