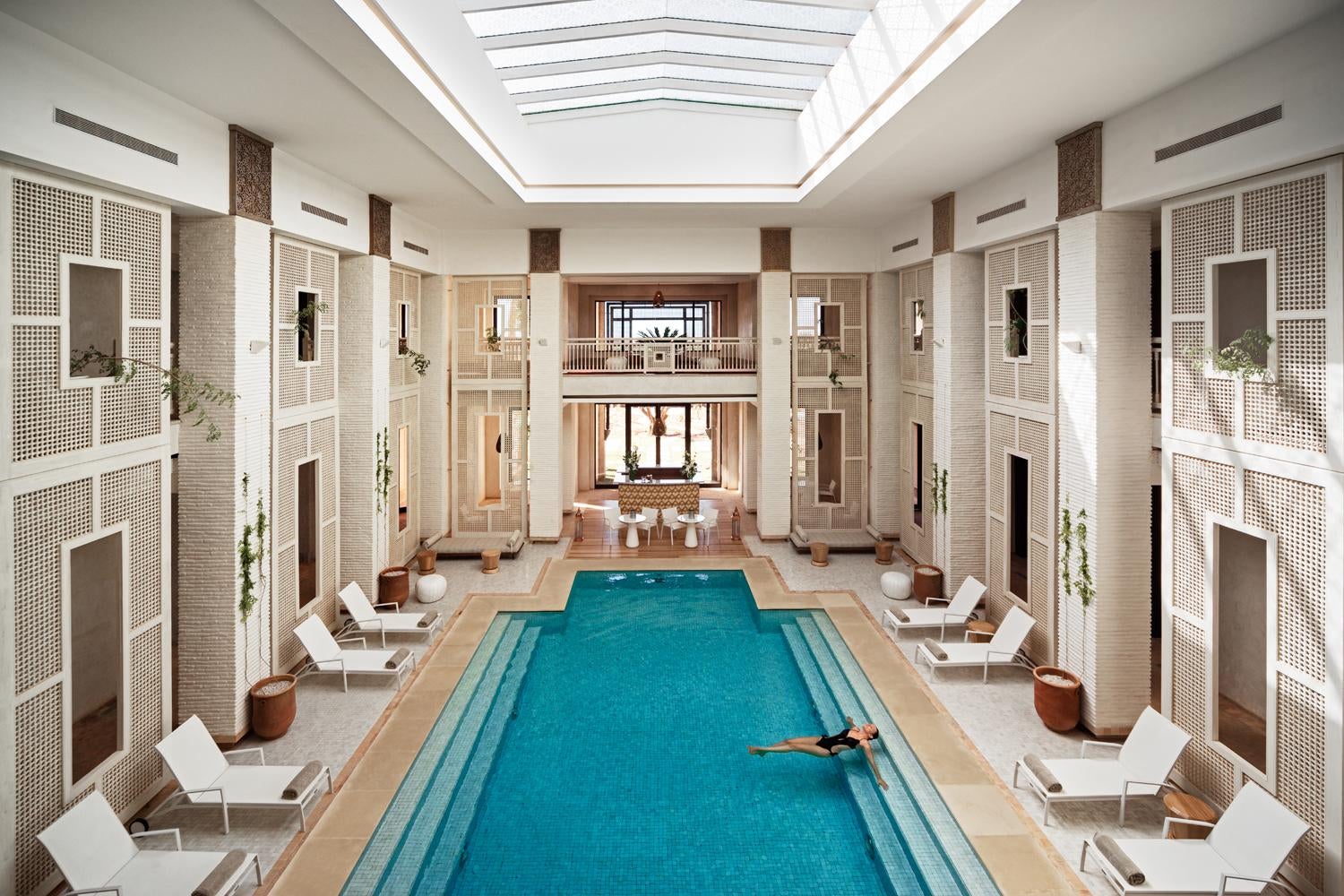 Sitting at the foot of the Atlas Mountains, the Fairmont Marrakech is one of the city's newest and most impressive properties. Alongside the hotel's four restaurants, 231 hectare plot and beautiful Cabell B. Robinson designed golf course is the hotel's luxurious spa.
Set within in a 3,500 square-meter Riad, the Fairmont Marrakech spa offers guests an opulent space where they can relax with the help of a wide array of treatments – including the likes of herbal massages, Moroccan Argan oil treatments, hot stone therapy, traditional hammam rituals and an extensive list of clay and natural plant body treatments.
For those looking for something a bit special, Elite Traveler would recommend one of the hotel's signature treatments such as a Berber Bath Ceremony (based on traditional ceremonies seen in the Atlas Mountains, where guests will be given a full body treatment featuring a body exfoliation, face mask and wrapping). Alternatively you could also try an Oriental Wood Treatment where the body is revitalized through the use of organic oils and aromatic scents, or alternatively a more traditionally Moroccan treatment in the form of their Argan Chips Moroccan Delight Facial which focuses on invigorating and lifting the skin.
One of the property's most spectacular features is its hammam (a traditional Ottoman-era bath), made up of seven single and double cabins alongside two luxury saunas. Guests visiting the spa will also have access to the property's beautiful indoor swimming pool and juice bar, and the chance to visit the property's beauty salon and Leonor Greyl hair salon where you can expect everything from men's and women's haircuts right through to manicure and pedicures, as well as a boutique offering an extensive selection of cosmetic and health products.
For those seeking a slightly more active experience during their stay, the spa also offers guests access to their huge sports and fitness centre where you can take advantage of the Fairmont's series of specialized coaches, training plans and programs. Offering everything from a series of professional standard clay tennis courts right through to a kinesis physical fitness room, the health and fitness centre can offer everything even the most elite athlete could want.
If you're traveling with kids the hotel also offers a top-notch Kid's Club featuring a series of custom built tree houses, mini tennis courts and a wide array of workshops and classes ranging from pottery and painting right through to stargazing and cookery classes. Kids will also benefit from the spa's proximity to the hotel's farm, which is home to a number of animals and vegetable patches regularly used by the kitchen staff in sourcing their ingredients. The perfect chance for your little one to learn about everything from gastronomy right through to astrology while you relax next to the pool with a cocktail in hand.
For more information on the Fairmont Marrakech and the spa please visit fairmont.com