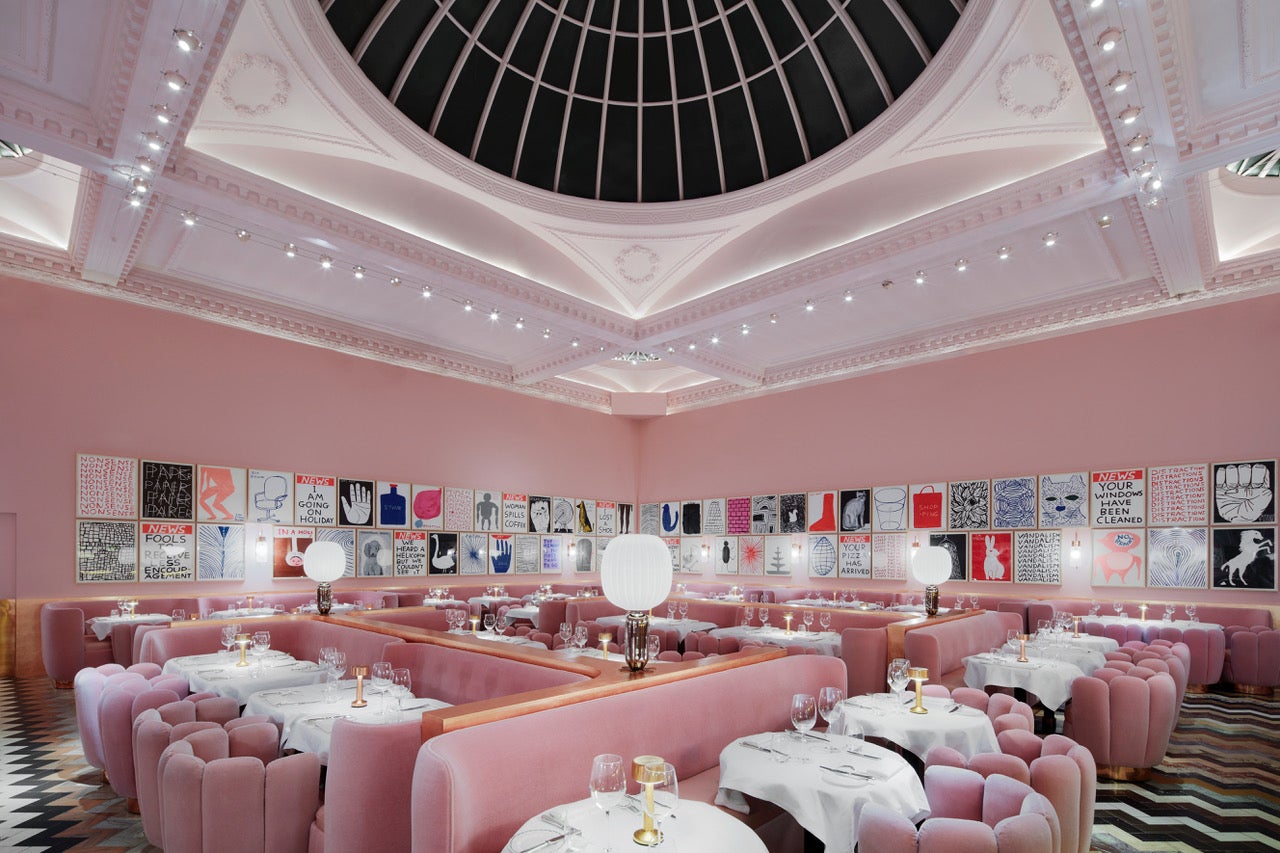 On January 18th, the acclaimed British artist David Shrigley unveiled his brand new exhibition at restaurateur Mourad Mazouz and master chef Pierre Gagnaire's iconic restaurant, The Gallery at Sketch. Marking his second transformation of this space, the artist who's celebrated for his distinct drawing style and wit has replaced the collection of 239 black and white drawings, which were installed in 2014, with 91 new works, this time injecting more color into the space.
Commenting on the new exhibition he says: "Following the fantastic reception The Gallery has received over the past three years, I'm really excited to continue the collaboration with Sketch and India Mahdavi with a series of new colorful works. With dreary news often filling our headlines, I hope that diners will enjoy my take on the banality of everyday life."
The 'millennial pink' space created by architect and designer India Mahdavi has captured global attention since its inception, with David Shrigley's witty artworks making it one of the most Instagrammed restaurants in the world.
Showing Elite Traveler the individual works that stand out for him most in this new collection, Shrigley says: "These two works (Albino Squirrel and Left Foot, pictured) are ones that I particularly like from the current presentation at sketch. They are lino prints that I made in Copenhagen last year with print-maker Michael Schaefer. I haven't made many lino prints before. I like the directness of the process and how very graphic they are."
On his inspiration for these works and giving insight into the humor behind his ideas, he continues: "My friend was telling me how he saw an albino squirrel in the park near to his house. Even though I didn't see it myself it was a received image that I could not get out of my head. The other print is perhaps about how poor a craftsperson I am. If ever I lost the use of my hands and had to make pictures with my feet I'm not sure anyone would notice the change in the quality of the draughtsmanship."
See these lighthearted new works by dining at The Gallery at Sketch, and purchase David Shrigley's prints by going over to schaefergrafik.dk