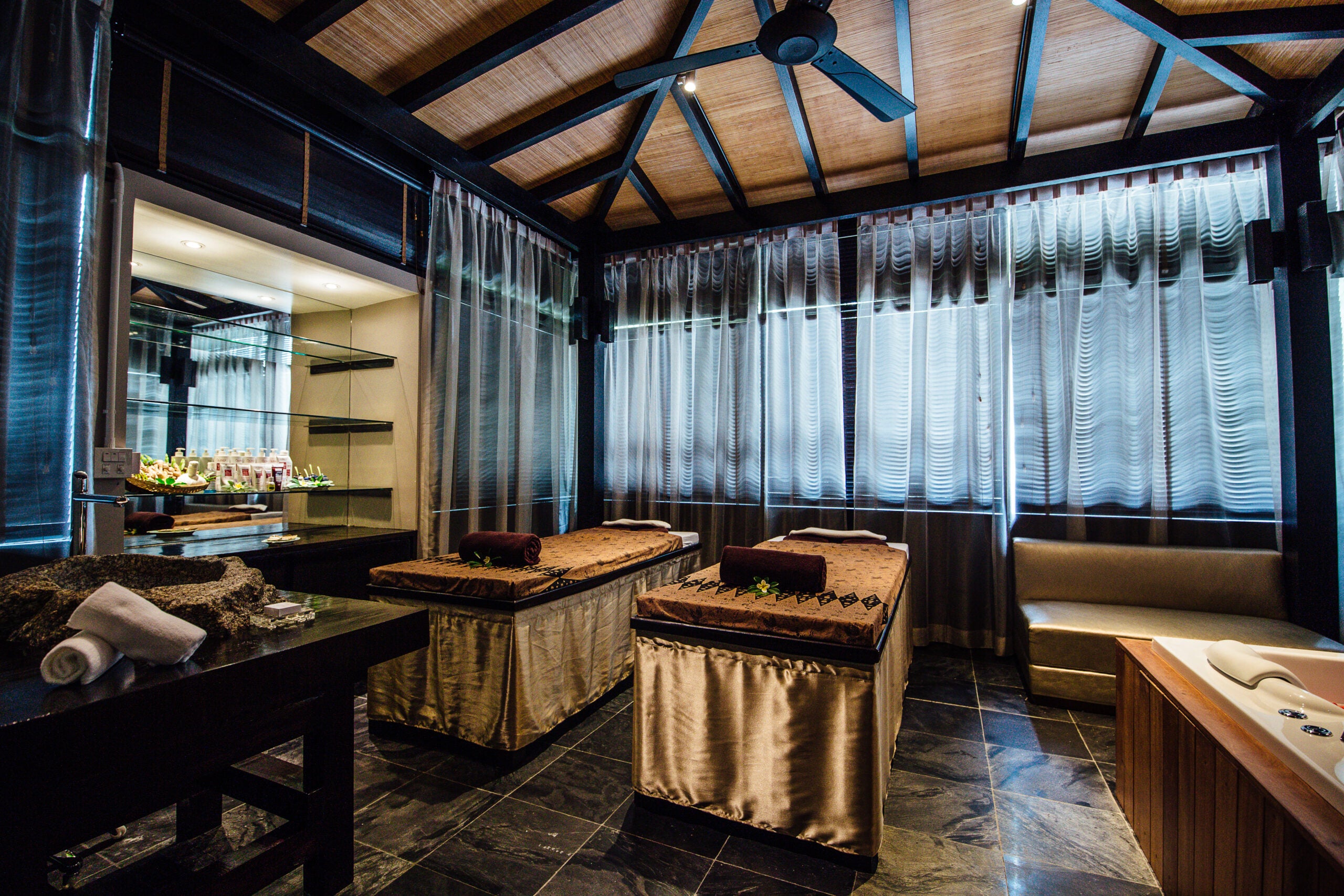 By Olivia Cuccaro
Even the most seasoned private jet traveler is subject to the physical toll incurred by a long flight. Traveling to Thailand from certain parts of the world can be especially taxing, but if your destination is Nikki Beach Resort & Spa Koh Samui, you'll be feeling rejuvenated in no time. Fringed with palm trees on the country's second largest island, After 8 Beauty Spa & Salon at Nikki Beach Resort & Spa targets the effects of jet lag with an array of luxurious treatments.
The three treatment rooms at After 8 Beauty Spa & Salon may classify it as boutique, but the comprehensive spa menu offers a diverse collection of services typically seen at a much larger facility. In a setting that's entirely more intimate, the spa comprises a wet area with Jacuzzi, steam room, dry sauna and outdoor shower, instilling a sense of calm beside the ocean waves. Choices include classic and ancient massages, body scrubs, bath and sauna treatments, body wraps, facials, hair, nails and waxing services — but don't let the options overwhelm you. After 8 recommends specific treatment pairings (such as the Springs of Buddha bath treatment with the Koh Samui Supreme massage) to ensure you get the most out of your visit. The entire menu is influenced by ancient civilizations, from native Thailand to the Roman Empire, engaging all five senses to relax and restore balance.
Guests weary from the trip in will be best suited by the Post Flight Fancy package, comprising a Thai bath, Dubai hot stone massage, Marrakesh Six Senses oil massage, Silk Road foot reflexology and Secrets of Cleopatra ear candle treatment for three-and-a-half hours of after-flight alleviation. The Sinner's Craving body scrub is a must for those with a sweet tooth, utilizing the mood-elevating properties of chocolate to create a feeling of contentment and glowing skin to match. If you find you've spent too much time tanning in your lounger on Lipa Noi beach, pair the Fire Cooler wrap with the Porto Heli aloe massage to reduce discomfort caused by sunburn and promote new cell growth to combat skin damage.
For your stay, be sure to book the Elite Traveler-approved Ocean View Penthouse Suite, a pick for our list of Top 100 Suites in the World in the Beaches category. The modern 1,721 sq ft suite has a chic circular king-size bed as its focal point, with two private balconies overlooking the blue-green waters of Angthong National Marine Park.
Nikki Beach Resort & Spa Koh Samui is located at 96/3 Moo2, Tambon Lipa Noi, Amphoe Koh Samui, Chang Wat Surat Thani 84140, Thailand. For more information, please visit nikkibeachhotels.com.
Jack Penrod, founder of Nikki Beach, overcame hardship to build his global empire to Koh Samui and beyond. Read the full story from the July/August 2017 issue of Elite Traveler here.