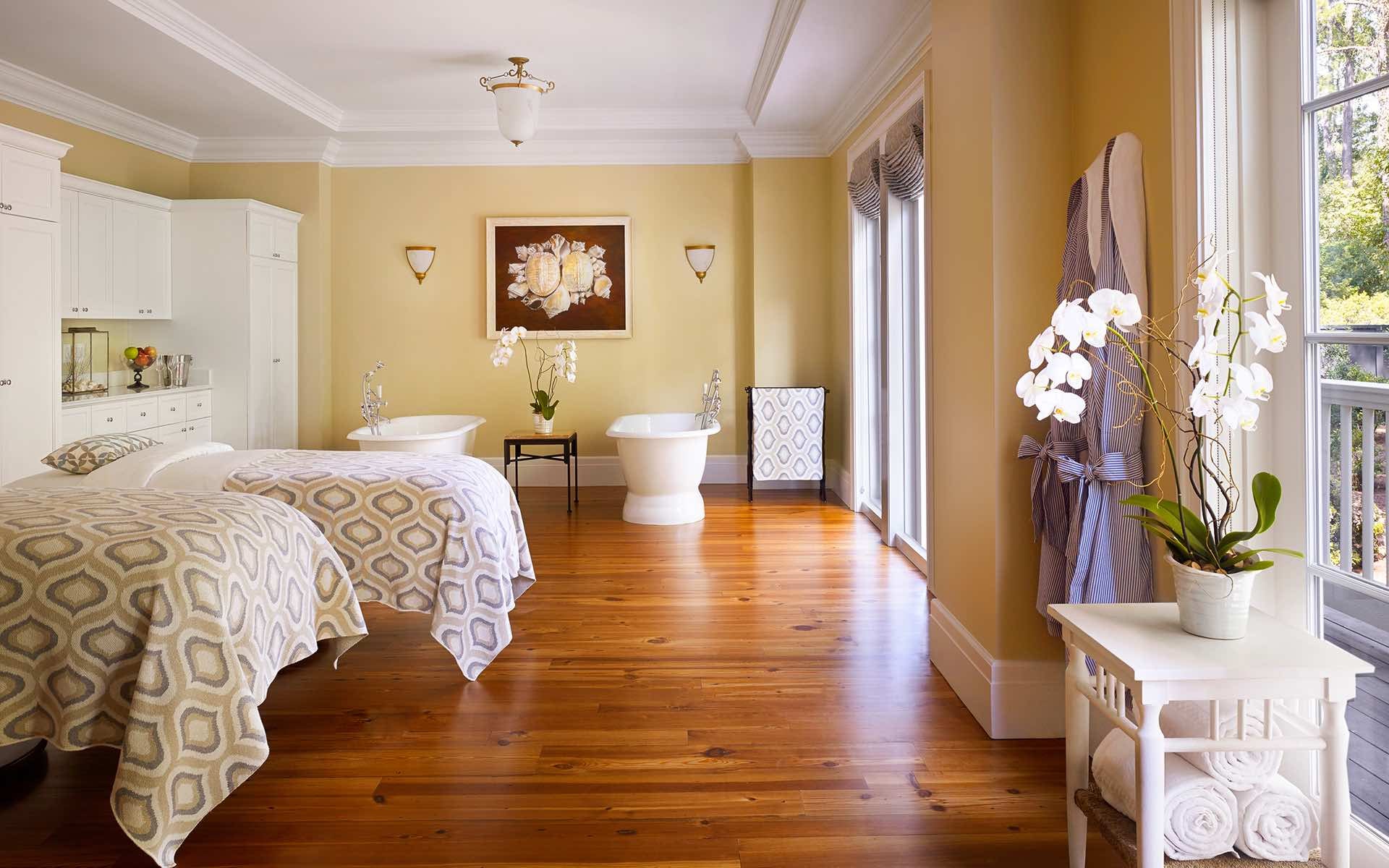 By Tenley Satre
Spa Montage is set in a picture-perfect Southern setting along the May River in Palmetto Bluff, South Carolina. Surrounded by tranquil waterways and towering oaks trees draped in Spanish moss, the natural beauty instantly creates a feeling of calm, which extends into Spa Montage. A soothing palette of coastal colors and antique pine floors are balanced with beautiful marble accents and modern fixtures.
To support your wellness journey, the Spa team has created a pre- or post-treatment experience, called the "Art of Spa." Begin by spending 10 minutes in the eucalyptus steam room or western red cedar dry sauna. Next, spend one minute in the 55 degree cold plunge pool, followed by five minutes resting in a chair, sipping citrus water, allowing your body to return to the neutral zone. Repeat the circuit twice. We recommend enjoying this invigorating ritual before your treatment as a way to clear your mind and reach a deeper sense of relaxation at the Spa.
Every treatment at Spa Montage is inspired by the uniqueness of the area, including the Signature High Cotton Massage. The service begins with an energy balancing session, which combines deep breathing and placement of hot stones, then a nurturing full body massage. A rejuvenating hair mask and scalp massage are followed by a soothing foot scrub and reflexology. You will feel relaxed and rejuvenated after just a few short hours in this lowcountry sanctuary.
Elite Tip: After your treatment request a warm scented neck wrap and enjoy the natural beauty of your surroundings on the outdoor relaxation patio.
The Signature High Cotton Massage is $275/$345 for 90/120 Minutes.  For reservations, please call +1 843 706 6500. Spa Montage Palmetto Bluff is located at 477 Mount Pelia Road in Bluffton, South Carolina.
Click to see another Montage Spa that has been recognized as Elite Traveler Spa of the Week.
Photo Credit: Montage Palmetto Bluff