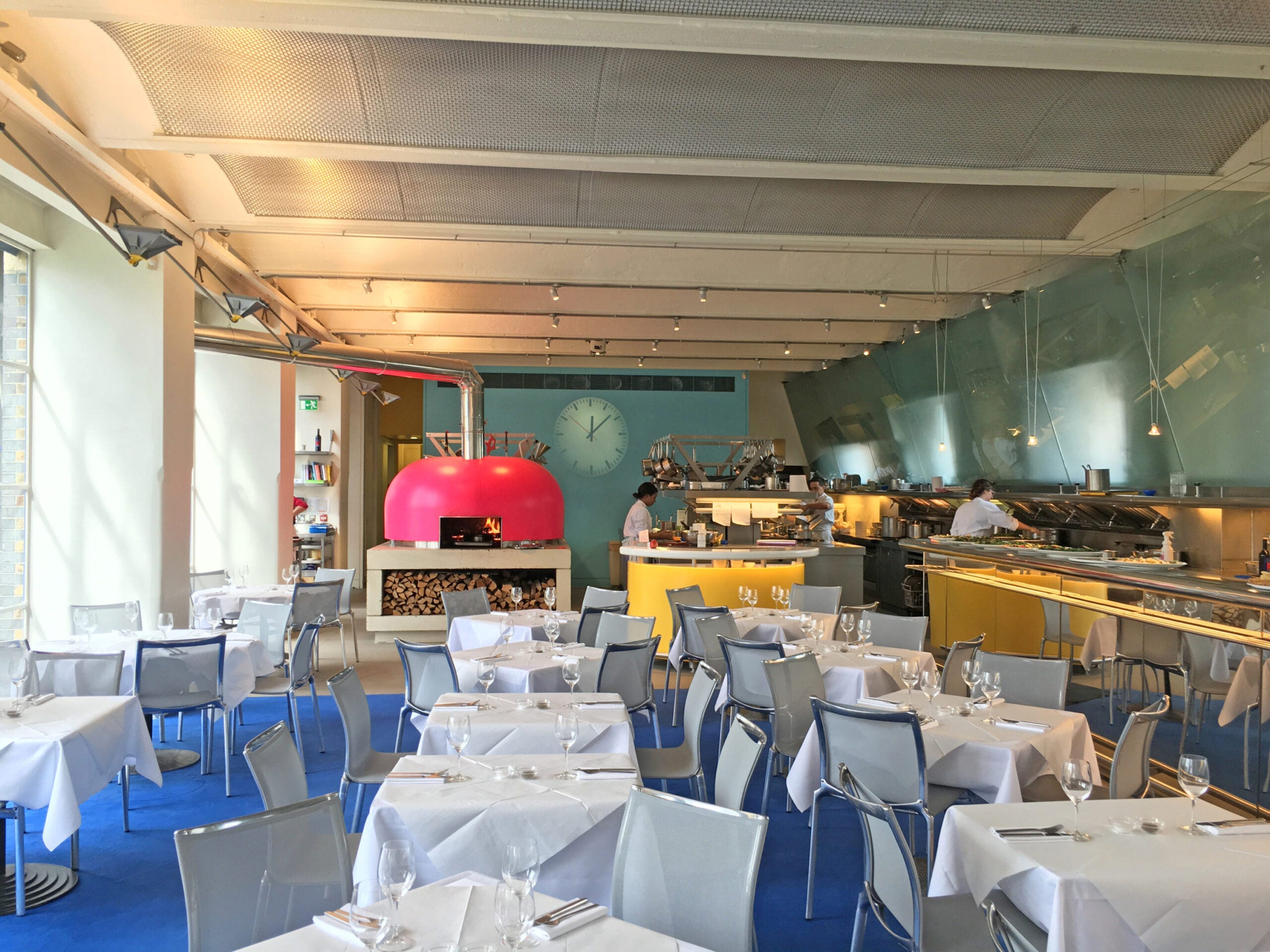 Italian food is deeply embedded in the London restaurant scene, ever since Italians emigrated in the 19th century and established an initial thriving community in Clerkenwell.
These days there are around two thousand Italian restaurants in London, and more than three thousand places if you include pizzerias.
At the high end of the spectrum, there are three restaurants anointed with Michelin stars. The River Café near the Thames in Hammersmith has attracted customers, including many in the media, ever since it opened in 1987. Its dishes, such as wild mushroom risotto, are often very simple but are based on ingredients that are high quality, with prices to match.
Murano in Mayfair was established by Angela Hartnett, whose cooking is inspired by her Italian grandmother. Dishes like pumpkin tortelli and monkfish braised in squid ink fregola illustrate her modern take on Italian food.
Locanda Locatelli in Marylebone completes the trio of starred London Italian restaurants. Giorgio Locatelli serves the most traditional Italian food of the three, and on his menu, you will find a selection of classic pasta dishes like chestnut tagliatelle with mushrooms, or rabbit leg with polenta and Parma ham.
Beyond the Michelin dining scene, there are of course many fine Italian restaurants. A personal favorite is L'Amorosa in Stamford Brook, the home to chef Andy Needham, who earned a Michelin star for Zafferano in Belgravia for many years. These days he cooks simpler food, but still makes the best saffron risotto in London as well as deeply flavored meat ragu dishes with assorted pasta.
Another good choice is Enoteca Turi, now located in Chelsea. This restaurant serves dishes from around the regions of Italy and has an unusually good Italian wine list that complements its food particularly well.
In recent years London has seen a renaissance in pizza offerings, with a host of Naples style pizzas, cooked in wood-fired ovens, appearing all over the city. There are several excellent ones, including pioneers like Santa Maria in Ealing and Naples pizzeria offshoots such as 50 Kalo di Ciro Salvo near Trafalgar Square.
For my money though, the best pizza in the capital is to be found at l'Oro di Napoli in west London. Here you can eat Margherita pizza made in exactly the same way as you would find in Naples.
In my view the best Italian food in London right now is being cooked by chef Heros de Agostinis at Beck at Browns. Heros was formerly sous chef of three-star Pergola in Rome and earned a Michelin star for Apsleys in London before it closed.
He combines top-notch culinary techniques with high-quality ingredients, and dishes like the glorious fagotelli carbonara here are the product of a top-notch kitchen. This relatively new addition to the London dining scene sets the bar for Italian food in the capital.
From high end cooking like this through to neighborhood places like L'Amorosa, London has a rich set of Italian food offerings at all price ranges to satisfy the hungry diner.