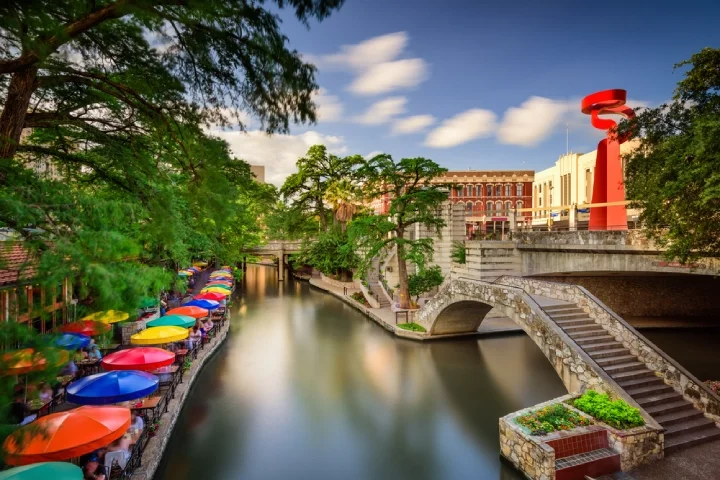 San Antonio, known for its historic Texan charm and vibrant cultural scene, offers a refined and luxurious side that includes exquisite fine dining.
The city boasts a growing number of award-winning establishments with creative and innovative menus crafted by renowned chefs, offering a fusion of flavors and culinary techniques. Incorporating Texas-raised meats, fresh Gulf seafood and locally-sourced ingredients, these establishments present their dishes in elegant and artistic ways.
Fine dining experiences in San Antonio are often accompanied by charming atmospheres. One might dine in historic buildings, elegant courtyards, or modern venues with stunning views. Elite Traveler has collated a list of luxury dining restaurants that San Antonio has to offer.
The best restaurants in San Antonio
Bliss
Bliss Restaurant, owned and operated by chef Mark Bliss, is situated to the south of Downtown San Antonio. Nestled within the expanse of Southtown, a distinct area spanning a compact two square miles, it lies a mere stone's throw away from the dynamic heart of San Antonio.
This restaurant presents an intimate dining space accommodating 52 patrons, an authentic chef's table nestled within the kitchen, hosting parties of up to ten, a secluded event dining area catering to 30 guests, and the chance for al fresco dining on the enchanting rear patio, attuned to the seasons.
Bliss specializes in elevated and contemporary American cuisine, placing a strong emphasis on the use of seasonal and locally-sourced ingredients to ensure freshness and quality. The menu is in a constant state of evolution, prioritizing creativity and seasonality above the expected and commonplace. Guests can savor an array of charcuterie, alongside artisanal cheeses and freshly baked breads.
18 Oaks
Located within the JW Marriott Hotel, 18 Oaks uses a variety of locally sourced meats, cheeses and produce, some of which are grown in the JW Marriott Garden.
The menu boasts a variety of dry-aged steaks and house-made specialties, including the popular Niman ranch boneless short rib and the perfectly-cooked filet mignon, which can be accompanied by a wide range of sides.
The carefully constructed seasonal wine list ensures that there will always be a perfect drink to accompany your meal.
Biga on the Banks
Located on the River Walk, owner and chef Bruce Auden is well known for his innovative approach at Biga on the Banks.
As Biga's passionate following inevitably expanded beyond the constraints of its modest seating capacity, Auden collaborated with business associates Peter Selig, Perny Shea and Don Thomas to establish a top-tier, contemporary regional culinary destination along the scenic Riverwalk.
This relaxed fine dining restaurant serves New American cuisine, including crab and Gulf shrimp Campechana and Anaiya's chicken fried duck confit to name a few. In addition, the wine cellar offers a varied selection of wines to pair with the cuisine, whilst the private dining rooms create the perfect intimate space to enjoy your meal.
Antlers Lodge
Adorned with its eponymous centerpiece, a striking chandelier ingeniously crafted from 500 naturally-shed antlers, Antlers Lodge presents an eclectic menu that reimagines classic Texan cuisine. Each dish is a harmonious blend of locally sourced ingredients, freshly plucked from farm to table, and regional delicacies. Whether your palate leans towards prime cuts, succulent seafood, or gamey delights, a delectable and imaginative culinary assortment awaits.
Nestled within the historic grounds of the Rogers-Wiseman Ranch and Hyatt Regency Hill Country Resort, Antlers Lodge pays homage to its past as a functional cattle ranch by passionately sourcing produce from neighbouring farmers and skilled artisans.
Some of this restaurant's most acclaimed dishes include its center cut filet mignon, the rare Akaushi beef tomahawk, and the delicate lobster tagliatelle.
Signature
Signature Restaurant provides each guest with a unique experience of the Texas Hill Country, culinary comforts and endless spice.
The menu offers a captivating yet unpretentious selection, presenting modern takes on timeless dishes. Traditional cuisine is revitalized with a distinct Texan flair, resulting in vibrant and invigorating renditions. The oceanic delights of the Gult harmonize with the freshness of Atlantic Coast oysters, while the house-aged sirloin stands as a formidable counterpart to the Pacific Northwest lamb.
Embracing the essence of the Hill Country, the menu showcases a medley of venison, dove, and quail. With a nod to nature's rhythm, the use of local and organic produce introduces a dynamic interplay of flavors that shift in accordance with the changing seasons.