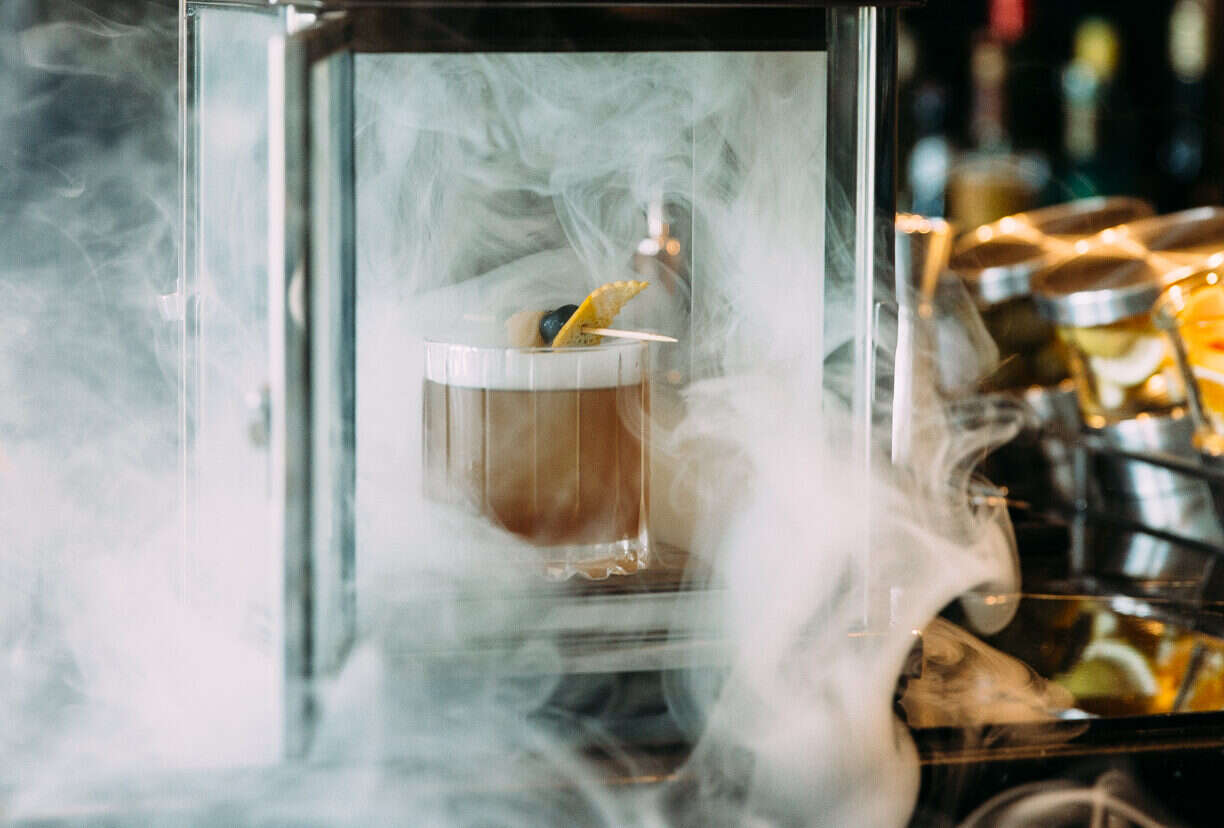 Located in Montecito, Southern California (also known as the American Riviera), Rosewood Miramar Beach's new cocktail menu has a literary twist.
The oceanfront resort's Manor Bar is an elegant yet homey enclave. It is the only place in the area where you can listen to live music with a cocktail in hand. The Manor Bar has launched a new cocktail menu that is inspired by classic works of literature. Naturally, the menu is presented inside a vintage-inspired book, with each page dedicated to the cocktail and its own literary inspiration. 
The literary menu includes creations such as The Invisible Man, a tribute to the HG Wells sci-fi classic. Written in 1897, the tale's protagonist, Griffin, is a scientist who creates a potion that turns himself invisible. It comes at a cost, though, as he loses his sanity as a result. 
[See more: The Most Exclusive Whiskies in the World]
The corresponding cocktail promises no such thing. But instead you can expect a (nearly) invisible cocktail. Despite Campari being one of the drink's ingredients, its ruby-red color is extracted. Gin and blanc vermouth are added, creating an almost-clear version of a Negroni. 
Another libation from the menu (and this week's recipe) is Fahrenheit 451. The novel, written by Ray Bradbury in 1953, depicts a dystopian society where learning is oppressed and books are banned. Any books that are found are burned by 'firemen'.
This recipe is not for the timid cocktail maker as you'll need a smoke box for the final step — which makes sense considering the cocktail's source of inspiration. But it certainly brings a dramatic flair. The drink is gently smoked with dried sage leaves to give the effect of burning pages. Buffalo Trace and Amaro Nonino Quintessentia are paired with sweet orange and lemon to bring levels of perplexity.
Ingredients
2oz Buffalo Trace Bourbon

.5oz Amaro Nonino Quintessentia

.25oz lemon and orange oleo saccharum

Sage leaves

Half a fig
Method
Add all the ingredients to a mixing glass. Stir and strain over a large ice cube and the half fig in a double old-fashioned or a rocks glass. Smoke in the smoke box with sage leaves.