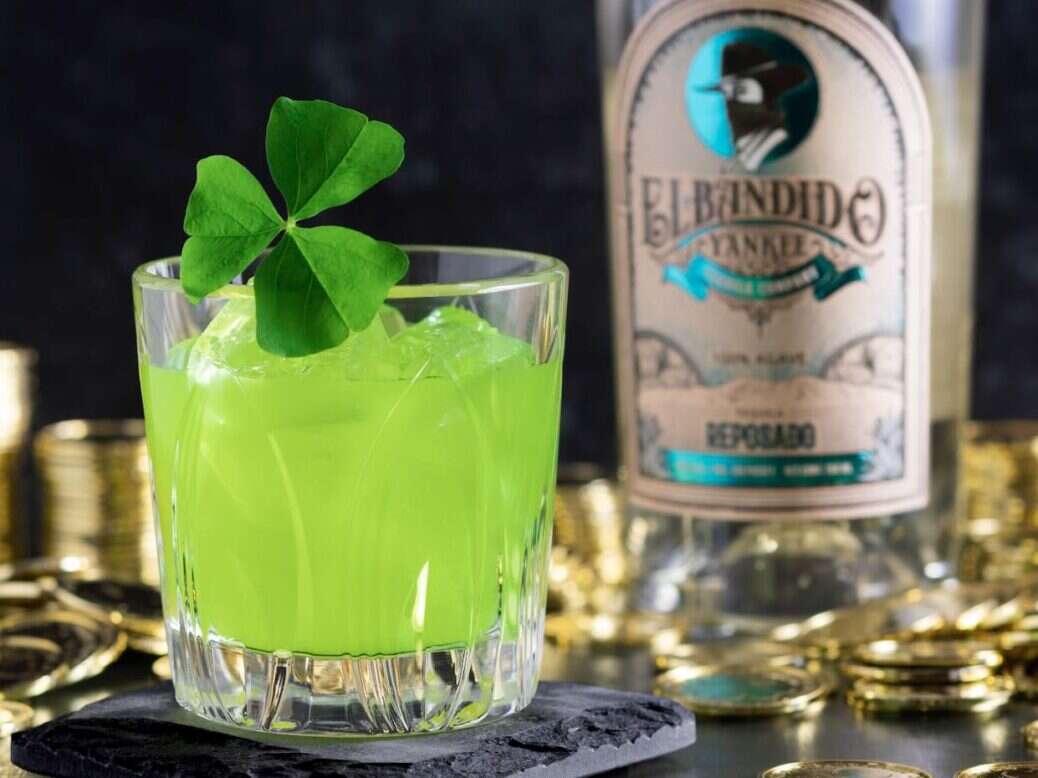 Inspired by St Patrick's Day, the vibrant green Luck be a Lady cocktail by El Bandido Tequila is garnished with an edible shamrock.
St Patrick's day is celebrated worldwide by those of Irish descent (or those who simply enjoy Irish culture), it's a day of honoring Irish culture and heritage. 
While naturally celebrated in Ireland, where it's an official public holiday, it's also wildly popular in the US. Parades and parties are held in cities with large Irish populations. In Chicago, the Chicago River is dyed a green color for the occasion and big crowds gather to watch the water turn an emerald hue. The Windy City also plays host to a big parade in the downtown area with floats, marching bands, and bagpipers.
In New York City, the St Patrick's Day parade dates back to 1762, making it one of the oldest in the world. The parade draws in millions of spectators and has over 150,000 marchers taking part. 
[See also: Luxury Escapes for St Patrick's Day]
And with these celebrations comes Irish food and drinks — think corned beef and cabbage, Irish soda bread, and, of course, Guinness and Irish whiskey.
While this cocktail doesn't require any of these typical Irish beverages, it is a bright green hue thanks to the Midori and Chartreuse Green Liqueur. It uses El Bandido Yankee Reposado, a tequila crafted by using fully mature blue weber agave from Los Altos in Jalisco. Thousands of years ago, a volcanic eruption took place in the area, enriching the soil with minerals. This, paired with the climate and altitude, makes for optimum agave-growing conditions. Each agave is cut by hand when it reaches maturity. 
The tequila is twice distilled in small batches in copper pots and is done slowly at a low temperature to preserve the agave's flavor. The hand-bottled tequila has zero additives and the Reposado has notes of raw agave and almonds with a touch of spice. 
[See also: The Most Exclusive Tequila Tastings in Mexico]
Ingredients 

-1 oz El Bandido Yankee Reposado
-1 oz Midori
-1.5 oz Junmai Sake Nigori 
-.25 oz Chartreuse Green Liqueur
-.5 oz Lime Juice

Method

Combine all ingredients in a cocktail shaker with ice. Shake to chill, then strain into a rocks glass full of fresh ice. Garnish with one shamrock. (Oxalis aka shamrock is edible and surprisingly tasty. You can find them at most plant stores.)