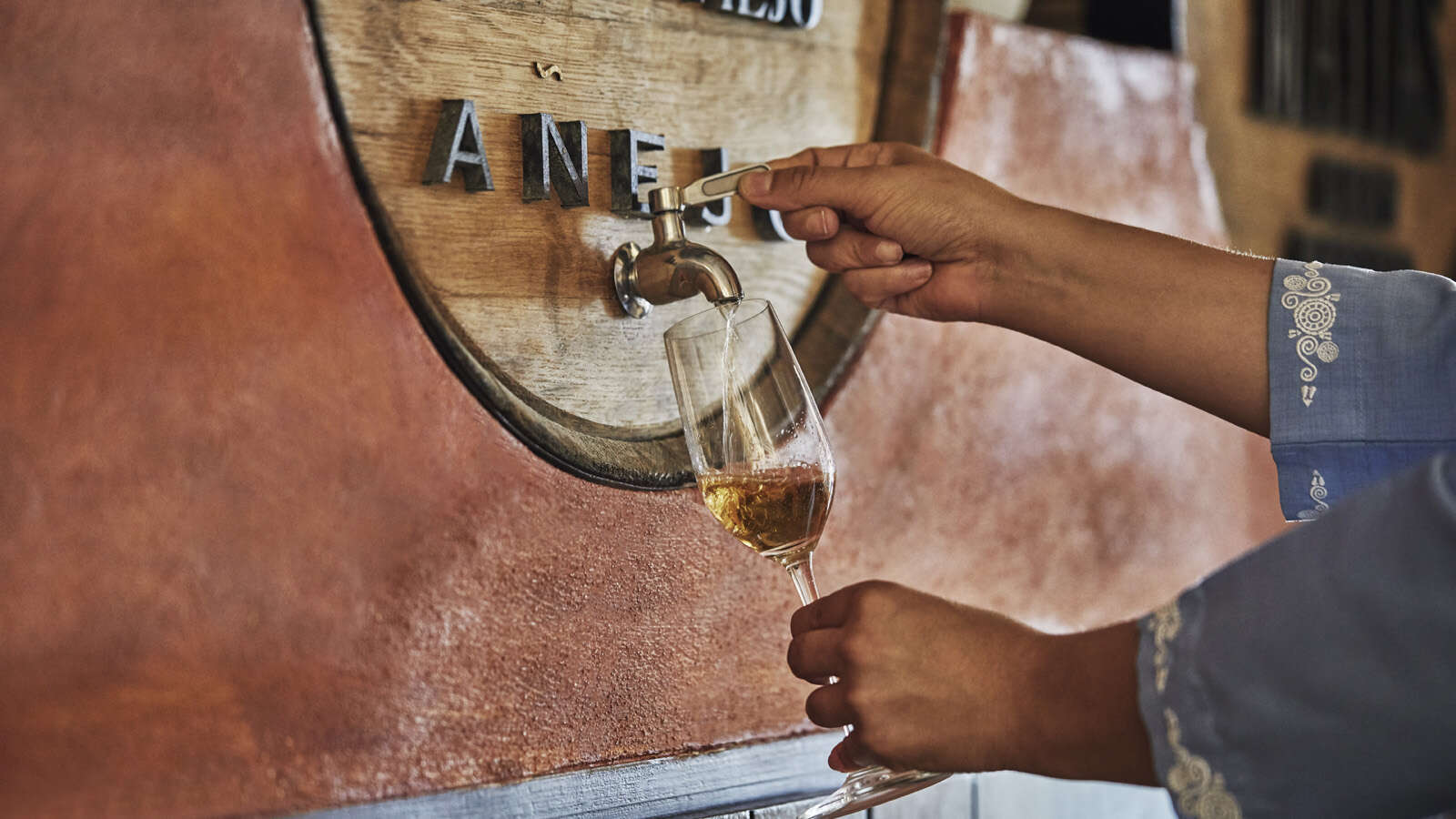 In recent years, tequila has gone from strength to strength, shaking off its unfair rep as a nightclub shooter to emerge as a premium spirit at home mixed into a cocktail as it is sipped neat. Whether you're new to tequila or a certified expert, one of the best ways to get to grips with both the liquid itself and the hundreds of years of culture behind it, is through an immersive tequila tasting.
Naturally, the best place for a tequila tasting is in its ancestral home of Mexico. Here, predominately in the state of Jalisco but also in some areas of Guanajuato, Michoacan, Nayarit and Tamaulipas, the landscape is dominated by the green-blued hues of agave fields. Dotted between the fields are the tequila distilleries, ranging from small-batch producers to big-name brands.
The huge scope of distilleries and brands means the range of tequila experiences on offer is seriously impressive, with everything from all-you-can-drink train journeys and agave field visits to intimate tastings and blending sessions. We've rounded up some of the most exciting – not to mention most exclusive – tequila tastings in Mexico which will suit any budding tequila enthusiast.
[See also: The Best Sipping Tequila Brands in the World]
Jose Cuervo Express
If you're looking for the ultimate tequila experience, this is it. Heralded by agave enthusiasts from around the world, the Jose Cuervo Express invites guests aboard the self-named 'tequila train' for an immersive journey through the spirit's home region of Jalisco – with all-you-can-drink tequila onboard.
Traveling from Guadalajara to the town of Tequila itself, the Jose Cuervo Express offers a plethora of onboard activities and events, from traditional Mexican cuisine and live music to guided tequila tastings and cocktail making. There are plenty of stop-offs along the way too, including a visit to the agave fields with a harvest demonstration and a guided tour through the La Rojeña distillery.
The Jose Cuervo Express has a variety of carriages to choose from, but for the most exclusive experience, opt for the Elite Wagon, which features an artfully kitted-out lounge-style cabin, with a separate bar.
A Taste of Culture by Clase Azul
For an intimate and decidedly high-end tequila experience, look no further than the Taste of Culture offering by Clase Azul. Held in a discrete purpose-made space in The Shoppes at Palmilla's Clase Azul boutique, the experience is aimed at tequila connoisseurs and experts with the aim of sharing some of the brand's most prestigious iterations.
Guests will be guided through the unique cultural traditions and practices that form the basis of the Clase Azul that we know today. Armed with a plethora of insider knowledge, attendees will then embark on a tasting of five of the most iconic examples of Clase tequilas and mezcals in the collection: Clase Azul Plata, Clase Azul Reposado, Clase Azul Añejo, Clase Azul Ultra and Clase Azul Mezcal Durango.
The tasting will be accompanied by a range of carefully selected dishes that embody the spirit of Mexican cuisine. With room for just eight guests per session, the experience is highly exclusive and must be booked in advance.
[See also: Cocktail Recipes to Try on National Tequila Day]
Four Seasons Punta Mita Tequila Blending Experience
Down in the ultra-luxe Punta Mita peninsula, tequila has had a fancy makeover. At the Four Seasons Resort Punta Minta, guests are invited to immerse themselves in the history of the area with a selection of carefully curated gourmet experiences including, you guessed it, tequila masterclasses.
One of the best ways to appreciate the world of tequila at the resort is through its super exclusive tequila blending experience. Throughout the course of the two-hour session, guests will be led through a guided tequila tasting in order to hone in on their individual preferences, while also gaining a better understanding of the spirit's unique aromas, tastes and colors.
Next, attendees will be able to use their newfound knowledge to blend their very own tequila, acutely made to fit their tastes. Once blended, the tequila will be bottled in a traditional vessel, ready to be taken home to share with friends and family.
Tequila Highlands Day Tour and Tequila Tastings
The tequila heartland is diverse and widespread, with distilleries and agave fields spread through Jalisco – to truly get under its skin, a professional local guide is a must. At Experience Agave, the aim of the game is to give visitors an authentic taste of this part of the world through unrivaled access, ultimately connecting the culture with the product.
Among its portfolio of immersive tequila experiences is the private Highlands Tour, which takes guests on a guided journey through the Jalisco Highlands. Starting in the city of Guadalajara, the tour kicks off with a two-hour chauffeur-driven drive to the historic village of Arandas. Here, guests can enjoy an exclusive tour of the family-run Vivanco distillery, which is run by one of the oldest agave-growing families in the region, followed by a private tequila tasting in the distillery's picturesque gardens.
Next on the agenda is lunch at one of the most highly regarded regions in the Highlands. Frequented by an impressive number of industry professionals, this lunch will give you a chance to rub shoulders with some of the most devoted tequila makers and gain invaluable insider knowledge. After lunch, take a walk around the main plaza of Arandas which is home to a magnificent neo-Gothic church. And, with a minimum of just two guests, the Experience Agave Highlands Tour is up there with one of the most intimate and exclusive tequila experiences in Mexico.
Maestro Dobel Blending Experience
To elevate the standard distillery tour to new heights of exclusivity, La Rojeña has launched an immersive Maestro Dobel Tequila tasting and blending experience that invites participants to create their own personalized spirit. Kicking off with a tour through the cellar and the distillery, the experience gives guests an unrivaled insight into the tequila-making process.
Armed with their newfound knowledge, participants will then be guided through an expert tasting of the Maestro Dobel line, including blanco, reposado and añejo tequila, before being invited to help a master blender create their own tequila.
When the perfect blend has been achieved, it will be poured into a one-liter damajuana ready to be taken away and enjoyed at home. While the experience is offered as a public tour and tasting, those looking for a more intimate event can book privately for a group size of their choosing.