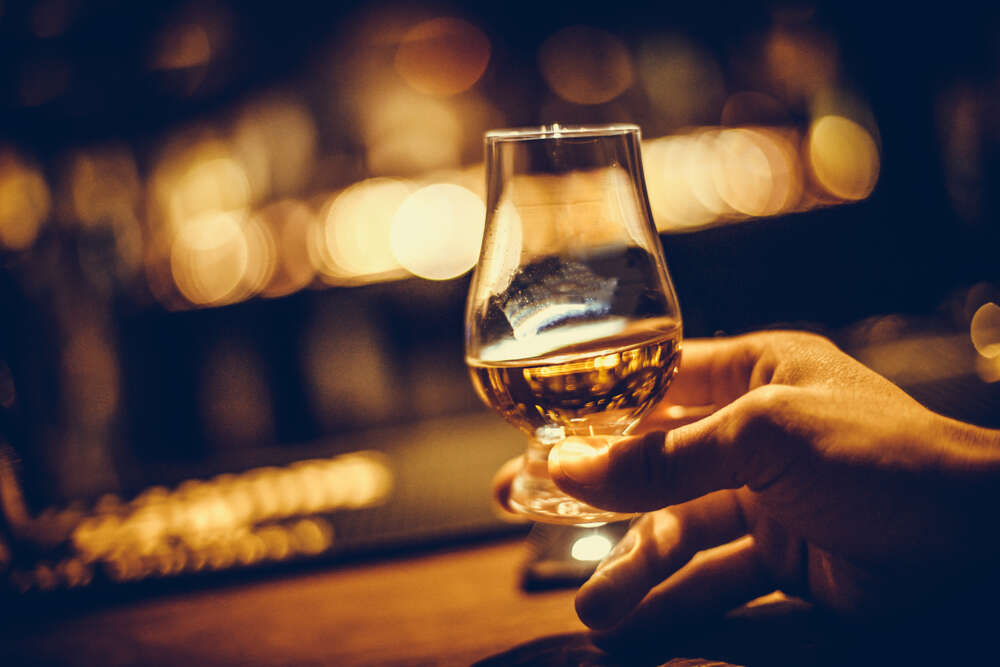 Table of contents
Irish whiskey sales have soared in recent years with some rare releases capturing the attention of even the most discerning collectors. Here, we delve into the intriguing world of Irish whiskey, selecting what we believe are the very best brands in the world, from cult favorites to innovative newcomers.
Written documents recording the first batch of Irish whiskey date back to 1405 (some 90 years before it was mentioned in Scotland, but don't remind them of that). Since then, the industry has faced its fair share of challenges including the prohibition period in the US, which decimated sales and forced many distilleries to close.
Things got so bad that by the start of the 1980s, just two Irish distilleries remained – Midleton and Bushmills. Thankfully, the late 80s marked the start of a slow and steady resurgence in Irish whiskey, with Pernod Ricard's takeover of the Irish Distillers kickstarting global marketing efforts.
[See also: Midleton Very Rare Reveals Silent Distillery Chapter 4]
Today, whiskey production in the Emerald Isle is booming. The rules regulating Irish whiskey are generally more relaxed than those for global whiskeys making it ripe for experimentation, with plenty of new brands pushing some interesting boundaries.
While Scotch and bourbon can be aged only in oak barrels (virgin barrels only for bourbon; reused are allowed for Scotch), there are no restrictions when it comes to the wood used to age Irish whiskey. Although oak is often favored for its durability, other brands chose to experiment with woods such as chestnut.
And, thankfully, while these newcomers continue to invent and excite, some older names are back in the biz too, with once-closed Irish distilleries kickstarting their efforts. Its an exciting time for the industry indeed. Join us for a deep dive into the planet's best Irish whiskey brands.
[See also: The Most Expensive Whisky Ever Sold at Auction]
Midleton Very Rare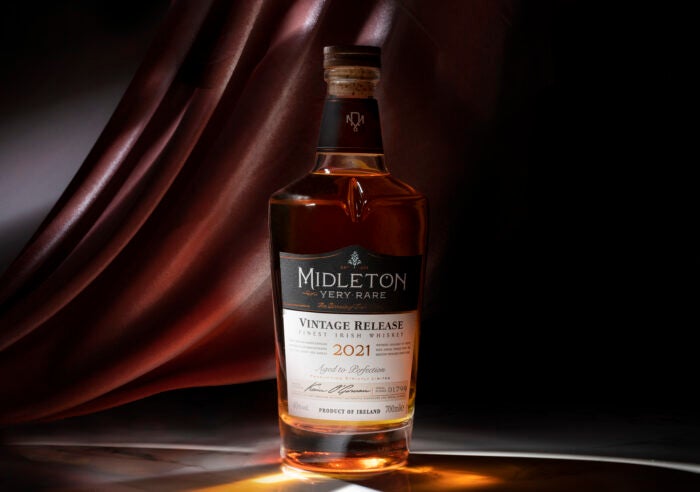 Exclusivity and uncompromised pursuit of excellence are what set Midleton Very Rare aside as one of the best Irish whiskey brands in the world. The series was created in 1984 by Barry Crockett, who wanted to celebrate the finest examples of Irish whiskey as well as its rich traditions. Each year since then, the master distillers at the Midleton distillery have handpicked the finest whiskey casks from its warehouse, which are blended to create the annual Midleton Very Rare vintage.
With few casks deemed to be of sufficient quality to bear the Midleton Very Rare name, only a very limited number of each bottling is available, with connoisseurs from around the world clamoring to get their hands on each yearly release. In 2021, new master distiller Kevin O'Gorman launched his debut vintage release. It was hailed as a new direction for the prestigious Irish whiskey brand. Since then, we've also seen Dair Ghaelach and the 2022 Vintage Release earn critical acclaim.
Redbreast Irish Whiskey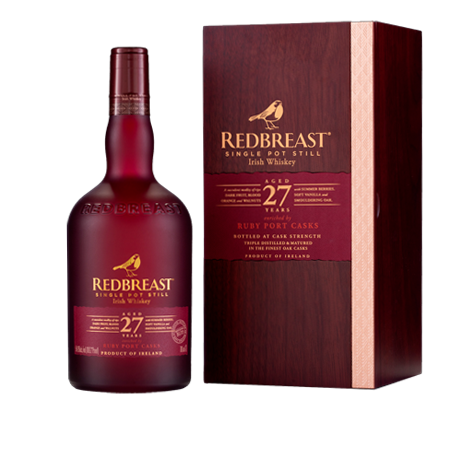 Redbreast is one of just a handful of single-pot-still whiskeys in existence – a traditional production method that is unique to Ireland that Redbreast is widely considered to be the definitive expression of. Produced in the Midleton distillery in Cork (which is also home to the Midleton Very Rare), Redbreast is one of the most decorated Irish whiskeys on the market, having been awarded a gold medal at the San Francisco Spirit Awards in 2019 and the World Whisky Trophy at the International Wine and Spirit Competition.
Although Redbreast's entire range is well received, it is the much-loved 12 Year Old that is a firm favorite in the worldwide whiskey community. Aged in a combination of bourbon and sherry casks, the 12 Year Old is Redbreast's signature expression – for a more intense flavor, try the cask-strength version. Last year, the brand also unveiled an exciting new whiskey that became its oldest permanent expression; the Redbreast 27 Year Old is matured in ruby port barrels from Portugal's Douro Valley to bring a new level of complexity.
Craft Irish Whiskey Co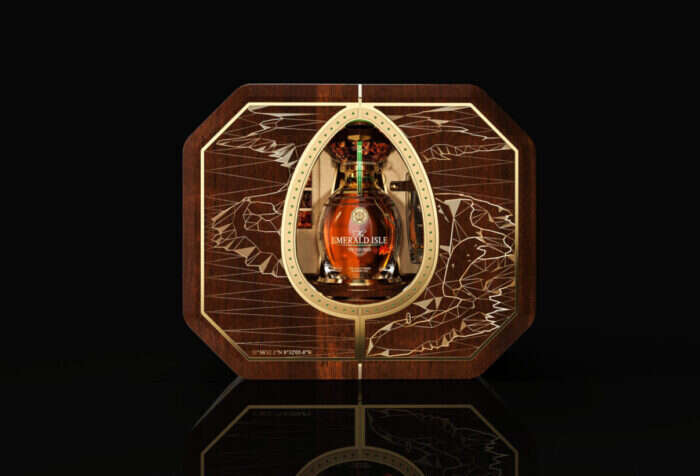 When Craft Irish Whiskey first emerged back in 2020, it's fair to say it caused quite a stir. Its first release (The Devil's Keep) smashed the record for the most expensive inaugural release, with the hammer hitting at $60,000. Its second release set even more tongues wagging when it snatched the title of most expensive whisk(e)y ever sold from The Macallan, with the incomparable Emerald Isle Collection selling for $2m – with all proceeds going to charity.
As well as its record breakers, Craft Irish Whiskey Co also offers a (comparatively) more accessible whiskey in the form of The Taoscán, which retails at $826. While the label doesn't currently have its own distillery (rumor is that it's on the cards, though) founder Jay Bradley is heavily involved in the production process of each whiskey, and hand selects barrels based on their individual size, material and age, to create the perfect liquid. Nowadays, no list of the best Irish whiskey brands would be complete without Craft.
Spot Whiskey
With a history dating back to the 1800s, Spot Whiskey is one of the few Irish whiskey brands that has stood the test of time – as well as successfully overcoming the challenges thrown at the industry. The concept of the "spots" was born to determine how long each whiskey would be matured for: a cask marked with a blue spot would age for seven years, yellow meant 12 years and red indicated 15. Although the original expressions were temporarily ceased when whiskey supplies dwindled in the 20th century, they have all since been relaunched for the modern market.
There is much contention over whether Yellow or Green is the finest of the Spot whiskeys, but for many the signature Green Spot (which was the only one of the four to remain in constant production) just about takes the top spot – no pun intended. The non-age statement Green Spot is typically made from a blend of bourbon and sherry cask aged whiskeys, but in recent years Spot has unveiled several specialty expressions including the revered Green Spot Château Léoville Barton.
[See also: The Best Scotch Whisky Brands in the World]
Glendalough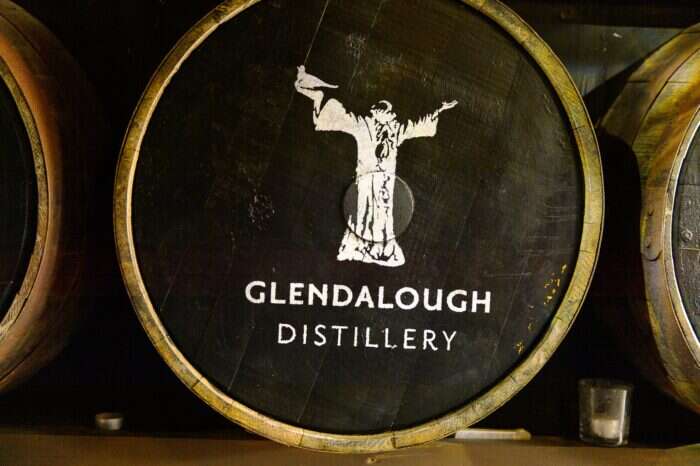 Although Glendalough also produces gin, as you'd expect of any Irish distillery, its whiskey is the crowning jewel. The distillery was set up to revive the heritage of craft whiskey making in Ireland – now Glendalough is regarded as one the best Irish whiskey brands in the world.
As with most Irish whiskey, Glendalough first uses American bourbon barrels. After this, it sends its whiskeys to a different barrel for a second aging – some are sent to sherry casks, and others spend time in Japanese barrels, but for the rarest of its bottles, Glendalough uses virgin pure Irish oak casks, made only from trees found within walking distance of the distillery.
Alongside reviving heritage, Glendalough places significant emphasis on sustainability; for each tree used in its Irish oak barrels, seven more are planted to ensure the regeneration of the ancient forests, and a full-time forager is employed to scour the surrounding countryside for natural ingredients to flavor its gins.
[See also: Highland Park Releases Oldest Whisky in its 225-year History]
Knappogue Castle
Founded in a 15th-century castle dating back to Ireland's clan era, Knappogue has been creating world-class whiskeys since around 1966 when the ruined property was bought by Mark Edwin Andrews. As with many well-known Irish whiskey brands, Knappogue Castle sources its whiskeys from other distilleries before further aging it in its own barrels and bottling them under its own name.
The brand is perhaps most famous for bottling the 1951 vintage from the now-defunct B. Daly Distillery to create the Knappogue Castle 1951, which is regarded as one of the oldest and rarest Irish whiskeys on record, making it highly sought-after. Knappogue's standard single-malt releases include a 12, 14, 16 and 21 Year Old, with its range extending to limited-edition expressions from the Cask Finish Series, which are double aged in specialty barrels from renowned wineries to further enhance flavor.
[See also: The Best Bourbon Brands in the World]
Teeling Whiskey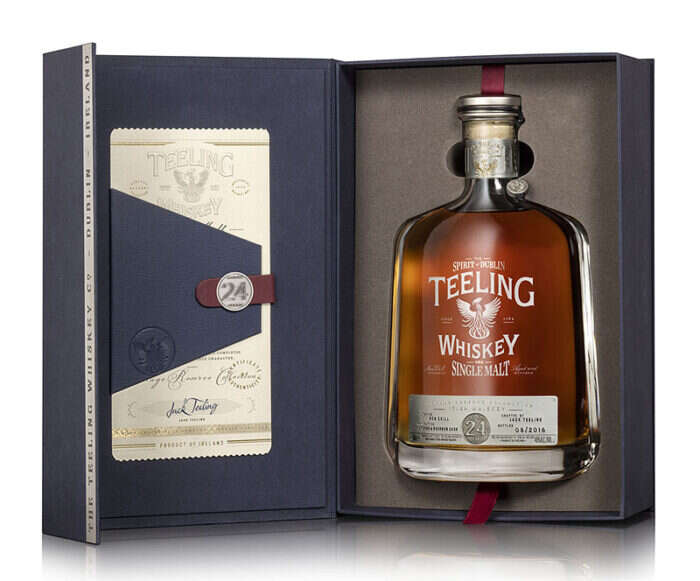 Teeling successfully blends innovation with tradition to deliver what is described as a new breed of Irish whiskey. While the Teeling family can date its whiskey roots back to the 18th century, it was far more recently when they had their greatest success: in 2015, the new Teeling Whiskey Distillery was opened in Dublin, making it the first in the city in over 125 years.
Although Teeling offers a broad range of whiskeys, from the small batch aged in rum casks and the typically Irish single pot still to the triple-distilled peated single malt, it is the rare Vintage Reserve Collection that many believe set Teeling aside as one of the best Irish whiskey brands in the world. Each expression in the series comes from a cask hand-selected by the Teeling family for its exceptional quality and distinct characteristics, with the 24 Year Old making history in 2019 as the first Irish whiskey to be named the world's best single malt at the World Whiskies Awards.
Dingle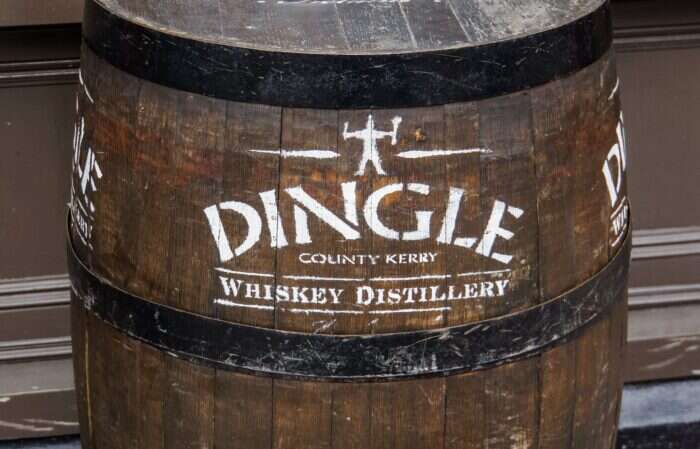 At the Dingle Distillery in County Kerry, an artisanal approach is taken to whiskey production. Although the first batch was released a mere six years ago, Dingle has quickly climbed the ranks to become one of the best Irish whiskey brands – thanks in no small part to its commitment to reviving the country's once-decimated spirits industry.
Since 2016, Dingle has released a further five batches, including the Dingle Pot Still, with each batch changing the type of cask for diverse and distinctive flavors. While all of its whiskeys have been well received, it is the Dingle Whiskey Cask Strength that has remained a firm favorite and won the Gold Medal at the Irish Whiskey Awards 2016 – an impressive achievement for a first release. Just 500 bottles were released, each featuring a bespoke painting by Irish artist Liam O'Neill.
Method and Madness
As another offshoot from the renowned Midleton distillery, good things were always expected from Method and Madness – and so far, the experimental whiskey brand has delivered. Bringing an element of fun to an industry steeped in tradition, Method and Madness offer three permanent whiskeys, each of which is matured in a distinct barrel for a unique twist: one in virgin Spanish oak, another in French chestnut and the third in French limousine oak, usually reserved for aging cognac.
However, for something really special, opt for the limited-edition 28 Year Old Port Pipe. The intriguing expression spends its first six years in a bourbon barrel before being transferred to a ruby port cask for a further 22 years for an astounding result.
[See also: The Most Exclusive Scotch Whiskey Experiences]