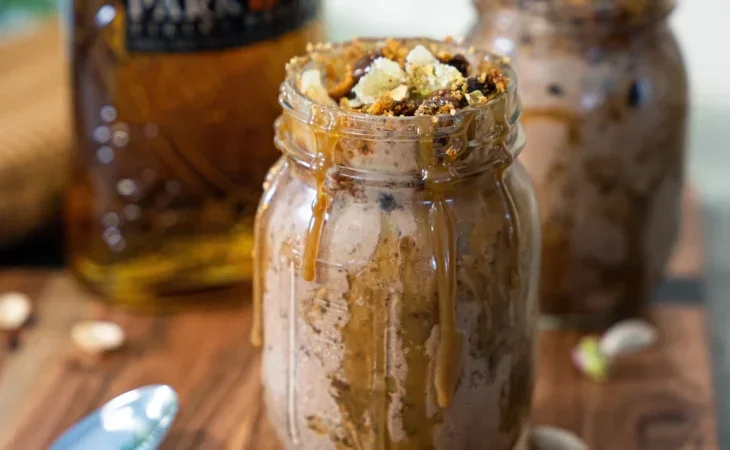 Satisfy your sweet tooth with this ice cream and whisky sauce cocktail from Highland Park. The recipe, which is more of a boozy sundae than it is a cocktail, makes for an indulgent dessert at your next dinner party.
To create the whisky caramel sauce, the recipe calls for Highland Park 12 Year Old. The award-winning single malt whisky is matured in European and American oak casks at the Highland Park Distillery in Kirkwall, Orkney (an archipelago to the north of mainland Scotland).
Highland Park has been creating whisky at the Scottish distillery since 1798 and is one of only a few distilleries that still turns malt by hand. It is turned every eight hours, seven days a week to ensure the perfect conditions (optimum airflow and moisture levels). 
The resulting liquid brings flavors of cinnamon, cloves and nutmeg, as well as rich fruitcake (which also features in this recipe).
[See also: Sustainable Whisky and Spirits for Eco-Conscious Drinkers]
Ingredients:
For the whisky caramel sauce
-100g butter
-150g soft muscovado sugar
– 100ml double cream
– 10ml Highland Park 12 Year Old
– 1 pinch of sea salt flakes
 To serve
– Best quality chocolate ice cream
– A slab of rich, spiced fruitcake, broken into small knobbly pieces
– Crystalized ginger pieces
– Salted pistachio nuts (removed from shells)
Method:
To make the whisky caramel sauce, simply add the butter, sugar and double cream to a small saucepan. Melt together over a low heat, stirring continuously, until you have a thick, smooth mixture. Now add the whisky and sea salt to taste, and allow to thicken again.
Assemble your sundae by layering scoops of chocolate ice cream and juicy chunks of fruitcake in your serving glass or jar. Drizzle over ribbons of warm caramel sauce so that it runs right down to the bottom and decorate with a sprinkling of crystallized ginger and pistachio nuts – and an extra pinch of sea salt flakes if you like (but don't over salt whatever you do!).
See more Cocktail of the Week recipes here.